14 Bishops Grace North East India Easter Meet in Rome
- Fr C. M. Paul, SDB -

Rome, Italy - May 09, 2011


Fourteen bishops of northeast India on their ad limina (five yearly) visit to meet with the Pope, graced the Easter gathering of northeast India people studying or working in Rome, 8 May. The participants joined bishops in extending their heartfelt Easter greetings to the people of northeast India so that they may experience true peace and love which can be found only in the Risen Lord!

The meeting which started with celebration of the solemn Holy Eucharist with three archbishops, 11 bishops and over 30 priests and 20 sisters was held at St Peter's College Church near Vatican City.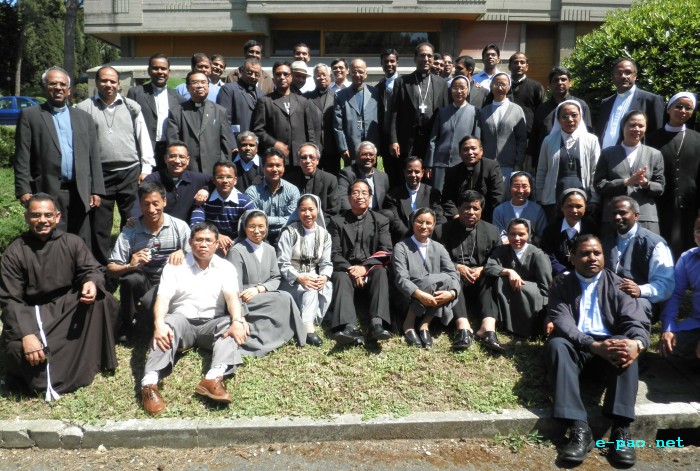 Some participants of Northeast India Rome meet, 8 May 2011.


In all, some 60 participants represented the seven states of northeast India. It is the first time in the history of Northeast India Rome group, that they had the privilege of having 14 bishops at the gathering.

The spokesperson of 15 bishops of the region, Archbishop Thomas Menamparampil of Guwahati was the president along with archbishops Jala of Shillong and Lumon of Imphal. The region is looking forward to the appointment of bishops for Kohima and Diphu dioceses, as well as creation of new dioceses in northeast.

In his persuasive homily, soft spoken Archbishop Menamparampil, insisted that "higher education should not sophisticate our minds and weaken our character to the detriment of our mission."

He encouraged all to prepare themselves well to carry out "our responsibility towards the people of northeast India who are endowed with very rich cultural heritage and high spiritual values."

In the well prepared English language liturgy interspersed with melodious hymns, the participants offered special prayers for the peace and well being of the people of northeast, especially for young people of the region who are the hope and future leaders.

After a quick introduction of the bishops and formal greetings, there followed a fellowship lunch prepared under the leadership of Coordinating Team members Fr. Lyndoh Tegite Sangma, Fr. Raphael Maiong and Sr. Mary Ann.

Saying the grace, archbishop Lumon cautioned that "the comforts and conveniences we enjoy in Europe should not spoil us. When we return to our region we need to be ambassadors [of Jesus] for our people."

The happy surprise of the day was the visit of newly appointed Secretary of the Congregation for the Evangelization of Peoples archbishop Dr Savio Hon Tai Fai, SDB. He took the occasion to greet the bishops and participants.

Also, national director of Holy Childhood Association of India Fr Siluvai from Chennai also made a courtesy call and greeted the participants.

A couple of highly entertaining magic show items presented by Fr Francis D'Costa from Dhaka currently studying at the Camillian University Rome enthralled all.


---
* This Press Release was sent by Fr C. M. Paul, SDB . The sender can be contacted at cmpaul53(at)gmail(dot)com
This PR was webcasted on May 09 2011 .
---
* Comments posted by users in this discussion thread and other parts of this site are opinions of the individuals posting them (whose user ID is displayed alongside) and not the views of e-pao.net. We strongly recommend that users exercise responsibility, sensitivity and caution over language while writing your opinions which will be seen and read by other users. Please read a complete Guideline on using comments on this website.