Job opportunities for Statistical Analysts with TCS KPO, Bangalore
Walk-In Date: 4-Aug-11 to 8-Aug-11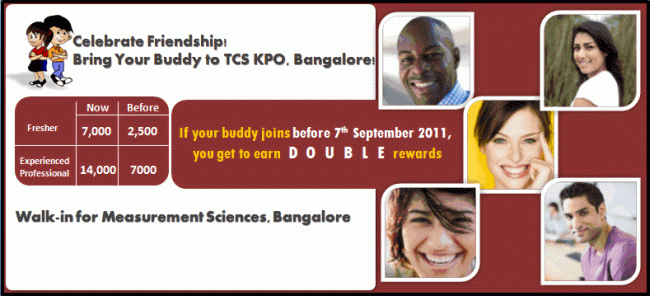 Hello Team,

Please publish the following openings with TCS KPO, Banglore.

Ahongsangbam Dorendro
Asst. Systems Engineer
Tata Consultancy Services

Openings with TCS KPO, Bangalore!

Work Location: Bangalore!

Date 4-Aug-11 (Monday) TO 8-Aug-11 (Monday)
Time 11:00 AM to 1:00 PM
Venue TCS, Think Campus, #42, Electronic City. Phase II, Bangalore 560 100
Contact Person Vinay Sadashiva
Documents Required Resume,
Photo Id Proof,
Latest 3 payslips
EPIR Number* (Experienced Professionals)

Role: Team Member Measurement Sciences

Qualification :
Graduate or Post Graduate in Marketing/ Statistics/ Mathematics/ Econometrics / Operation Research with 1-3 years experience in statistical analysis

(BE/ MCA graduates with minimum 1 year relevant experience can apply)

FRESHERS are NOT eligible to apply

Skill Set:

- Strong knowledge of Statistical Concepts
- Data and relationship among variables, Qualitative and Quantitative measurement data types
-Univariate analysis, normal distribution, Histogram with superimposed normal curve, normal probability plot, detecting outliers, replacing the missing values by using different statistical techniques
-Correlation, descriptive statistics like mean and standard variation for quantitative data, probability, continuous and discrete distributions

Eligibility Criteria:

Should be flexible working in 24*7 environment
Should have completed 15 years of regular education
Should NOT have more than 2 years of gap in academics/career
Should NOT have attended any TCS interview in last 6 months

Selection Procedure:

1. Written test on Statistical Concepts
2. HR Interview
3. Operations/ Technical Interview
4. Management Review

PS: Each round is an elimination round




---
* This job posting is from Ahongsangbam Dorendro . You can contact the sender at a(dot)dorendro(at)tcs(dot)com
This Job posting was posted on August 05, 2011 .
---
* Comments posted by users in this discussion thread and other parts of this site are opinions of the individuals posting them (whose user ID is displayed alongside) and not the views of e-pao.net. We strongly recommend that users exercise responsibility, sensitivity and caution over language while writing your opinions which will be seen and read by other users. Please read a complete Guideline on using comments on this website.