WalkIn for 2008/2009 BSc/BA/BCom pass outs at WIPRO, Pune
Last date for registration – N/A



Dear E-pao Team,

Wipro is inviting non-technical fresh graduates. Request you to publish this advertisement.

Regards,
DEBANANDA KARAM
Technical Specialist-Enterprise Services
Wipro Ltd, Dubai, UAE.


---
---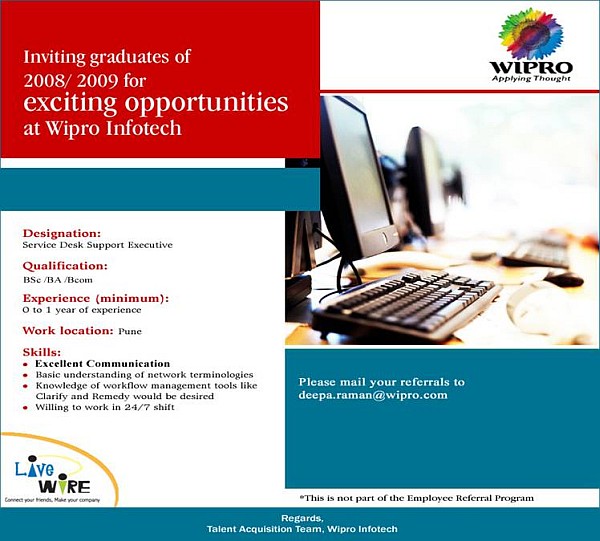 ---
This Job posting was furnished by Debananda Karam. Do NOT forward your resume to Debananda Karam. The sender can be contacted at debananda(dot)singha(at)wipro(dot)com
This posting was webcasted on December 23rd, 2009 .
---
* Comments posted by users in this discussion thread and other parts of this site are opinions of the individuals posting them (whose user ID is displayed alongside) and not the views of e-pao.net. We strongly recommend that users exercise responsibility, sensitivity and caution over language while writing your opinions which will be seen and read by other users. Please read a complete Guideline on using comments on this website.