Do We Need Sanamahi And Umang Lai Council Act With Leisemba Sanajaoba As The Head
- Part 1 -
Dr. Khomdon Lisam *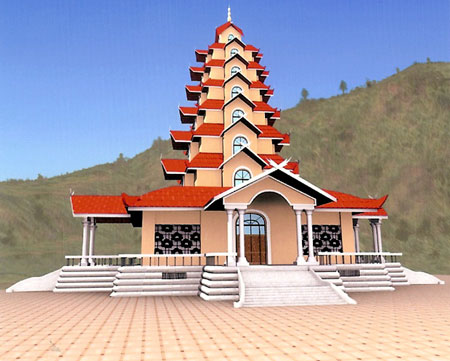 An architectural model of the temple (Kiyong) of Lainingthou Sanamahi for which the foundation stone has already been laid at Nongmaiching Chingkhong on Feb 5, 2006. A University of Sanamahi Culture is also proposed to be built along with this Temple. Picture Courtesy :: The Sangai Express .


On 25 July, 2014, the Manipur Legislative Assembly tabled and passed a Bill namely Shri Shri Govindajee Temple (Third Amendment) Bill 2014 for bringing the Umanglais (sylvan deities) of Manipur under the purview of the Temple Board. On 1 August, 2014, the Royal Council, Sana Konung and Sana Konung Legal Cell have termed the passage of the Bill as unfortunate. On 17, August, 2014, the Umanglai Kanba Apunba Lup (UKAL) has demanded annulment of the Shri Shri Govindajee Temple (Third Amendment) Bill 2014.. The decision of UKAL was taken in a meeting attended by O Menjor, a retired principal; Prof Ng Kangjiya, Mutuwa Bahadur, N Indramani, the ex-Minister R. V Mingthing and many others.

Constituional Right to manage its own affairs in matters of religion

The Constitution of India under Article 26, guaranteed freedom to manage religious affairs. Subject to public order, morality and health, every religious denomination or any section thereof shall have the right-(a) to establish and maintain institutions for religious and charitable purposes (b) to manage its own affairs in matters of religion (c) to own and acquire movable and immovable property; and(d) to administer such property in accordance with law. Furtherm Article 18 of the universal declaration of Human Rights declares (1966) that "Everyone shall have the right to freedom of thought, conscience and religion"

According to newspaper report, Lanchang Chenglei, chief councillor, Asem Muhindro, Secretary of the Sana Konung Legal Cell and P. Tomcha, advocate, High Court of Manipur pointed out the decision of the Gauhati High Court in 1996 that "keeping Umanglais under the Govindajee Temple Board amounts to the violation of Article 26 of the Fundamental Rights."

Withdrawal of Shri Shri Govindaji Temple (Third Amendment) Bill 2014.

Our Hon'ble Chief Minister, Shri O. Ibobi Singh promised that the Government would never go against the wishes of the people. Although, the Bill had been passed by the State Legislative Assembly, the State Government requested the Governor not to give his assent to change it into an Act. Hon'ble Chief Minister, Manipur has agreed to withdraw the bill in public inerest. On 18 December, 2014, Shri Akoijam Tiken, Secretary, Manipur Legislative Assembly informed the 10th Manipur Legislative Assembly that Governor has been pleased to withhold his assent earlier given to the Shri Shri Govindaji Temple (Third Amendment) Bill 2014.We should thank our Hon'ble Chief Minister for timely withdrawal of the bill.

This development placed a heavy responsibility on State Government and Civil Society organisations working in the field of Umang Lai, Lai Haraoba, Sanamahi religion, Uttra Sanglen, Royal Council and the people at large to initiate for an enactment for preservation and protection of Umang Lais and for growth and development of Sanamahi religion.

Key Beliefs and Teachings of Sanamahi Religion

The Key Beliefs and Teachings of Sanamahi Religion are based on the principle of truth and justice. The earth is eternal, and so are Sanamahi and other ancestral Gods are eternal.

God Sanamahi could be realized only by the devotees dedicated to truth. The principle of truth of Sanamahism is a universal moral principle. According to the holy book of Sanamahi, "Shakok Lamlen," the real meaning of truth is to know Lainingthou Sanamahi. The followers of Sanamahism regard human beings as equal and there is no discrimination among the human beings. Sanamahism is the backbone of the Meeties custom and tradition. part and parcel of the Meeteis. Lainingthou Sanamahi is regarded as the King of all other Gods. He is the creator and controller of the universe."

Sanamahi and Umang Lai are inseparable parts of Manipur culture. Nowadays, more and more highly educated people are converted to Sanamahism. It is time for us to think and act unitedly. We should not seek temporary piece meal solutions but seek for a long term cure.

I am a Hindu by birth. But I used to worship Lainingthou Sanamahi in my house and observe Ipan Thaba, Yum Mangba, Yum Sengba, Apokpa Khurumba (worship of ancestors), Sajibu Cheiraoba, Mera Houchongba, Lai-Haraoba, Mera Wayungba, Khayom Lakpa, Thawai Mi-Koukhatpa (calling of soul /spirit), Lai-Tin-Thaba (appeasement of the deity), Saroi-Khangba (feeding of evil spirits), which are not part of Hindu religion. This means that I am not a pure Hindu but converted partial Hindu and partial Sanamahi. I am proud that Manipur has a separate religion of its own in the form of Lainingthou Sanamahi which dated back to 1445 BCE. We, the Manipuris need to support the Sanamahi movement and other indigenous religions and culture in order to protect our identity and restore equality , communal harmony, unity among the ethnic groups in Manipur

History of Umang Lai (Sylvan Gods)

The term "Umang Lai" is used generally to cover all the categories of Manipuri gods. According to scholars, "Etymologically the term Umang Lai means Forest Deity (Umang=forest, Lai=god). The Manipuris worshipped the Umanglais as they are considered to be the protectors, preservers of their corresponding areas/localities which includes houses, fields, welfare of the people, etc. In short, the Umanglais are the Guardians of the outer world of the people. The Meiteids believed that "Umanglais to be very powerful".

The traditional Umanglai deities may be classified broadly into four groups:
1. Lam Lai: (Lam Deity or Tutelary deities) i.e.,Gods of the country side who shade off into Nature Gods controlling the rain, guardian spirits connected with particular places or areas, rivers, mountains, etc., e.g. Koubru, Wangbaren,
2. Umang Lai: (Forest deities), e.g. Nongpok Ningthou, Panthoibi Khunthokhanbi, Khoriphaba, etc.
3. Imung Lai: (The household or domestic deities), i.e., Clan Gods associated with particular clan or family groups(Sagei). Traditionaly there are 445 Sagei's, each of which has its own Lai's. Lords of the lives, the births and deaths of individuals, e.g. Lainingthou Sanamahi, Leimarel, Imoinu, etc.
4. Apokpa: (Ancestor deities), i.e., Ancestors or Gods that were believed to have had a human existence at past. Examples are Pakhangba for the Ningthouja clan, Poireiton for the Luwang clan, Pureiromba for the Angom clan, Thangjing is the god of the Moirangs, Okmaren as for the Khumans clan etc. etc.

The number of Umanglais worshipped by the Meiteis, is computed to be three hundred and sixty four in addition to the three members of trinity, i.e., Pakhangba, Sanamahi and Leimaren Sidabi. Some of the popular Umang Lais are Moirang Thangjing, Konthoujam Lairembi, Khorifaba, Khamlangba, Ibudhou Irum Ningthou, Khana Chaoba Wangbaren, Tampha Lairembi, Hiyangthang Lairembi , Panthoibi, Phaoibi , Kounu Lairembi etc.

Lai Haraoba : "'Frolic of the gods"

Lai Haraoba, the "frolic of the gods" is a festival of the Meiteis dedicated to the Umanglais performed at the site of Umanglais by the Maibis (priestess) and Maibas(priest) who are specially chosen by the gods to honour them.. The Lai Haraoba is a ritualistic dance depicting the Creation of universe. The Lai Haraoba is still an important living tradition in Manipur and inseparable component of Umnag Lai. There are four types of 'Lai Haraoba', namely, Kanglei Haraoba, Chakpa Haraoba, Moirang Haraoba, and Kakching Haraoba. The duration of the Lai Haraoba varies from two weeks to one month. In olden days, the Chingmees and Tammees performed together at Lai Haraoba festivals.

History of Lainingthou Sanamahi Religion

Sanamahi religion, originated from Manipur is one of the oldest religions of South-East Asia. Sanamahi religion had its own myths and legends, gods and goddesses, priests and priestesses, rituals and festivals, etc. The history of Sanamahi religion started with the first king of Mi-tei kingdom around 1445 BCE. His name was Tang-Ja Leela Pakhangba (1445 BC-1405BC) (Tang-Ja=short name for Tang-Shang; Leela=who followed the Iril river trail; Pa=forefathers, Khangba=knew his forefathers, the Tang-Shang people). His son, named Kangba. ascended the throne after his father's death. He named his kingdom – "Tilli Koktong" and constructed a Lai-Yum (a temple) for Sanamahi God at Waroiching. The people worshipped Lainingthou Sanamahi for the welfare and longevity of the king and also for the prosperity, good livelihood for the kingdom. Meiteis are believed to be the descendants of the Tang-Ja Leela Pakhangba.

The subsequent 64 kings and their people practised the Sanamahi religion from 1445 BCE. till the abolition of Sanamahi religion in 1723 CE and declaratrion of Hindu Vaishnavism as the state religion during the time of King Garib Niwaz (1709-48), The king Garib Niwaz got himself initiated into Hindu Vaishnavism in Mera (Sept/Oct) in 1717 A.D. Vaishnavism was practically forced on the people. In 1726, he got collected all the Umang Lais and buried them at the Mongba Hanba Umang (Mahabali Umang).

On the 17th Mera (Sunday), 1732 all the sacred Puyas of Meiteis written by Maichous (Scholars/Prophets/Sagei Pibas) written in Meitei mayek were got collected and burnt down to ashes This episode was known as "Puya Meithaba" (Burning of Meitei scriptures). About 125 old puyas, records , scriptures, books were burnt down (Puya Meithaba or Meitei Lairik Manghanba ) at the instigation of Santi Das Gosai the Mayang Guru. Garib Niwaz tortured and punished those who disobeyed conversion into Hinduism with death penalty to many people including eminent persons of Meiteis of that era like Chingngu Khongnangthaba, Moirang Lalhanba etc. He declared those Meities commoners who refused to convert to Hinduism as outcastes and introduced the Mangba-Sengba culture .

Garib Niwaz and his Guru Santi Das substituted Meitei Mayek ( Manipuri script) with Bengali script and changed the original or personal name of Meitei into a Hindu's name. In 1729 A.D, the sacred Mongba Hanba Umang had been converted into Mahabali Umang and a large image of Hanuman was installed in the temple at the Mongba Hanba Umang Hiyangthang Lairembi had been converted into Kamakhya (Durga) , Mondum had been converted to Mahadeva, Kaina had been converted into Hindu place, Nongpok Ningthou had been converted to Shiva Mahadeva Baruni .

The festival of " Ahong Khongjingba " had been converted into Ratha Yatra , "Ireng Papalon Luklen" had been converted into "Tarpan Katpa", Wakhambung Chingnung Nongombi was substituted by Kwaktanba of Durga Puja. The Meiteis were allotted Gotras for the seven Salais. Aurangazeb destroyed around 60,00 temples (Hindu, Sikh, Buddhist, Jains), killed all his opponents, killed lakhs of non-Muslims, forcely converted several thousands of non-Muslims into Muslims during his reign (1658 -1707 CE). Santidas Gosai might have been influenced by the teachings of Aurangazeb and might have arrived with an evil intention to follow the examples of Aurangazeb in Manipur (1709-48).

In course of time, Santi Das was striken by a terrible disease. The disease never got cured in spite of treatment by many physicians. Finding no hope of cure, he reluctantly asked the advice of Chingngu Khongnagthaba. Chingngu Khongnagthaba told him " you had incurred the wrath of Lainingthou Sanamahi by destroying the Sanamahi Kollu. Now you have no choice but surrender yourself to Lainingthou Sanamahi . Worship Sanamahi from the corner of your heart and your disease would be cured ".

Santi Das carried out the instruction faithfully, prayed to Lainingthou Sanamahi and ultimately he was completely cured of the disease . The news spread far and wide and from that day onwards, the Brahmains also started worshipping Lainingthou Sanamahi. On 1st of Thawan, 1733 (Monday), Garib Niwaj worshipped Lainingthou Sanamahi and Leimarel Sidabi at Tollong Ingkhol (present 1st Manipur Rifles). At Leisangkhong, a shrine dedicated to "Laiwa Haiba" was inaugurated and the image of "Laiwa Haiba" was installed. The worship of Sanamahi was given royal permission and revived once again.

To be continued...


---
* Dr. Khomdon Lisam wrote this article for e-pao.net
The writer is MBBS, MHA(AIIMS), HSMC( London), MA(LEEDS,UK), CCEA( Chula, Bangkok), PDCE( UCLA/USA) Ex- Medical Superintendent/JNIMS ; Ex –Consultant , NACO ; Ex-Project Director /MACS and can be contacted at khomdon(dot)lisam(at)yahoo(dot)com
This article was posted on January 15, 2015.
---
* Comments posted by users in this discussion thread and other parts of this site are opinions of the individuals posting them (whose user ID is displayed alongside) and not the views of e-pao.net. We strongly recommend that users exercise responsibility, sensitivity and caution over language while writing your opinions which will be seen and read by other users. Please read a complete Guideline on using comments on this website.