Reconstruction of Kangla
- Ethos and History -

By: RS Jassal *


I remember November 20, 2004 time 4.30 pm, venue Kangla.

Dr. Manmohan Singh honourable Prime Minister of India atop VIP stand with dignitaries like the Governor & CM of Manipur, Lt. Gen. Bhupinder Singh, PVSM, AVSM the then DGAR handing over key of Kangla Fort to the CM to mark the total vacation of Assam Rifles after 73 years' stay in Kangla, first as British Reserve under the crown then as defence estate of independent India.

There was biggest ever gathering of people from all walks of life to witness the historic event and for a change there was no bandh call from any organization. Everybody welcomed the event. So did I.

I am overwhelmed to recollect the scene, crimson rays of setting sun covering the dais and the audience so beautiful – it was a scene so serene and aesthetic. Let me remind the readers that credit must go to RK Dorendra Singh as basically it was during his time of Chief Ministership that symbolic handing over was done between of the Assam Rifles and State Govt with MM Jacob then MoS (Home) (now Governor of Meghalaya) as witness.

Standing on the similar stand then put in 1979 at the same place difference being – the Assam Rifles longest ever responsible to attend to historic Kang-la was to vacate in phases with 22 acres of area in the north of Kangla to retain for security cover to the town against increasing activities of UGs and Assam Rifles now vacated in a haphazard manner within short time leaving their departmental assets worth crores unremoved.

Readers, I have personal experience of attachment with Kangla for 36 years because of my service with Assam Rifles initially on deputation to Manipur Range from 3/8 GR (1967-69) and later as AR cadre officer with three postings in Kangla itself i.e., 67-68, 76-79 and 89-91 till retirement and finally by settlement in Manipur as its worthy citizen.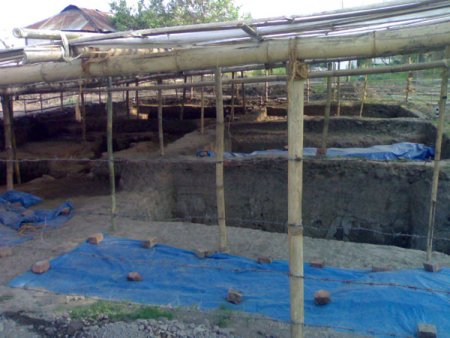 Newly excavated site inside the Kangla.
Photo Courtesy: Pradip Kumar



I do not mince my words, I like many others had doubts on future of Kangla on vacation because of various plans to utilize the area on vacation worked out by the Government of Manipur ranging from housing the State Assembly to Super Market to plotting for Private Residences submitted to MHA from time to time and every time that used to be turned down by the Central Ministry on one ground or the other though importantly because increasing insurgent activities and deteriorating law and order situation.

But I admit this fear has been belied. Congrats to Government officials in charge of activities, Kangla Board and personal caressing care of His Excellency, Dr SS Sidhu, and the Governor of Manipur for his surprise visits to move authorities to renovate Kangla speedily. Kangla today is getting into shape and shine.

Here is a word of caution with some humble suggestions. Kangla Board and authorities involved in its resurrection must avoid going 'rabble rouser' under Rabelaisian affects like; one black house has already been sacrificed to upcoming Pakhangba Temple.

No records reveal of original location of temple or its past existence. So to honour the original deity the siting could have been done a bit right/left by adjustment. The architectural value of Black House could have been saved.

The materials used as door etc., are not seen anywhere in Manipur. The door must be preserved in museum in Kangla coming up subsequently.

The other sites are memorial of Sir Akbar Hyder Ali, the Governor of Greater Assam, memorial of Subedar Hemo Chander with plaque, Hut of Field Marshal Slim, legendary Commander – in – Chief Allied Forces of World War II, excavated stone of 4 (Manipur) Bn. AR. Of World War depicting casualties suffered in World War I, tank in possession of HQ Manipur Range AR (Keithelmanbi) quarter guard 4 AR needs maintaining renovating, as it is, because of their historical value and importance, remains of O Winget crashed plane (WW II), a stone engraved with typical letters (similar to Meitei Mayek) inside bamboo groove fencing to the east of FM Hut (now housing Kangla Board Office) and Second Black House (currently existing) need preservation and there may be some more of value to be preserved.

Yes, Lushai House from where columns used to be launched through CCpur-Tipaimukh into Lushai Hills. It is worth noting Assam Rifles till organized into regular battalion used to be launched in long term columns sometime seven under DC control.

DC and Commandant were inter changeable appointments for many years prior to independence. One century association of a battalion with historic Kangla is a history itself.

In fact I would suggest some officer from the SFs who is well versed with AR history be co-opted on Kangla Board so that justice to the military history can be done to avoid biased dismantling of any structure of interest and importance to students of military history.

It will be further appreciable if some historian of the stature and repute of Prof. Gangmumei or Prof. Lal Dena or Dr V Horam or Prof. Irene Salam are also co-opted on board to give it a look of broader representation.


---
* RS Jassal wrote this article for The Sangai Express. This article was webcasted on 20th May 2007.


* Comments posted by users in this discussion thread and other parts of this site are opinions of the individuals posting them (whose user ID is displayed alongside) and not the views of e-pao.net. We strongly recommend that users exercise responsibility, sensitivity and caution over language while writing your opinions which will be seen and read by other users. Please read a complete Guideline on using comments on this website.