Unexplored Antique Coins of Manipur
By:- N Amuba *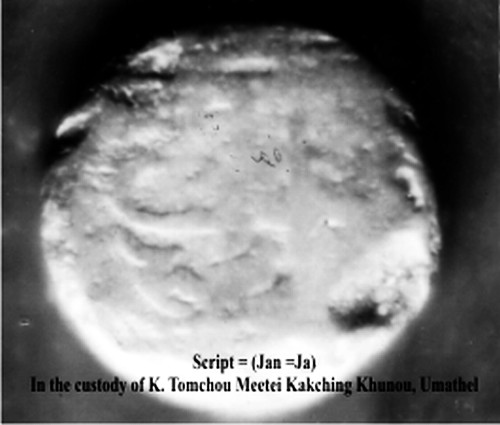 Script = (Jan =Ja) In the custody of K. Tomchou Meetei Kakching Khunou, Umathel


This article is a brief presentation on the coinage of Manipur extracted from Chapter-IV entitled 'Great Achievements of Imphal Valley Civilization' of Minor Research Project on "From Autochthonous Mythology to Nation Formation : A case study of Manipur" under the sponsorship of the UGC, North Eastern Regional Office, Guwahati, Dispur, vide UGC approval letter No. F5-1001/2007-08 (MRP/NERO) - 6290, dated 31st March, 2008.

The author considers it quite important to make the people aware of the existence of certain antique bronze coins which still remain quite unknown to the academic world and to people in general. From a consideration of crudeness and primitiveness of the made of these bronze coins found in large numbers, one may assume that their antiquity might go back to centuries before christ.

Moreover, the historical, palaeographic and numismatic value of these bronze coins is of great importance and significance. Moreover, a scientific and systematic study of these coins shall throw lights to the antiquity of the Imphal Valley Civilization. Hence, the research finding is presented to the public for furthers research and study.

That the small but stout Nation-state Manipur has built up a little but unique civilization in the Imphal valley along the Imphal river since Centuries before Christ may look a wild speculation. But this is what Manipur historiography has been many cases. The history of Manipur, particularly of ages before king Pamheiba alias Garibniwaj, lacks authenticity due to royal distortions and tempering of royal chronicles and other historical literatures and treaties.

However, pieces of historical sources have been found scattered, sometimes in conditions, here and there. Sometimes these pieces are found to be meaningless due to sheer inability to arrange them in a meaningful order. Moreover, the historicgraph of Manipur suffers from a general lack of authentic data and source materials, and from a general apathy to scientific and systematic study and experimentation.

It is quite surprising to find out that our people, particularly the academicians and researchers, have long failed to notice that various antique bronze coins of hand-made are in the secret custody of Peebas (clans chiefs). These coins are kept in a Phuhing (uncaked earthen pot) or wooden box in the sanctum of Lainingthou Sanamahi, the Almighty Apokpa (the progenitor of life).

Each and every Peeba of every clan in Manipur or anywhere where the Meeteis settle uses to keep and worship two or three such bronze coins as Lainingthou and Leimaren in the sanctum of Sanamahi in his house.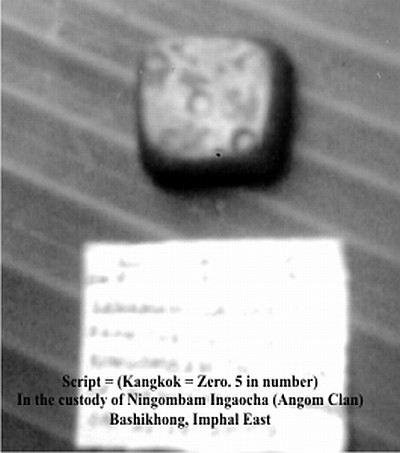 Script = (Kangkok = Zero. 5 in number) In the custody of Ningombam Ingaocha (Angom Clan) Bashikhong, Imphal East


It is not yet known why there is so much secrecy and veneration to the safe custody of these coins. The secrecy and veneration is so much so that it is now a taboo for others to see it. No one is allowed, even the family members of the Peeba himself, to have a look on these coins.

However, there is a traditional ritual practice that only the Peeba use to take out there coins for washing with clean water every year on 1st Sajibu (the name of the first month of Meetei year) on which the traditional Cheiraoba festival is celebrated. It is also a taboo to expose these coins in sunlight.

The washing and cleaning of these coins are, therefore, done in darkness of the Sanamahi sanctum. This may be the reason for the fact that even the Peebas who keep these coins have never known that these bronze coins are inscribed with some kind of antique or archaic alphabets or scripts. The inscription is done in a very crude manner perhaps by using some kind of crude hammer and chisel. Some photographs of the specimen bronze coins along with the name and address of the Peebas are given below for study.

So far, as the knowledge of the author is concerned these bronze coins are the earliest ones so far discovered. From a palaeographic, epigraphic and numismatic point of view these bronze coins, which have long been worshipped as Lainingthou and Leimaren in the Sanctum of Sanamahi in complete secrecy, are the earliest coins among the old coins found or discovered in Manipur.

These coins are purely crude in shape and making. These are hand-made by using crude hammer and chisel. These are different in size and shape. Some are square and some round in shape and generally the thickness is about 2-3 centimetres. The diameter is about 1.5".

Almost all the Sagei Peebas or Lai Peebas of every clan or clan family possess atleast two or three such coins having antique scripts. A clear explanation as to this custodianship by the clan Peebas has not yet been found. Some scholars and Meetei elders and Maibas claim that it was Chingoo Khongnang Thaba's secret plan for future generation.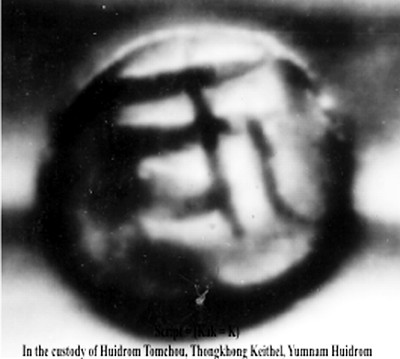 Script = (Kak = K) In the custody of Huidrom Tomchou, Thongkhong Keithel, Yumnam Huidrom


Another fact that needs to be mentioned here is that certain small coins of blockminting of advance technology are also found in the custody of certain Peebas. The size of these coins is about 10 centimeter in diameter and its thickness is about 1 centimeter. These coins have scripts block-printed that are generally used in writing the more than one thousand Puyas that are reported found in Manipur.

From epigraphical as well as numismatic point of view these coins are of much later age than the other given above. It is also true that block-minting of coins developed by the 18th century only. Some specimens of these small coins are given below for public examination and further study and scientific testing:

Some Peebas who possess these smaller but more advanced and modern coins used to give their reports that their bronze coins of earlier period were replaced by these small coins by the Maibis of royal Maibi Loisang at the time of ritual prayer conducted by these Maibis. The fact is that the bronze coins were stolen by the Maibis. The motive of such theft is not clear.

These coins, that is, the smaller coins of much later period, are bell-metal coins, and the Maibis use these small coins as "senmit" for their Maibi Laiphao (tranced-prophesy). Another mysterious fact is that these small bell-metal coins are found lying scattered in large numbers along the course of the Imphal river. The purpose behind this has not yet been confirmed.

In conclusion, the author would like to draw the attention of our academicians and scholars for a systematic and scientific examination and dating of these coins. It may be of great help for us to throw lights on the darker area of our history of civilization.


---
* N Amuba wrote this article for The Sangai Express. This article was webcasted at e-pao.net on 01st June 2011.
---
* Comments posted by users in this discussion thread and other parts of this site are opinions of the individuals posting them (whose user ID is displayed alongside) and not the views of e-pao.net. We strongly recommend that users exercise responsibility, sensitivity and caution over language while writing your opinions which will be seen and read by other users. Please read a complete Guideline on using comments on this website.