What had happened to Manipur ?
- Part 8 -
Puyam Nongdrei *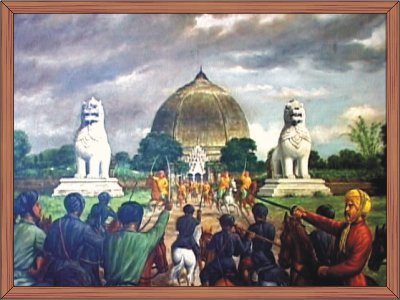 Attack on Kaunghmudaw Pagoda (Burma) 1738
Warning: These images CANNOT be reproduced in any form or size without written permission from the RKCS Gallery


The Lost Kingdom in Asian Geopolitical Game

In the case of Bhutan, China factor deterred India from sending one like Rawal Amar Singh to Bhutan to avoid war with China. Bhutan was having territorial dispute with China and is still maintaining a cold relationship with China. Any Indian attempt to take over Bhutan could have generated Chinese aggression. India's Tibet card also played an important role in maintaining a close and friendly relationship with the small Himalayan kingdom. India could do everything it did for Bhutan for Manipur too. But it did not happen. Why?

In the case of Manipur the China factor was involved but it did not deterred India from taking over Manipur in 1949. It was because Myanmar was not China. The British control and interference in Manipur affairs before and after the 1891 Anglo-Manipuri War was because of Burma threat. The Kabaw Valley was the bone of contention between Manipur and Burma for a long time. The British authority did not treat Manipur as a really sovereign and equal power after the first Anglo-Burmese War though there are controversial issues. 'Did the Manipuri Princes get a fair trial?' is a good source of information.

The boundary settlement between Manipur and Burma after the signing of the Treaty of Yandaboo was something that can tell the story behind the subsequent national failings of Manipur after the seven-year devastation under the Burmese occupation. Nehru and other Indian nationalists did not want a loose end in Manipur bordering an independent Burma. The letter to Political Agent GP Stewart dated 29 June 1947 and 12-point Hydari Agreement of 1st July 1947 mentioned the Kabow Valley compensation. What was Lord Mountbatten thinking about this issue? We don't know about the discussion between British authority and Indian nationalists about the Kabaw Valley. The transfer of Kabaw Valley to Burma in 1834 was really a great loss for Manipur. History proves this.

What would have happened if Manipur was to have an international status controlling its foreign affairs and the Kabow Valley was reverted back to Manipur or was left in the hands of Burma by paying the compensation? One day the contention will become an internatonal dispute. What would be India's position on this? India had/has dispute with China in the eastern sector (Arunachal Pradesh). Myanmar also had territorial dispute with China. The signing of the boundary treaty on 1 October 1960 between China and Burma (now Myanmar) brought peace and tranquility in the border areas to a great extent if not totally.

Nehru visited Manipur for the first time on 23-24 October 1952. Again, he visited Manipur on 28-31st March 1953. During his second visit, he praised the beauty of Manipur and the Manipuri dance in his speech of 28th March 1953 at Tamphasana Girl's High School. His second visit to Manipur was also accompanied by the first Prime Minister of Burma U Nu. They addressed a public meeting on 29th March at Pologround in the evening. The two Prime Ministers went to Kohima on 30 March 1953 and the fate of the Naga tribes were also decided.

One needs to look back to 1949 when Burma was facing strong internal crisis as a result of armed insurgency soon after gaining independence on 4 January 1948. India extended military and financial assistance to Burma. Nehru organised a meeting of the Commonwealth governments in New Delhi in February 1949 to support Burma. A total of 6 million pounds sterling was decided to be provided as loan to Burma with India contributing 1 million pound sterling in the name of friendship. Dakota airplanes were also provided to Burma to fight against the insurgents. In April 1950 a special loan of Rs. 5 million was given to Burma.

India kept silent when Burma passed the Land Alienation Act forbading the sale of land to non-Burmese nationals. The Burma Land Naturalisation Bill was passed on 11 October 1949 which affected mostly the Indians. The friendship between Nehru and U Nu made everything non-discriminatory. India Government bought a large quantity of rice from Burma to support the Burmese economy. After extending assistance and support of various kinds from 1948 to 1950, the two countries signed a Treaty of Friendship on 7 July 1951 in Rangoon (now Yangon). A boundary agreement was signed between the two countries on 10 March 1967 in Rangoon.

Will Burma say no to India's take over of Manipur in 1949? Did China know the existence of Manipur? A friendly Burma in the eastern frontier to restrain the Chinese was everything that the Government of India wanted to achieve. For doing it smoothly, India Government wanted to silence Manipur by merging the State as a directly controlled Part 'C' State ruled by a Chief Commissioner appointed by New Delhi. What would have happened if Manipur was given her voice to complain?

Unlike Bhutan which was favoured by the presence of China factor, Manipur became the Lost Kingdom in Asia because of China factor. It was nothing but a sacrifice made by New Delhi to win Burma as a friendly neighbour that does not question India's manoeuvres in the Indo-Burma region. Nehru did it and many in Manipur enjoyed the Thabal Chongba dance. We are still proud of what Nehru said about Manipur as the 'Jewel of India'. Indira Gandhi came to Manipur to confer Statehood after a long bloody fight and described Manipur as the 'Land of Jewels'. Thunderous clappings might have disturbed her speech. Her description was in plural not singular, i.e., jewels.

King Bodhachandra wanted assistance from New Delhi to strengthen the eastern frontier for the security of Manipur in particular and India as a whole. Did New Delhi think about military assistance to Manipur? British authority in India stopped the military assistance given to Manipur to stop proliferation of arms and ammunitions among the hill tribes that disturbed peace and stability in northeast India. But the major factor must be to check Manipur's military power in order to facilitate subordination.

The mutual defence agreement between Gambhir Singh and British India was something that King Bodhachandra dreamt of in 1947-49 to establish a joint defence mechanism with New Delhi. Burma's independence after the withdrawal of the British power was a great factor that shaped his thinking. Kabaw Valley was not death by that time and he was worried about any Burmese manoeuvre as a result of the lapse of British paramountcy over Manipur.

After the Treaty of Sinchula of 1865 and Treaty of Punakha of 1910, independent Dominion of India signed the Treaty of Peace and Friendship with Bhutan on 8 August 1949. Under this treaty, India had strong control over Bhutan's external affairs, defence and provided favourable treatment on economic matters. But a revised treaty signed on 8 February 2007 acknowledged Bhutan's control of its own external affairs. The Treaty of Punakha signed on 8 January 1910 led to the British control of external affairs of Bhutan though the kingdom was under Foreign Department. Manipur's defence and external affairs were controlled by the British Crown till 15 August 1947.

While India Government acknowledged the separate entity of Bhutan by signing the treaty of peace and friendship on 8 August 1949, Manipur's king was forced to sign the Merger Agreement on 21st September 1949. India did everything to facilitate Bhutan's emergence as a member of the United Nations. After getting the Security Council recommendation on 10 February 1971, Bhutan was admitted as a member on 21 September 1971.

On 21st January 1972 Manipur was conferred Statehood after a heavy price was paid by the people of this tiny hill State which had a written constitution by 1947 and a democratically elected Assembly and Council of Ministers in 1948. Manipur was a hindu majority State in northeast India bordering a Buddhist majority Burma. Bhutan was also a Bhuddhist Kingdom with close links with Tibet. What stopped New Delhi from a similar treatment to this kingdom which has a recorded history of not less than 2000 years.

Nehru and his government could have done everything to facilitate the evolution of a friendly and peaceful State of Manipur by establishing special relationship with Manipur taking into account the viability factor and Burma (Myanmar) could have been asked to recognise the State as the Treaty of Yandaboo did but without fighting against the Burmese. Nehru's close friendship with U Nu was not something that might have jeopardised India's territorial integrity and security.

The signing of the Treaty of Friendship and Mutual Non-Aggression between Burma and China on 28th January 1960 during General Ne Win's visit to China was a great game changer. An agreement on the Question of the Boundary between China and Burma was also signed on the same day. Finally, the Boundary Treaty Between China and Burma was signed on 1 October 1960 strengthening the relationship and mutual trust between the two Asian neighbours of India. General Ne Win's take over of power in Burma changed the course of Indo-Burma relationship. Since early 1990s, India has been doing all she can to get a friendly Myanmar to curb northeast insurgents. May God bless us all.

Interestingly, the strategic trijunction area where India, Myanmar and China meet is something that played an important role in Manipur's destiny. The point where Kachin State of Myanmar, Tibet Autonomous Region of China and Arunachal Pradesh of India meet was the main concern of India. The independent India was for a friendly Burma (Myanmar) knowing it has to face China because of the complex territorial disputes she has inherited from the British India, especially for the security of its eastern sector.

Like the SECRET FILE of Home Ministry, the boundary settlement between India and Burma has not been made public to keep the Manipuris in a state of confusion and darkness. By keeping this secret, New Delhi avoids feeling the sense of indebtedness towards the people of Manipur for the loss that Manipur had incurred in the name of India's national interests. The Kabaw Valley compensation is gone forever. Manipur has managed to incur only loss and loss since the British paramountcy lapsed. Like many other countries in the world, India also sits on the foundation made of lies and insincerity.

Since 1947, Indian Government has strongly defended all her lies and insincerity by blaming the victims of the Merger Agreement. This is being done in the name of ensuring national security, safeguarding territorial integrity and maintaining world peace. We all hear and keep dreaming of a better Manipur. Without talking to New Delhi by showing the written words in the pages of history since 15 August 1947, no great leader will ever rise in Manipur to defend Manipur from the bullets and arrows of death.

"Is there not a brigadier in Shillong?", asked Sardar Patel in September 1949 at Birla House. In 2014, the political leaders of Manipur observed National Unity Day in Imphal urging people of Manipur to abstain from 'Violence' and bring 'Peace'. We all can hear but we don't hear at all. This world is really complicated for atleast some souls. Truth is not just white in colour. Truth is multi-faceted and multi-coloured. We all know about it. New Delhi knows it well. Imphal learns it well.

See a List of Reference Materials for this article



To be continued ...


---
* Puyam Nongdrei wrote this article for e-pao.net
The writer can be contacted at khuman_mei(at)yahoo(dot)com
This article was posted on November 25, 2014.
---
* Comments posted by users in this discussion thread and other parts of this site are opinions of the individuals posting them (whose user ID is displayed alongside) and not the views of e-pao.net. We strongly recommend that users exercise responsibility, sensitivity and caution over language while writing your opinions which will be seen and read by other users. Please read a complete Guideline on using comments on this website.