Manipur was never under British rule though defeated by the British
Merger Agreement Series
- Part 4 -
Dr Th Suresh *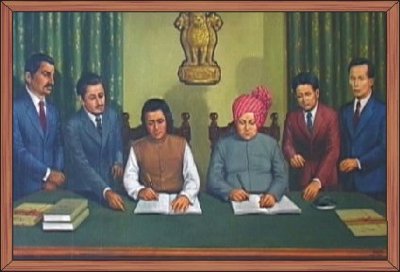 The Shillong Accord 1949 :: Pix - RKCS Art Gallery
Warning: These images CANNOT be reproduced in any form or size without written permission from the RKCS Gallery


Manipur was never under British rule though defeated by the British in the only 1st and last Anglo-Manipuri war.
Time to ignore pseudo-historians and ill-informed historians' false write-ups and come to true historical perspectives

How we missed internal autonomy with Defence, External Affairs and Communication with the Dominion of India, as done during British stay in Manipur, and merged forcefully to Indian Dominion will be clearer if we read and discuss the following points.

a) Cabinet Mission Memo dt.12th May 1946 reasserted earlier intention that the Crown will not initiate any change in the relationship with the States without the consent of the princes. And the merger will be in the realm of Defence, External Affairs and Communications. It further announced the lapse of British Paramouncy and subsequent revert of it to the states. That means the Princely States are now completely independent.

b) In the 5th July 1947 policy statement, while defining the Policy of (GOI), Patel invited the States to accede to the Dominion on 3 subjects of Defence, Foreign Affairs and communications. Details had been described in the preceding paras.

c) In the 25th July Chamber of Commerce meeting, the last Viceroy Lord Mountbatten advised the states to merge on the 3 subjects cited above and also committed firmly that their sovereignty will not be affected.

d) Letter dt. 14/04/1949 from Assam Governor Shri Prakasha, while appointing Major General Rawal Amar Singh as the Dewan of Manipur State, assured the Maharaja that "The present decision will in no way affect either the integrity and entity of the Manipur State or Your Highness's personal dignity and prestige".

e) In the 2nd week of Sept. 1949, Assam Governor met Sardar Patel at Bombay. This is Manipur specific. In this meeting the Governor asked Patel about the power he can exercise in respect of Article of Agreement, the Sardar gave him almost a free hand.

After reading the above sentences, it will now be clear to the readers that. If Bodh Chandra Maharaj, his advisors, his staff and politicians of that time discussed the merger Agreement in detail and took a decision before leaving Shillong, the forced merger Agreement would not have happened and the internal autonomy preserved. By also including Kabaw Valley in the negotiation, there was also a great chance of reverting it back to Manipur. Unfortunately for Manipur, it did not happen. The common people have also to be blamed for the confused landscape prevailing then. However, common people did follow the king and their political leaders blindly. Hence your pen-driver is of the firm opinion that the above mentioned groups are solely responsible for this mess. It is also to Manipur's misfortune that at that time, we did not have a brilliant and courageous conqueror like Garibniwaj, a great visionary like Gambhir Singh, a great sacrificer like Nara Singh and a great patriot and popular prince like Tikendrajit.

One wrong step of Manipur's past history leading to loss of internal autonomy and Kabaw Valley is haunting the present generation and will haunt future generations as well. This is because of our fractured society, lack of unity, corrupt cum selfish politicians and inability to respect each other. These trends are also seen at present unchanged. For your writer, it is leading to a confused and fractured scenario and a sad one while linking to our future generation.

xi) What is the present status of Manipur? : It should be the same as was while British left Manipur i.e. 'almost full autonomy with Defence, External Affairs and Communications under the domain of Indian Dominion'. This is the natural historical fact; after reading and discussing the following, readers will get the true picture '!

a) The proposition that some writers and historians expressed about the final merger once the Instrument of Accession and the Standstill Agreement were signed, whether the Merger Agreement is signed or not, is due to lack of knowledge of the 2 Agreement and subsequent lack of analysis of historical facts. This is misinformation and wrong history writing. It is just like claiming completion of a race before reaching the target. What is this 2 Agreement has been completely described by the writer in the preceding paras. Signing this 2 Agreement is the 1st step of merger. After this, another agreement containing full details had to be signed; that is the Merger Agreement. This final Merger Agreement also cannot be sealed without the consent of the prince/princes and also cannot be executed by force.

b) The Shillong Merger Agreement of Manipur was a forced one had been highlighted in detail in the relevant paras. As Bodh Chandra was forced to sign our Merger Agreement, in spite of signing the Instrument of Accession and the Standstill Agreement, this Merger Agreement can't stand legal scrutiny. Hence our people should understand and discuss the proposition that Manipur remains and should remain in our pre-merger status i.e. before 14th Oct. 1949. Instead of floating in a confused scenario of right/wrong, it is time to find out the truth and have a clear mindset. What is needed at present is to have the true historical perspectives.

c) 28th Sept. 1949 Manipur State Assembly resolution states that the Merger Agreement signed by Maharaj Bodh Chandra is obsolete and cannot apply to Manipur as the Maharaja had already entrusted all his powers to the State Assembly. This is a good supporting point; the main point remains b) above for us.

xii) Conclusion : Though it is a difficult one to cover 1 important chapter of Manipur history in about 10 leaves, the same is done in the interest of the public, hence this article. Conclusions are : While trying to understand Merger Agreement, one has to know the British-Manipuri relationship. Hence, the same is described in 4 distinct periods including relevant Treaties. Along with this, what is the status of Manipur in those 4 periods had been fully discussed and analysed. An attempt had also been made to understand what a Native State is and what is Paramouncy. Finally, the overall India's scenario in respect of Merger Agreement before British left India had been described. While describing the Instrument of Accession and the Standstill Agreement, Manipur's fluid political landscape before, during and after the signing of Merger Agreement by Bodh Chandra had been condensed in a few pages so that readers can pick it up easily.

Though defeated by the British in the only 1st and last Anglo Manipuri war, Manipur was never under British rule had been proved clearly by the author. Manipur would have enjoyed a slightly deviated form of sovereignty, commonly referred to as internal autonomy, with External affairs, Defence and Communication in the realm of Indian Dominion after the British left. How this golden opportunity was lost because of lack of knowledge of negotiation and unskilled negotiation had been illustrated fully. Describing fully what are Instrument of Accession and Standstill Agreement, it is emphasised that signing these 2 Agreements is the 1st step and the last step is the signing of Merger Agreement. It also narrates that in case of non-signing of Merger Agreement, the other 2 Agreements referred to above become obsolete. This applies not only to Manipur, but to other princely states throughout India as well.

What Bodh Chandra signed was a forced Merger Agreement and not a Merger Agreement, and Manipur's present status/would be status be the one we had before British left Manipur, had been proved beyond doubt. This is the status our Militant brethren should try to put to Delhi for their knowledge and demand the same through peaceful negotiations.

Finally '! We, Manipuris, have to turn over a new page in respect of recent Manipuri history. History writing is too a serious business to be left to the so called 'pseudo-historians' and "eminent historians". Much has been said and written about the history of Kangla Fort. The writer emphasised that many wrong historical statements propagated by many writers and historians, who do not read and discuss history thoroughly, be kept aside and our young students, researchers and future historians should try to find out the true historical perspective and keep a road-map ready for our generation next, though late.

Concluded...


---
* Dr Th Suresh wrote this article for The Sangai Express
The writer Ex- Director of Health Services, Manipur & WHO Fellow.
This article was posted on October 25, 2015.
---
* Comments posted by users in this discussion thread and other parts of this site are opinions of the individuals posting them (whose user ID is displayed alongside) and not the views of e-pao.net. We strongly recommend that users exercise responsibility, sensitivity and caution over language while writing your opinions which will be seen and read by other users. Please read a complete Guideline on using comments on this website.