Manipur was never under British rule though defeated by the British
Merger Agreement Series
- Part 1 -
Dr Th Suresh *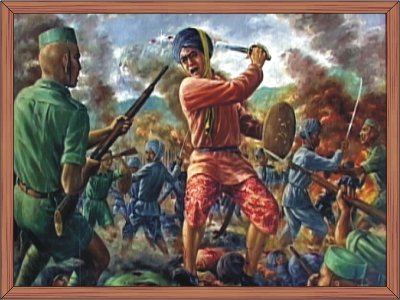 The battle of Khongjom :: Pix - RKCS Art Gallery
Warning: These images CANNOT be reproduced in any form or size without written permission from the RKCS Gallery


Manipur was never under British rule though defeated by the British in the only 1st and last Anglo-Manipuri war.
Time to ignore pseudo-historians and ill-informed historians' false write-ups and come to true historical perspectives

It is time that Manipuri intellectuals and youths try to find out what is Manipur's real history. To understand this, one has to have a fair background of Anglo-Manipuri relationship. It all started with incompetent Chit Sai (Ajit Sai), who gifted Kabaw Valley to Burma earlier and flew to Tripura, and asking the British to restore his kingdom. King Bhagyachandra, the son of Shyamjai Khurailakpa and who was in his rightful Throne, sent one Bangali speaking Haridas Gosain to Chitagong to counter Chit Sai and briefed the real scenario.

Haridas met Mr. Verelst, rejected Chit Sai's plea and agreed to what Haridas said. Not only this, Haridas also told Mr. Verelst the need of British help for the frequent Manipur-Burma war and the advantages the British will have in trading with China through Manipur and Burma. This would be possible if there is peace in the region. Hence, Mr. Verelist agreed to the proposal and sent to Mr. Vansittart, the Governor General of Bengal and President of the Board of Directors of the British East-India Company, for final acceptance.

The Governor General accepted the proposal and decided to send 3 officers to study the situation. They stayed for 14 months in Manipur and sent a favourable report to the Governor General. The Governor General accepted the same and thus the 1st Anglo-Manipuri treaty was signed on 14th September 1762 at Calcutta rejecting Ajit Sai's plea. Haridas Gossain signed it on behalf of King Bhagyachandra. It was decided to send six companies of sepoys under 3 officers. Thus, under Mr. Verelist, the sepoys left for Manipur in January 1763, reached Kashipur of Cachar in April. However, because of unfavourable weather, rain, disease etc. they could not proceed to Manipur and returned to Bengal. Thus, the terms of the Ist treaty could not be executed.

The 2nd Anglo-Manipur treaty (terms and conditions same as the 1st one) was signed in Calcutta on 11th September, 1763 i.e. one year after the signing of the 1st one. It was executed between king Gaurashyam and the British. The salient features were : the 2 country will not execute an independent treaty with Burma without the consent of each other; in case of war with Burma, the two will help each other and will recover loss territories and Manipur will not levy any text in British trade and commerce.

Establishment of Gambhir Singh Levy : Meanwhile, the British-Burma relationship became worst. Burma had already occupied Manipur and Assam and demanded return of the princes of the two states (including Gambhir Singh) who were in British territory. The relationship worsened further and on 5th March 1824, Governor General Lord Armhurst declared war against Burma. Intense war broke out in the Cachar front with the Burmese having the upper hand in the beginning. In April 1824, Raja Gambhir Singh Levy (later on known as Manipur Levy) was formed based on two angles: a) from the British angle – it was important to have an independent and stable buffer state of Manipur to protect British interest and to check further advance of Burma. They already knew the courage, smartness and farsightedness of Gambhir Singh and firmly believed that he could execute the intended activities, b) from the Manipur angle – Prince Gambhir Singh, with the burning idea of recapturing Manipur from the Burmese yoke and driving them out beyond our fore-fatherly occupied Kabaw Valley and surrounding areas. His brother Nara Singh also had the same idea.

After Raja Gambhir Singh captured Kangla Fort on12th June 1825, he went to Sylet and returned on 23rd December. The levy terms and conditions were modified a bit as follows a) army strength will be increased from 500 to 1,500 and that of cavalry from 40 to 150 as agreed to by the British, b) the expenditure of ­clothing, fooding, ammunition, medicine etc. will be borne by the supreme council and c) the British will stock these materials at Chandrapur of Cachar as Arsenal (Chandrapur was developed by the Raja's father King Bhagyachandra). Details of Burmese campain leading to recapture of Kabaw Valley may be seen in the coming up Manipuri Edition of my book The Endless Kabaw Valley or the already published book.

Signing of Jiri Treaty of 1833 : Signed on 18th April 1833, it bears political, defence and trade marks. Politically - Gambhir Singh will withdraw his Thana at Chandrapur in exchange for transfer of Jiribam (Jiri) to Manipur. Barak River is the inter-state boundary between Cachar and Manipur. Defence wise - each other will protect their territory i.e. either Manipur or eastern frontier of British India in case of war with Burma. The Raja will get arms and ammunitions from the British for this purpose. And Trade wise - the Raja will not obstruct any British trade nor impose any heavy duty.

In clause 6, it is mentioned that "...In the event of war with Burmese, if troops be sent to Manipore, either to protect that country, or to advance beyond Ningthee..." (To be contd)

The underlying idea was that Manipur boundary extended to the far eastern frontier beyond east of Ningthee at that particular time. Hence such minute details are to be understood by those self- proclaimed historians and history writers.

Nullification of the arms and ammunition clause 8 of the Jiri Treaty: Meanwhile, 1 year after the death of Gambhir Singh, the Manipur Levy army consisted of 3000 Sepoys. British India-Burmese frontier had been stabilised to some extent. The Kabaw Valley had been handed over to Burma. The British (especially Governor General Lord William Bentinck), who was financing Manipur Levy, thought that financing such a large army is useless and wasteful of financial resources. Hence, on 7th February 1835, the British unilaterally stopped the arms and ammunition clause of the treaty.

Manipur could not do much on this selfish act of the pseudo-friend British. The writer, however emphasise that it is obsolete and cannot stand in an international court, the reason being - the British can't sign or abrogate any treaty without the consent of Manipur. That is as per the terms and conditions of various other Treaties.

Appointment of 1st Political Agent in 1834 : It was done so to bring good relation between Manipur-Burma-British relation and to avoid frequent war between Manipur and Burma. Captain Gordon, who was adjutant to Manipur Levy, was appointed as 1st Political Agent (PA). Ist, it was placed under Bengal Presidency; then recognising Manipur's independence, it was placed directly under the Government of India (GOI) up to 1836. Later on, seeing its border proximity with Assam, it was placed under Assam Govt. from 1879. It is worth seeing that Nagaland was part of Assam at that time. This arrangement was continued till Manipur merged to India in 1949.

1. Phase 1 of British-Manipuri relation : It can be read and discussed by clubbing together up to Nara Singh's reign. Up to this time, Manipur was a complete sovereign state. Purchasing some arms and ammunitions from British by signing some treaties should be seen from a different perspective. It is advantageous to both, the basic premier being the check-mate of Burmese invasion. In respect of External affairs and defence, though the British has a slight upper hand, it may be treated as equal footing. In spite of this, 2 incidences are worth analysing'! one is the 1834 Kabaw Valley Agreement + Kabaw Valley Compensation Agreement. For this write up, the 2 has been taken as one. It was done by the British using extra constitutional power in the realm of Defence and External affairs and without the signature of the Manipur Raja. That this cannot stand legal scrutiny in an International Court has been repeated time and again by your pen-driver in various write ups and in his book.

'The 2nd one is the famous 9 week Kohima campaign starting from 28th December 1832. Through this campain, Manipur frontier extended up to the dense forest lying between the Doyang and Dhansiri rivers. This was published in British official head. However, what Gambhir Singh wanted was capture of whole Naga Hills. The British did not want him to inter plains of Assam as that will have serious repercussions on their interest, hence objected. They were fearful of the Manipur Raja who was not only a famous campaigner but also a great visionary. Therefore, they agreed to hand over all areas south of Naga Hills to the Manipur Raja. Hence, these 2 incidences are to be seen from a different perspective. Up to Nara Singh's reign, Manipur continued to be a fully sovereign principality.

2. Phase 2 of British-Manipuri relation may be taken from Chandrakirti's to Kulachandra's reign (i.e. before capture of Kangla Fort, 1850-1891) : To understand this phase, we have to turn back to various historical pages and discuss threadbare. The most important event was the British self proclamation of Manipur as an "Asiatic Power in alliance with the Queen" in 1851. To protect British interest, the then PA Col. McCulloch recommended recognition of the new king and enforcing of more army to Manipur to the GOI. The above declaration was a sequellae of this recommendation. The Board of Directors of the East India put 5 conditions while declaring the same. Important ones are- the Raja should not torture his subjects, he will not invade beyond his frontiers and GOI will not interfere unnecessarily in the internal affairs of Manipur. The declaration was done in a public avowal. Worth to remember is that in spite of this declaration, Chandrakirti faced 10 revolts during his 1st 16 yrs of reign. From 1866 onwards, his reign was peaceful.

Thus sum total is that though the British had a slight upper hand in External affairs and Defence, they did not interfere in Manipur's internal affairs i.e. in Manipur sovereignty. It is also interesting to note that the king occasionally embarked independent path in these 2 realms e.g. his disastrous invasion of Kamhows (Shooties) and subsequent defeat in Dec-Jan 1856. The king fled with only 20 sepoys from the clutches of death ii) 1875 invasion of Kamhows leading to the surrender of their king Yatole to Manipur and iii) the famous Jiri Darbar meeting with India's Viceroy Lord North Brook on 11th August 1874 where he handed over Manipur's precious Thibomei (present Kohima) to the British. Also, for the benefit of the 2 countries as well as to bring stability to the frontier, the combined forces of the 2 countries would invaded neibours e.g ' the famous 2 month Lusai Expedittion (Dec/1871-Feb 1872) and the famous 3 months Kohima and Konoma Campain (Oct, Nov & Dec 1878).

Hence, British 'non-interference' in the sovereignty of Manipur, including infighting among the princes for the Throne, remained intact. This is also seen clearly in the infighting between Surchandra vrs Kulachandra for the Throne. After abdicating the Throne, on reaching Silchar and Calcutta, Surchandra complained to the British that it was a forced abdication and hence be enthroned again. The British rejected the plea and recognised Kulachandra as King. Worth to remember is that it was done at the request of Surchandra and not from British side.

Hence, in this 2nd phase of British-India relation, though the line of demarcation was unclear in respect of External affairs and defence, Manipur remained a sovereign and independent princely state without interference from any side. Hence, the readers, common people and future generation should know it thoroughly and discuss threadbare.

3. Phase 3 of British-Manipuri relation : The period relates from British capture of Kangla Palace Complex till they left Manipur i.e. Churachand's reign to British departure (Sept 1891 to midnight of 14/15 Aug 1947). Here one can find and see many changes. It relates to the reign of 2 kings - Churachand and Bodh Chandra. After defeating Manipur shoulders in the only 1st and last Anglo-Manipuri war, British intered Kangla Fort on 27th April 1891. Thereafter, they searched for a suitable candidate for Manipur Throne. The mantle finally fall to 6 yr old minor Churachand, grandson of Great Nara Singh. GOI order was issued on 18th Sept 1891. The minor was enthroned on 29th April 1892 by PA Major Maxwell. He was endorsed with the title of Raja in February 1908 and by another order on 1st January 1918 (10 yr later), again conferred the title of Maharaja.

To be continued ...


---
* Dr Th Suresh wrote this article for The Sangai Express
The writer Ex- Director of Health Services, Manipur & WHO Fellow.
This article was posted on October 10, 2015.
---
* Comments posted by users in this discussion thread and other parts of this site are opinions of the individuals posting them (whose user ID is displayed alongside) and not the views of e-pao.net. We strongly recommend that users exercise responsibility, sensitivity and caution over language while writing your opinions which will be seen and read by other users. Please read a complete Guideline on using comments on this website.