Manipur's independence and Merger Agreement 1949
Milan Luwang *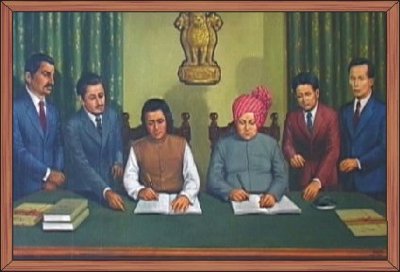 The Shillong Accord 1949
Warning: These images CANNOT be reproduced in any form or size without written permission from the RKCS Gallery


India got independence on 15th August 1947 from British colonial rule. Manipur being a part of British India too got freedom since then. The then political agent of Manipur Mr Stewart wrote a letter to Maharaj Bodhachandra stating that Maharaj should come at the residence in the midnight of August 14/15, 1947.

First Maharaj Bodhachandra thought that Stewart should come to the palace as the latter was a lower rank. Maharaj Bodhachandra soon realized that Stewart was a representative of the British crown. On a stipulated time, Maharaj Bodhachandra, private secretary Gourahari and ADC Anandmohan came to the residency. Political agent Stewart warmly welcomed them. They entered inside the bungalow.

Stewart was sitting facing east while Bodhachandra was sitting in the opposite direction. Both the private secretary and ADC were sitting behind the Maharaj. The moment was so still. At 12 pm they just stood up.

Then Stewart said that the British rule over Manipur will lapse from today.The state administration is handed over to you. Maharaj Bodhachandra and Stewart shake hands. Next moment the duo said good morning, good morning. Then Maharaj Bodhachandra, private secretary and ADC left residency for the palace. Since that moment Manipur attained freedom.

Viceroy Mount Batton conveyed a meeting of all princely states of British India on July 25,1947.He told that all the princely states should get freedom after the British left. He announced that the British paramountcy will divide the Indian sub continent into two separate dominions viz dominion of India and dominion of Pakistan.

He advised that each princely state had to join either India or Pakistan for their betterment. The princely states must hand over their authority of external affairs, defense and communication to the authority of India or Pakistan, he reiterated. Believing this Maharaj Bodhachandra signed the Instrument of accession and stand still agreement on August 11,1947 at Imphal.

In the morning of 14 August 1947, Maharaj Bodhachandra entrusted his brother Maharaj Kumar Priyobrata to form an interim council, a provisional government. Bodhachandra appointed Maharaj Kumar Priyobrata as chief minister. In the interim council there were seven council of ministers including the chief minister.

Other ministers were Major Bob Khatting minister in charge of hill administration and Manipur rifles, Krishna Mohan finance, RK Bhubansana revenue, Moulavi Basiruddin Ahmed medical, PWD and jail, K Gouro Singh education and local self government and TC Tiankham forest and agriculture. Later on the Manipur state Constitution act 1947 constituted.

Under this Constitution, the first assembly election of Manipur was held in June July 1948. The election was based on a universal adult franchise. Total number of seats was 53. 30 seats from valley, 18 seats from hills, 3 seats from Muhammadans and 2 nominees of Maharaj Bodhachandra being head of the Constitution. MK Priyobrata and E Nilakanta were the two nominees. Hijam Erabot won from Utlou A/C.

Md Alimuddin, Laishram Achou, Sekmai Chaoba,, Moirang Koireng, Elangbam Tompok, S Somerendra, RK Bhubansana, Dr Leiren, Giri, Major Bob Khatting etc were worth mentioning elected persons. Manipur state Congress won only 14 seats and failed to form a government. A coalition government of Praja Shanti supported by 12 independent MLAs was there. MK Priyobrata was sworn in as chief minister by Maharaj Bodhachandra.

Six other ministers were also sworn in. S Somerendra was the opposition leader in the assembly. The term of the assembly was three years. Manipur state Congress was so disappointed after the election. The first assembly session was held on 18 October 1948 at Darbar Hall, palace. Maharaj Bodhachandra inaugurated the session by giving speeches.

After election there was a turmoil , unrest in the society despite a responsible government was there.The political agitations influenced by the Congress movements in India spread to Manipur and they were demanding a responsible government in the state. Among the politicians there were Quarrelling, allegations, and claims. Tompok Congress agitated demanding formation of Purbanchal Pradesh.

Tomal congress opined that the sorrow of Manipur will be resolved if it joins in Purbanchal Pradesh. Keeping this in mind he and his followers went to Assam and agitated demanding Purbanchal Pradesh. At that time there was a rumour of formation of Purbanchal Pradesh including Manipur, Lushai hills, North cachar hills, Jaintia hills whose capital would be at Shillong.

Jana Neta Hijam Erabot strongly objected to the proposal of formation of Purbanchal Pradesh. At that time he was an MLA. He organized a public meeting at MDU Hall on 21 September 1948. A crowd from the Lamlai side came to participate in the meeting. A team of Manipur police stopped the rally at Pungdongbam. Confrontation between the police and the crowd occurred. A sub inspector Naranbabu was killed in the incident.

Consequently the government ordered the immediate arrest of Erabot. On hearing this information, Erabot quickly ran away from the meeting. Government announced him wanted . From that incident Erabot became underground forever. Eventually he died on 26 September 1951 at Tangbo hill Burma.

At this juncture the political leaders of India were thinking how to annex Manipur in the Indian Union. The Assam governor Sir Akbar Haidari sent Deveshor Sharma, a politician of Assam Congress to Manipur to observe the political loophole of Manipur as a dominion agent. He frequently intervened in the political affairs of Manipur.

After that the leaders of Delhi after thorough discussion sent a person called Rawal Amar Singh giving a post Dewan in place of agent to Manipur. After independence the political status of Maharaj Bodhachandra was only in namesake. Just only the head of the Constitution.

The dewan did many works in place of Maharaj. This led Maharaj Bodhachandra disappointed. This was pre plan of Delhi. It may be mentioned here that there was a plan of Sardar Patel, then deputy prime minister to form a union of India by annexing all princely states within three years.

The Assam governor Sri Prakash officially came to Manipur and talked with MaharajBodhachandra about the annexation of Manipur to India. However, Maharaj Bodhachandra didn't give a final decision regarding the annexation of Manipur. He thought that he should go to Shillong to meet governor Prakash to scrutinize the over smartness of Dewan Amar Singh and to discuss some political issues.

Bodhachandra sent a telegram to governor Prakash stating that he should come to Shillong in the first week of September 1949. On hearing this information governor Prakash and his advisor Rustumji were full of joy. Both of them had a headache thinking about how to annex Manipur in India. At this time they have a golden chance.

Assam governor Prakash immediately rushed to Delhi to meet the political leaders of India to discuss Manipur. Then he went to Bombay to meet Sardar Patel to tell about Manipur. Sardar Patel asked, Is there not a single brigadier of the Indian Army at your Shillong? Prakash understood that he was given permission to force Maharaj Bodhachandra if the latter didn't sign the merger agreement.

Maharaj Bodhachandra left Imphal for Shillong on 16 September 1949. Total number of persons including private secretary Gourahari and ADC Anand Mohan were 15. They were travelling on vehicles. Next day , they reached Shillong in the evening and halted at Red Lance's Shillong.

On 18 September 1949 at around 11am Maharaj Bodhachandra along with private secretary Gourahari and ADC Anand Mohan went to government house Raj Bhawan to meet governor Prakash. They were travelling in a vehicle. They saw a vehicle of Indian CID chasing them. Soon they came to Know that the campus of Raj Bhawan were security tied.

Governor Prakash warmly welcome Maharaj Bodhachandra. Then governor Prakash took an envelope from his private secretary TS Krishna Murti and opened it. Governor Prakash gave the documents to Maharaj Bodhachandra and said, please sign it. He told that the government of India has decided to annex Manipur state in dominion of India. It is for betterment of Manipur state.

Maharaj Bodhachandra flashed his eyes and got disappointed. He replied that he should concern the council of ministers and the assembly. The matter was state concern. So I could not sign it. All the efforts of governor Prakash were in vain. Governor's advisor Rustumji threatened Maharaj Bodhachandra by saying that Maharaj could not leave Shillong unless he signs the merger agreement.

Governor Prakash said Rustumji to keep quiet. Then governor Prakash said Maharaj Bodhachandra that the sign will be done tomorrow at the same room. Maharaj Bodhachandra returned Red Lance's. On that day the Indian CID personnel surrounded the Red Lance's. Bodhachandra didn't come to the government house on 19 September 1949.Letters were sent to both sides.

Maharaj Bodhachandra was like a house arrest person in Red Lance's. He may be compared with the lion trapped. He was helpless there. At last he decided to sign the merger agreement. On 21 September 1949 Maharaj Bodhachandra, private secretary Gourahari and ADC Anand Mohan went to the government house and formally signed the Manipur merger agreement.

On 15 October 1949 the government of India officially announced that Manipur became a part of India.


---
* Milan Luwang wrote this article for The Sangai Express
This article was webcasted on December 05 2021.
---
* Comments posted by users in this discussion thread and other parts of this site are opinions of the individuals posting them (whose user ID is displayed alongside) and not the views of e-pao.net. We strongly recommend that users exercise responsibility, sensitivity and caution over language while writing your opinions which will be seen and read by other users. Please read a complete Guideline on using comments on this website.