My Japanlan memoir after four score years - C
Dr Irengbam Mohendra Singh *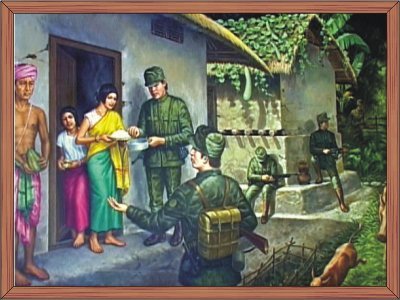 Japanese soldiers begging for food.
Warning: These images CANNOT be reproduced in any form or size without written permission from the RKCS Gallery


The apocalyptic modernity of WWII made Imphal town look like the Hollywood ghost town in Santa Fe in the Old Wild West. After the second bombing over Imphal on May 16 1942, six days after the first, Gimson told my father during one of his visits that, a few bombs fell on his Residency compound.

One demolished the main jail gate. Many prisoners escaped. Thousands more of the refugees, mostly Indians including Helen of Bollywood, and a handful of Europeans, who had tracked along the old trodden path over the mountains from Tamu in Burma to Moreh in Manipur, and been staying at Koirengei, had left on foot for Assam.

This tortuous mountain path was later made a two-lane tarmac road in 1942 by the British Army, on time for evacuation of retreating British troops from Burma. It was named Indo-Burma (IB) Road.

Gimson told my father that all the policeman had deserted. He made a request for two Burma Police officers to come and organise policing at Imphal. His liveried servants had also fled home to Assam. He gave my father a twisted metal shrapnel that made a hole in his gramophone inside his bungalow.

Before Japanlan one could see Gimson's Residency compound (now Raj Bhavan) while walking past the two front gates, open day and night without guards, like the gates of Heaven. Imphal was the safest place to live in India. One could see the beautiful drive (Gimson had no car), surfaced with red crushed brick chips, neatly lined on each side by manicured green lawns. A solitary brick building, the Treasury, stood next to the northern gate (to keep government money). It was guarded by a lone Gurkha sentry.

It was exciting when I first went inside the Residency compound with its vibrant English garden flowers, just before Independence in 1947. The late Moirangthem Gojendra, father of Shantikumar, and I went to see the last political agent Mr Pearson (he had a car) to seek theatre tickets when the British Shakespearena Theatre Company came to Imphal and performed at the Manipur Dramatic Union Hall at Yaiskul.

I chanced to see the interior of the Residency bungalow when I went as a doctor to attend to Chief commissioner Baleswar Prasad In 1963 or 64. Another smaller bungalow had been built for the President of the Manipur State Durbar (PMSD) or Chhota sahib, the second highest administrative officer, usually young ICS Britons. This residence has since Independence, been occupied by succeeding chief ministers of Manipur. I've been inside it a couple of times during its occupation by Mairenbam Koireng, the first chief minister.

Flashed back, our village was peaceful with a crystal clear shallow stream running on a bed of pebbles, right through the middle of it. Though the hosts in the village were very welcoming, tension gripped the refugees in the way storm clouds gather when there's going to be rain. It exploded in a month, not from Japanese bombs, but from malarial parasites. Three or four people were cremated every day by the riverbank. Our family including me survived as my father knew about malaria and procured the bitter liquid quinine. As a boy I thought I wouldn't survive to be an adult.

A year later, my second brother Yaima took me to Imphal on a bicycle to watch a Tarzan film with Johnny Weissmuller at MNB cinema hall in the town centre, which became operational for soldiers.

The town centre was deserted with most buildings in ruins. A few Meitei traders under temporary shades at Maxwell Bazaar, the present Paona Bazaar, were vending vegetables, fish and other knick-knacks to various multiethnic soldiers: brown, black and white.

In our village, Indian army foot patrols and Gurkhas in armoured cars, reminded us of the war. Outside the village, at a grazing field, there was a small British radar station with the personnel wearing British Air Force khaki uniforms. The village boys would make bamboo beds for them to sleep in their tents. We would take them in exchange for nice things to eat, communicating in broken English. There were intermittent firing practices of big guns from a location between our and Khurukhul village, aiming towards Ingourok Hill in west Imphal valley, south of Leimakhong, 20 km from Kangla.

At the foothills of Leimakhong there was a large military establishment in 1943-44, between the Leimakhong River and the present headquarters of 57 Mountain Division. There, one day I saw a Pathan soldier with long cropped hair at the back, stabbing an English captain to death in front of everybody.

Near about the present-day (2017) Number 183 [Indian] Military hospital at Leimakhong, there was in 1943-45, Number 41 Indian General Hospital with Australian nurses of Queen Alexandra's Imperial Military Nursing Service. This large base hospital was separated into two by a sliproad for ambulance cars, running from north to south from the uphill main road to the power house.

The smaller one on the west side was for white soldiers and the bigger one in the east for non-white soldiers. It was a very big hospital complex with European doctors attending to the wounded or ill soldiers evacuated from the frontline. There was an enormous canteen. My father used to take me there to buy chocolate and canned food stuffs, such as garden peas, pears, condensed or evaporated milk and Kraft-K cheese.

I often went to the powerhouse with my father on his bicycle, and stayed for a few days at a time at his little bungalow. It was quite an excitement. The powerhouse was guarded by a small unit from the 4th Assam Rifles, who used to give me a paratha every morning for breakfast.

The back-end of year-1942 was lucrative for many Meiteis as labourers and thikadars (contractors). General Slim was widening the IB Road for transporting troops and equipment to Morey from Dimapur. He was among the first batch of British soldiers that walked haggard and jiggered all the way from Tamu to Imphal via Moreh.

The War gave unemployed Meiteis work in road-building with so much inflated money to finance the war, something that had never been seen before. Most women were glittered with gold. Meitei thikadars from our village and adjoining villages made pots of money from contracting for road- building, involving tedious carving of the hills of a small stretch of the IB road passing the hilly Feidinga area where now, DGI Memi's 'The great Escape' garden is situated. The thikadars lavished money like dirt. Hilarity prevailed over their lack of prudence.

Those thikadars, rendered comic by their own travesty, became targets of comedians like khutamacha, who appeared in a shumang lila (outdoor drama) with a heist of comedies. He made the second ever long-playing vinyl record from Gauhati studio, in which he sang a hilarious song with the lyrics: thikadar Meiteimacha apumbas inkamgi tenna palladuna mamaida maihing kare (all these Meitei contractors are now having melasma – dark irregular skin patches on their faces, as they are now hit by the arrow of income tax).

The entire IB road stretched 320km from the Dimapur railhead in Assam to Moreh town in Manipur at the Burma border, running right through the centre of Imphal through Thoubal to Palel, 30 km from Imphal, where during the war the Allies built another airfield, and where the only known battle involving Netaji Subhas Chandra Bose's Indian National Army (INA) took place during the night of May 2 1944. Only a few Gurkhas guarding the airfield beat them back with over 200 causalities. By May 4 they withdrew to Khanjol, their base.

General Slim conducted the war with his Allies troops battling the Japanese around Imphal and in Kohima, as well as in the Burma Campaign, from a bungalow at Kangla, which is now preserved as "Slim's Cottage". Luckily, when my wife Margaret, son Neil and I were invited by the MHRPA to the 10th International Polo Tournament In Imphal in 2016, I was taken one day, along with foreign polo players for a tour of Kangla, including the Slim Cottage, guided by Suranjan Lairenjam and Nanjest Thongjam.

The war was excitement for Meiteis who didn't take part in it. We were suddenly thrown in a cauldron containing all human races. The population shift from Imphal town to the periphery brought out thriving markets, such as Lamshang bazaar on Kangchup Road, providing various commodities for neighbouring villages. Meiteis in the villages, continued to enjoy the old slew of pastimes, such as Laiharaoba, khubakishei, circus and magic shows, oblivious of the raging war.

One educated Meitei girl Chandrakala from Lairikyengbam Leikai became famous for singing Meitei "opera song" at Ras Lila: Gauriya Vaishnav classical musical. She and other girls gave a stunning performance at one organised by my father at our village in the winter of 1944.

The venue was lit up with electric lamps from a generator by his electricians. Four or five Gurkhas from the unit guarding his Power House, acted as security guards. My little sister Rupobati, probably played a Gopi (cowgirl) and her cousin sister Nungshi played Radha. The first Manipuri vinyl record was made by Chandrakala. I am very glad that, she in her 90s, is still active and healthy by the time I am writing this memoir.
---
* Dr Irengbam Mohendra Singh wrote this article for The Sangai Express
The writer is based in the UK and can be contacted at Website: www.drimsingh.co.uk
This article was webcasted on September 10, 2017.
---
* Comments posted by users in this discussion thread and other parts of this site are opinions of the individuals posting them (whose user ID is displayed alongside) and not the views of e-pao.net. We strongly recommend that users exercise responsibility, sensitivity and caution over language while writing your opinions which will be seen and read by other users. Please read a complete Guideline on using comments on this website.