The Martyrdom of Tikendrajit Bir Singh & Thangal General
- Part 2 -

By Lt Col (Retd) M Ranjit Singh *
Gambhir Singh became the king of Manipur in 1825 and he was recognised both by the British and Burma. Maharaj Gambhir Singh died on 9 January 1834 after a reign of nine years. He was succeeded by Raja Narsingh and on his death by his brother Debendra Singh for a short period of three months.

Chandrakirti, son of Maharaja Gambhir Singh, became Maharaja of Manipur on 12th July1850. Initially the relations between Maharaja Chandrakirti and Government of India were not on good terms and he was not recognised immediately as the Maharaja.

On the instructions from the Government of India, Political Agent reminded Maharaja Chandrakirti that the Manipur State owes its very existence to the British Government, and that, although the British Government has generously left to the Manipur State perfect independence as to its internal management, it will not tolerate but on the contrary will visit with its severest displeasure any act on the part of that State which shall evince an intention of yielding countenance or support to any enemies or rebellious subject of the British Govern-ment.

After this "according to the British the state" of affairs improved considerably, Maharaja Chandrakirti evidently being recalled to a proper sense of his position, and ruling with a greater regard to the rights and feelings of his subjects. In 1851, the Government of India formally recognised Chandrakirti as Raja of Manipur and also made a public avowal of the determination of the British Government to uphold him and to resist and punish any parties who might attempt to dislodge him.

In addition to two attempts made by Deebendra Singh, several attempts were made to dislodge Maharaja Chandrakirti. In 1852, two sons of Modhuchandra and a son of Marjit Singh, named Kanhai Singh, made an attempt. Modhu Channdra's two sons were captured, and afterwards died in Manipur. Kanhai Singh escaped.

In 1859 and 1862 a descendent of Garib Niwaj, named Maipak, invaded Manipur. The first time he was defeated and fled; the second time he was wounded and taken prisoner. He died a few years afterwards.

In 1864, Kanhai Singh made a second attempt with 200 followers. He was defeated by a party of the 33rd Native Infantry and Police (Assam Rifles), and his followers dispersed, but he escaped.

In December 1866, Gokul Singh, a younger son of Debendra Singh, with about a-hundred followers, made an attempt, which was also unsuccessful. Gokul Singh eluded pursuit till 1868 when he was captured in Cooch Behar, tried and sentenced to seven year's imprisonment.

Gokul Singh was tried under Section 125 of the Indian Penal Code (whoever wages war against the Government of any Asiatic Power in alliance or at peace with the Queen shall be punished with transportation for life or with imprisonment of either description for a term which may extend to seven years). Thus it will be seen that the British had kept their commitment to punish any parties who attempt to dethrone the Maharaja.

Maharaja Chandrakirti had ten sons by his six queens. From the beginning, eight princes (one died and another remain neutral) were not on good terms among themselves and were divided into two groups, animated by most hostile feeling towards each other. The first group of four was led by Prince Surachandra and they were sons of the first queen.

The second group led by Prince Kulachandra were step brothers from four queens. For easy understanding, the family tree of Maharaja Chandrakirti is shown: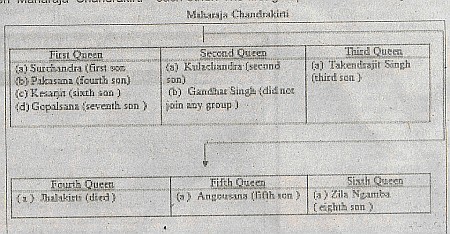 In the system of succession, Manipur does not follow primogeniture. The succession is rather from elder brother to next younger brother. In view of likely fight for succession among his sons after his death, Maharaja Chandrakirti during his lifetime intimated the Government of India that his eldest son Surachandra should be recognised by the British as his successor.
The Political Agent wanted that the guarantee regarding succession should be extended to the son of Surachandra also. But the Maharaja desired that after Surachandra, as was the tradition followed in Manipur, the brothers of Surachandra should be the king. Surachandra succeeded his father in May 1886. The Government of India recognised him, as the Maharaja of Manipur.
The public avowal made by the Government of India during his fatherís lifetime was made applicable in his case also. Under this commitment, the British Government was bound to punish anybody who tried to dethrone Maharaja Surchandra.
During the reign of Maharaja Surchandra, there were three revolts; one by Borachaoba, the eldest son of Maharaja Narsingh and two others by Wangkheirakpa and Jogendro Singh. The rising of Borachaoba and Jogendra Singh were put down with the help of British force. The rising of Wankheirakpa did not require any British help as the ring leader was killed at an early stage.
The conflict between Takendrajit and Pakasana continued for a long time. The climax of their rivalry came on 21st September 1890 when Pakasana reported to the king that there were large gathering of men in the houses of Takendrajit, Angousana and Zilla Ngamba which may result in revolt by the step brothers.
Maharaja Surchandra asked Jubaraj Kulachandra to inquire about it... Kulachandra returned about 8 pm and reported that there were no such assemblage and all the step brothers were willing to come and pay their respect to the king but that he, the Jubraj had told them to appear next morning to apologise to the king.
But Jubraj must have got some inkling to what was going to happen as he left the palace at the same night and stayed at Burri Bazar (Nambol) awaiting the result of the events to come. Around 2 am on 22nd September 1891, Zilla Ngamba climbed over the walls of the palace and fired in the place where Maharaja lives.
The king got so frightened thinking that the step brothers have revolted and fled by a back door to the British Residency without putting up any fight. Takendrajit then arrived and took possession of everything and proceeded to strengthen the palace defence against any attempt to retake it.
To be continued.....
---
* Lt Col (Retd) M Ranjit Singh wrote this article for The Sangai Express . This was webcasted on November 24, 2008.
---
* Comments posted by users in this discussion thread and other parts of this site are opinions of the individuals posting them (whose user ID is displayed alongside) and not the views of e-pao.net. We strongly recommend that users exercise responsibility, sensitivity and caution over language while writing your opinions which will be seen and read by other users. Please read a complete Guideline on using comments on this website.