Manipur Paona Independence League of Burma and Second World War
- Part 3 -
Aheibam Koireng Singh / Hanjabam Shukhdeba Sharma *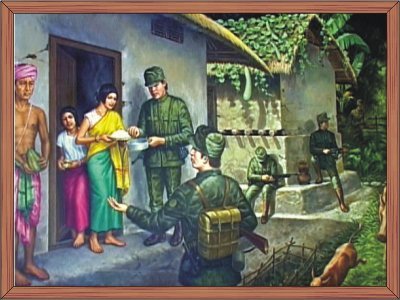 Japanese soldiers begging for food.
Warning: These images CANNOT be reproduced in any form or size without written permission from the RKCS Gallery


(Translated excerpts of Wairakpam Mangol Singh's authored book, Prithibigi Anisuba Lanjao amasung Manipur Party, which is to be incorporated as book chapter in the forthcoming book on Manipur and Second World War)

There were five parties in the office – 1). Manipur Party; 2). Uteji Party (Burma); 3). Amar Singh Party (India); 4). Khan Party (India); 5). INA Party led by Lieutenant Bhim Singh and Lieutenant Shyam Singh. Other parties were taken responsibility by their respective party leader. In the case of Manipur Party, responsibility was borne by Shri Guna Singh and Shri Murkha Singh.

Tomba Singh and Babu Singh from among the Meiteis and Takun who was a head of Awa spy were sent to establish relations with the people of the hills. That way they got Holkoyam Kuki who was a minor child of 12/13 years of and another of 30 years of age from Holkom Basti to help them in their mission. Afterwards Yolpao Kuki, Lamkhothang Kuki and Lamjangam Kuki also joined in.

The Meiteis in Burma from Kalemyong, Mandalay, etc. also came together at Kendat and were ready prepared to go for war. Those Meiteis gathered there were given training by Mr. Mayurasan. In March, 1944 the recruits of Manipur were distributed under the Japanese officer - Mister Miyurasan and Naga Nisan. Along with 13 Meiteis they climbed up the Chin Hills and proceeded to Churachandpur.

Their names were –
1. Shri Balhav Singh, Bamon Leikai;
2. Shri Mairembam Ahaljao, Moirang;
3. Shri Salam Yaima Singh, Soibam Leikai;
4. Shri Takhellambam Chandra Singh, Khurai
5. Shri Mutum Chaoba Singh, Keirao;
6. Shri Laishram Ningthemjao, Kendat;
7. Shri Tomba Singh, Kendat;
8. Shri Kshetrimayum Babu Singh, Tera Keithel;
9. Shri Oinam Maipak Singh, Charangpat;
10. Shri Ningthoujam Gulap Singh, Heirok;
11. Shri Laishram Laishram Tomu Singh, Kendat;
12. Shri Tombi Singh, Kendat; and
13. Shri Mangi Singh, Kendat.

Already six persons have sent in that direction. They were –
1. Shri Nongthombam Amu Singh, Huikap;
2. Shri Chanam Amu Singh, Thoubal Wangkhem;
3. Shri Sanajao, Thoubal;
4. Shri Kongkham Angou Singh, Wabagai;
5. Shri Sapam Angou Singh, Kabow Wakching; and
6. Shri Thounaojam Tomba Singh, Moirang.

Led by Shri Guna Singh and Shri Murkha, the remaining Meiteis along with leaders from the hills climbed Changpal, Libung, and Khongkang Bastisituated at the southern boundary and proceeded towards the hill ranges of Sircom and Aungpasu for the war. The name of those who took part in it were –
1. Shri Laishram Guna Singh, Lairikyengbam Leikai;
2. Shri Laikhuram Murkha Singh, Thangmeiband;
3. Shri Loukrakpam Murkha Singh, Keirao;
4. Shri Aribam Atombabu Sharma, Thangmeiband;
5. Shri Amu Singh, Thangmeiband;
6. Shri Nongthombam Amu Singh, Kendat;
7. Laishram Yugendra Singh, Kendat;
8. Shri Batou Sharma, Mandalay;
9. Shri Sitasen Sharma, Mandalay;
10. Shri Bamao Sharma, Mandalay;
11. Shri Sagolsem Khomdon Singh, Kendat;
12. Shri Iboton Singh, Kakching; and
13. Shri Maibam Thagoi Singh, Kendat.

From among those leaders, Shri Laikhuram Murkha Singh was migrated from Thangmeiband and settled to Kendat from where he came for war.

When the said party came for war at Changpol, the British army fled out of fear without even putting down the 'Aloo Bhaja, (potato Fry) from the flame. Japanese army chased and killed many of them. Shri Lamkhothang Kuki and Onkhothang brought in many Kukis from the rival V Force to the Manipur Party.

Because of the bringing in of many kuki Chiefs, Shri Guna Singh and his companion Yamadasan appointed him as the Captain of the V Force of Manipur Party. That way more and more hillsmen were brought in. Shri Lamkhothang Kuki hailed from Tengnoupal sub-division of Wayang Village.

That time, it was very much inevitably in need to send persons to Manipur to make aware of the emerging activities. When the manpower to carry out such activity was found to be very difficult, Shri Lamjangam Kuki along with his wife, Hoyakim, with great difficulty and hardships reached Manipur through Sugnu route.

Letter and documents of the party were also given and let known of the reasons to Potsangbam Tomal Singh, Shri Laishram Kanhai Singh, Shri Thokchom Angou Singh because of which they gave maximum cooperation to Japan and INA.

Lamjamang Kuki was once again sent to Sugnu and he brought the head of Sukom from Sugnu. Dr. Gulapchao Singh provided medicine and also gave maximum cooperation in the war for freedom of Manipur. Lamjangam Kuki was the head of the spy of Manipur party. He was also from the Wayang Village of Tengnoupal.

The party while camping at Sircom hill ranges were summoned by sending V Force and most of them turned up and also brought ration from their respective locality. Afterwards the British army in Tukmu fell into the hands of Japan and those commodities abandoned were later used by the Japanese. The Chief of Sihao, Limkhuisei quit from his job of Section Commander of British V Force and joined the Manipur Party.

As an officer, he was very hard working and did his duties speedily up to reaching Angprasu. After reaching Angprasu, Thongkhusat also after leaving the British force also joined the Manipur Party and assumed charge as leader of the V Force. Captain Yamadasan treated him very favourably hoping that they would soon be reaching Imphal.Following it so many village chiefs and leaders joined in. By the time they reached Chamon camp, they became the respective heads of V Force and counterbalanced the strength of enemy force.

After raising the camp at Angprasu, the Manipur Party received help from most of the village chief of the hills. Following it, camps were also raised at Chamon, Wangku, Khongjon, Monjang, and finally at Yaiphou. At one night, INA and some V Force led by Japanese officer, Yamadasan went for war at Chandel and had an exchange of fire. When Yamadasan burned their garrison, most of the villagers ran away.

They captured one civilian. One day, a civilian who came for fishing at Chakpi was caught by the Manipur Party V Force and released him after deataining for six days with the instruction to spy on the British and inform them. At a camp in Yaphou, there were also some 1000 INA soldiers under the command of a Subedar Major and Captain Devi Singh.

There was an incident of bomb dropping at that place after about half a month. Simultaneously, the British fired multiple heavy artilleries round from Pallel and landed quite often very near to them at Chakpi River. At the same time, machine guns were also fired from the top of western hills along with airdropping bombs.

Officer Yamadasan suggested to withdraw from there towards Khonjon side leaving some Japanese and INA soldiers there to guard the place, so they accordingly withdrew at Khongjon. In that incident, Shri Guna lost his war diaries and other many important documents. Among the casualties, some V Force and INA soldiers were injured, and some death casualties among the INA soldiers. Also one Halukhusei from among the V Force also died. They then erected camp at Wangku and stayed there with great hardship.

The Large footstep at Bongli

At the south, the 77th Indian infantry had already crossed Nigthi and Irrawaddy river of Burma in February 1943 and cut and dismantled tracks in many parts at 'Katha' (town in Sagaing region, Burma, on the west side of the Irrawaddy River) at the railway route of 'Myitkyina' (means 'near the big river', capital city of Kachin state in Burma situated in the west bank of Ayeyarwaddy river).

The rations for their soldiers were all airdropped from the plane. In January 11, 1944, troops of 15 Indian Core captured and took over 'Maungdaw' (A town in Rakhine state, Western Burma). The British greatly hurdled and inconvenienced the Japanese in ferrying their goods by airdropping bombs in most of their routes.

In the west some 500 miles ahead, Chinese-American army of General Stilwell came down to 'Hukaung Valley'(located in Tanaing township, Mythkyina District ,Kachin state, Myanmar) which was situated at the root of Ningthi River. He took rapid advances towards the south. On May 17, the Chinese Army from towards the east crossed Salwin River and proceeded up to Myitkyina airport.

In Katha, the 3 Indian Division posed danger to the four important places of Japan. They were:
1. Myitkyina and Mandalay Railway route;
2. Land route at the Western bank of Ningthi river from 'Homalin' (a town in north-western Burma, in Hkamti District of Sagaing region which lies on the Chindwin river) to 'Ingdao';
3. The route reaching 'Bhamo' (a city in Kachin state, Northern Myanmar situated on the bank of Ayeyarawady River) which passes through Shan state in the west; and
4. Water routes of Ayeyarawady reaching Bhamo.

So, with the eminent danger in most of the supply lines of Japan, the ration for the soldiers in Manipur have almost dried up. The deteriorating condition in Burma coupled with the insufficient ration due to seizure of all available routes compelled them to retreat. Captain Nagao San told to Shri Guna Singh, "You all should retreat to Burma and wait for the war and again go for war after one or two year because America is approaching nearer to Japan in the Pacific ocean. We had to first protect our capital city. Then afterwards we will go for war to India."

In the interim, the Manipur Party could not materialise their plan to regroup at Mandalay due to the rapid advances made by the Allied Forces. The enemies started hunting down to nab them. So, they were finding it difficult to find their place for shelter. This was evident from what Uthonten alerted to Shri Guna Singh and his party saying, 'keep remaining in hiding for the time being as a communique in writing is received notifying to nab youse and handed over to them'.

Accordingly they remained in hiding. Simultaneouslywritten communiques were also received in uninterrupted frequency to nab Koireng Singh of Moirang, Potsangbam Tomal Singh and Guna Singh if they were found and would be suitably rewarded for it. This compelling circumstance made them to escape from Myanmar inconspicuously and reached Manipur at the night time in August 1945. The activities of Manipur party were also then no longer heard afterwards.On 6 May 1945, the Allied Forces reined in and completely took over Burma.

Concluded....


---
* Aheibam Koireng Singh / Hanjabam Shukhdeba Sharma wrote this article which was published at Imphal Times
Aheibam Koireng Singh is Assistant Professor in Centre for Manipur Studies, Manipur University
Hanjabam Shukhdeba Sharma is Assistant Professor, Dept. of Social Work, IGNTU, RC-Manipur
This article was webcasted on January 03 2021.
---
* Comments posted by users in this discussion thread and other parts of this site are opinions of the individuals posting them (whose user ID is displayed alongside) and not the views of e-pao.net. We strongly recommend that users exercise responsibility, sensitivity and caution over language while writing your opinions which will be seen and read by other users. Please read a complete Guideline on using comments on this website.