Manipur Paona Independence League of Burma and Second World War
- Part 2 -
Aheibam Koireng Singh / Hanjabam Shukhdeba Sharma *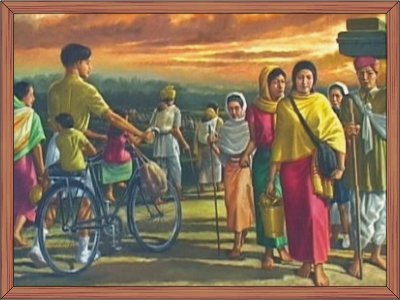 Lan Chenba (People fleeing war zone)
Warning: These images CANNOT be reproduced in any form or size without written permission from the RKCS Gallery


(Translated excerpts of Wairakpam Mangol Singh's authored book, Prithibigi Anisuba Lanjao amasung Manipur Party, which is to be incorporated as book chapter in the forthcoming book on Manipur and Second World War)

Shri Guna at once told to Lieutenant Fuji while talking with him at Rangoon office of Hikari Kikas that, "We wanted to restore the lost independence of Manipur by befriending with you (Japan) for our emancipation from slavery and bondage by defeating the British. And atrocities were committed to the women of Manipur by cruelly inflicting them with bayonet wounds during the women's war.

The women of Manipur spend the entire night restlessly with great difficulty. Paona and many other patriots were martyred in the war of independence. Bir Tikendrajit and Thangal were hanged to death. We started to take up this act to revenge for all such acts."

Hearing these words, Lieutenant Fuji stood up and by holding his hands happily stated, "That yearning for serving the nation be keeping aside the self-interest is what we actually wanted."

The war by Japan and INA against the British in India would be from two fronts – one from Manipur and the other from Arkan side which was to be preceded first from the Manipur side. It was because of this reason that the participation of Manipur League was inevitable. The Lieutenant further made it known to Shri Gune Singh.

From that time onwards, the Japanese gave Shri Gune was given Rs. 100 each for a week as allowance. Rs. 200 was also given to Shri Gourahari to spend for his expenses. Japanese press also had Bengali language and Bengali script. Guna Singh also had to like in Meiteilon (Meitei Language) to distribute as pamphlet. So, the next day the pamphlet written in Meiteilon was made known to the Japanese.

It was at first to be discussed at the office and subsequently to look after the works of the Bengali compositor by going to the press. In that way, two different pamphlets were printed. After about half a month, Shri Guna Singh was told to travel to Singapore by air and meet Singapore there.

At this Shri Guna enquired about when Subhash Chandra Bose would be coming to Rangoon. Guna Singh got the reply that Subhash Chandra Bose would be coming after a week. So, it was decided to meet Netaji when he came to Rangoon.

Mr. Fuji then asked Shri Guna Singh to give in writing the names of some politician who were interested in Manipur politics together with the activities they already have done for the freedom of Manipur and also the names of educated people in Manipur. In it, he mentioned the names of those whom he thought were well qualified.

Among them were – Irabot Singh, Shri Elangbam Tompok Singh, Dr Leiren Singh, Nongmeikappam Gopal Singh, Muhori, Koijam Amubi and Mohendro Singh stating that they gave up the respective post occupied by them and endeavoured for the welfare of the people. At this, the Japanese officers further enquired on what activities these politicians were doing, how they gave up their respective post.

He replied mentioning that Shri Irabot gave up his membership for Sardar Panchayat (Manipur), Shri Tompok gave up his post of Clerk, Dr Leiren deserted the palace and started publishing 'Yakairol' (tr., Dawn) for the benefit of the people. He also lucidly narrated about the Women's War which simultaneously erupted due to the discontent of the British misrule.

Among those who were educationally well qualified, he mentioned the names of – Shri Arambam Ibohal Singh [BA, Bachelors of Teaching (BT)], Shri Sougaijam Sanajaoba Singh [BA], Shri Kalachand Singh Shastri, Shri Krishnamohon Singh [Master of Arts (MA), BL], Shri Dwijamani Sharma [MA], Pandit Lalita Madhav Sharma [Bidya Ratna], Shri Shivanand Sharma and Pandit Atombapu [Bidya Ratna]. He explained elaborately about them.

Mr. Fuzi strongly insisted Shri Guna Singh to go to Singapore by plane and meet Netaji as the war march to India would begin from the route in Manipur. At such a midst, an Officer of Upper Burma Molaik Field Headquarters repeatedly called up for completely one month at the Rangoon headquarter to send Shri Guna as they have faced many hardships in executing the work. Accordingly, Shri Guna Singh was happily well prepared to go to Molaik. One Japanese officer, one INA officer, and some INA soldiers escorted and transported Shri Guna Singh to reach Molaik on July end of 1940.

In their journey to Molaik, Shri Guna Singh and his companion Shri Gourahari Sharma entered Mandalay and met the President of Manipuri Paona International League, Uthonten and also with many of their friends and after letting them known that they have to go for war proceeded towards Molaik. At that time, transport conbnectivity was very difficult. They reached Molaik by ferrying at Motor Boat. At reaching that place, they were received by three officers – Captain Yamadea, Nagasisan and Sudusan.

They found one Senior Manipuri, whose name was Laimayum Murkha as employee in the office. At seeing Shri Guna Singh, he happily expressed that work would be able to express further. That took rest on the day of reaching there. On the morning of the following day, the locals of Meitei villages in Kendat came in large number and met Shri Guna Singh.

They told that "the Meiteis residing in Meitei villages of Kendat village were very much oppressed by AwaTaji. Japanese took whatever they wanted from the Meitei village and the Awas were kept protected. If the Japanese wanted a cow, they took it indiscriminately from the Meiteis and they also had to compellingly give it out of fear. However, Shri Guna made them to return by saying that he would come after about five-six days.

After that, they have thorough discussion on strategies and issues of war. Shri Guna Singh issued pass to Meiteis of Kendat and were drawn to Manipuri party for taking part in the war. The instruction written in the pass was, "Nothing shall be done to the person who is the bearer of the pass without informing the office of Shri Guna Singh, even if punishment has to be given as per the law, the said office shall be given prior information. After that the Meiteis there were given the monthly ration amount respectively of Rs. 500, Rs. 100 and Rs. 150. Even a household of Lone widow was given the amount of Rs. 50.

Then after about half a month, Shri Guna Singh, as invited by the people of Kendat, went there which was three miles away from Molaikat. As desired and requested by the people, he went to meet the Taji of Kendat. The said Taji oppressed the Meiteis very much. Shri Guna Singh asked him whether he know who he was.

At this Taji replied (in Burmese) – "Buji chuno tabire khemya Manipura acho wabe" meaning I (courteously) know you have assumed charge of Manipur Government." Shri Guna Singh further asked – Why are you heinously supressing the lone Meitei village at your village." At that Haji replied, "It was not by me but by Japanese."

Shri Guna Singh then told Haji, "If you did next time, remember the Meitei sword. Wasn't your Awa king earlier built Palace at the hillside of Shebo owing to fear of Meitei sword shifted to Iwang crossing over Irrawaddy, then to Amarpura and finally to Mandalay." Taji replied, "Hotobla Naukma Malukpu." meaning – "Yes, will not do anymore."

The use of Manipuri as forced labourer by the Japanese was also banned. Meiteis were sent to areas occupied by the British and used as spies. They also were made to dispense INA pamphlet at British army deployed areas.

One day a Japanese spy officer along with Taji came and asked to give her cow to a women named, Keina-Amubi. In it, she show the pass that was distributed to her. Even after that, they insisted to give them her cow. The said woman came and approached Shri Guna Singh on that matter. Shri Guna Singh, when he went back, he found Captain Yamadasan, the officer in charge gone to Rangoon headquarter.

He met Nagasisan, the temporary in charge in place of him. Both of them talked about the matter raised by the woman at the top floor of the office building. The officer told Shri Guna Singh that according to the law of Japan, there's no provision which allowed to take things and belongings without the willing consent of the owner, however it was done as they wanted it to feed the soldier.

The officer further told, "Like you people, there were some among us Japanese who were completely vegetarians before 50 years ago, but because of the premonition that the British as they did it to the Japanese in most parts of the world, the Japanese also would try to be subdued, they also started to eat non-vegetarian food.

It is quite surprising that after we reached Japan, we also started to eat snake, dog, almost everything indiscriminately. Those who eat non-vegetarian food can could work for longer hours than who are vegetarians. If they themselves are not willing, we Japanese will not take anything from them. Tell this to your people without disclosing my name. The supply officer after taking the cow will also have to provide my share, they will not be eating it."

In that way, slaughtering of cows belonging to Meiteis was banned by issuing a pass. At hearing that the Hindus have also insisted to issue pass for them too saying, "because of we are Hindus, we don't want the cows to be slaughtered. Passes were issued for them too thereby saving the cows of the Meitei and the Hindu from being slaughtered. If the source of religion was to seek truth and purity, then there shouldn't have any difference between religions.

Afterwards, the supply officer was tricking in trying to take the cow. When Guna Singh met the supply officer, he said –
"We came to give Swaraj to your people, we would be fighting war with the British so you people should heartily give the cow as it is meant to feed the cow who are facing hardships and difficulties deep inside the hills.

In hearing that Shri Guna responded, "Swaraj means having the capability to protect the culture and religion of the native land. Hindus worshipped cow as god. If you demand to give cow to slaughter and it, then it is not the swaraj we wanted."

That way slaughtering of cows owned by Hindus and Meiteis was completely banned. After that he return to Molaik and started engaging in many war related activities. In the evening, the British aeroplane used to come and airdropped bomb directing to their office and also fired machine guns. They, after having meal in the early morning, had to go to the hills and work in the early morning.

Maps brought out by Japan had all the information exhaustively in detail. It contained all the villages and connectivity. Food productivity of the place to be landed was first assessed and evaluated because there would be problem of marching for war due to land connectivity. Because of it, the ration for ten-fifteen days had to be carried by each person.

It was so discussed that they would have their food from the places they reached and the costs of which would be met later after the end of the war. The Japanese officers asked Shri Guna Singh and Shri Murkha under what political arrangement they wanted Manipur to put.

At that they replied, Manipur was a princely state but of late we have been under the rule of British colonialism otherwise Manipur have never been under any colonial subjugation. So Manipur would be an independent sovereign state as existed before." Their stated stand was also agreed by the Japanese.

To be continued....


---
* Aheibam Koireng Singh / Hanjabam Shukhdeba Sharma wrote this article which was published at Imphal Times
Aheibam Koireng Singh is Assistant Professor in Centre for Manipur Studies, Manipur University
Hanjabam Shukhdeba Sharma is Assistant Professor, Dept. of Social Work, IGNTU, RC-Manipur
This article was webcasted on December 24 2020.
---
* Comments posted by users in this discussion thread and other parts of this site are opinions of the individuals posting them (whose user ID is displayed alongside) and not the views of e-pao.net. We strongly recommend that users exercise responsibility, sensitivity and caution over language while writing your opinions which will be seen and read by other users. Please read a complete Guideline on using comments on this website.