Manipur Paona Independence League of Burma and Second World War
- Part 1 -
Aheibam Koireng Singh / Hanjabam Shukhdeba Sharma *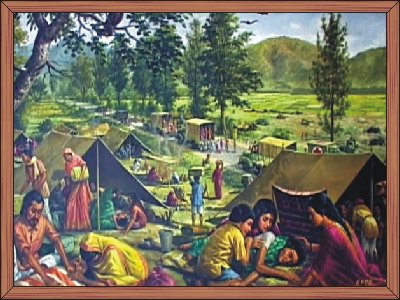 War refugees at Koirengei, Imphal.
Warning: These images CANNOT be reproduced in any form or size without written permission from the RKCS Gallery


(Translated excerpts of Wairakpam Mangol Singh's authored book, Prithibigi Anisuba Lanjao amasung Manipur Party, which is to be incorporated as book chapter in the forthcoming book on Manipur and Second World War)

The activities of Manipur Party were done mostly by Shri Laishram Guna Singh. His educational qualification was Bachelors of Arts (BA), Bachelors of Law (BL). He was an employee in the Milling Department of Burma Corporation Limited (BCL). In December 1941, he quit his job and migrated to Mandalay.

The following day after the dropping of Mandalay for two times he migrated to take refuge at Sagaing. In that place, those Japanese soldiers who arrived there were fed by them. Those soldiers by holding his 'sikha' (long left over hair at the top on the back of the (shaven) head of a devout male Hindu) said him in an interrogative gesture, 'Gandhika?'.

He responded by saying Gandhika Gandhika. That means he belonged to Bharat (India) of Gandhi. Guna Singh and Babudhan Sharma escorted and transfer those soldiers up to Yethaong Station. After sometime he again returned to Mandalay and formed the Manipuri Paona Independence League. Uthonten Sharma, head of the village was its President. The said league was very much related with Indian Independence League (IIL).

By September 17, 1942, after Japan completed capturing all the parts of Burma (present day Myanmar) a Japanese officer and Burmese Police officer came to 'Tamidoji Pounaju' where Guna Singh resided, a place where a big 'Bamon' (Brahmin) village of princess daughter of Mandalay king was situated.

They went back after expressing their desire to talk with the head (Ayaluji) of this village, and also asked the people to wait in the afternoon. 'Thourani Janma' falls on that appointed day, 18 September 1942 due to which there could be reservations and differences of opinion. The head of the village, Brajala requested everyone to meet the Japanese officer as it was an initiative from Guna Singh, the most prominent personality of the village. He went after saying so.

As stated, a Japanese officer along with a police inspector of Burma came at 12.00 hours. The head of the village, Brajala Sharma, Churamani Sharma, Bayen Sharma and Murkha Sharma also came. All of them talked with the officers who came. After talking for some time, all five of the Manipuris along with the two officers who came went to Mandalay to meet their superior officer who was in-charge of Upper Burma.

After reaching the place, they found the officer in the innermost room. The said officer was the most superior one in Upper Burma. The officer stood up and saluted at seeing them. They also returned the salute. He requested them to sit at the chairs surrounding his working table. However, they remained standing.

When the officer asked them why they didn't sit, they replied, "you are the most high ranking officer of Upper Burma, so we wanted to show our respect by remaining standing". The officer replied, "that may happen during British period, but the Japanese didn't follow such practice".

He then said, "Everyone who came here are all my elders, all are masters, I am superior to my soldiers only during wartime, I am a junior and follower to your all. After some time, they all sat down. Fuji, a Japanese officer who was well conversant with the Burmese language sat at the rights side of the officer.

Fuji then asked whether there was any among them who had been to Manipur. In it, Madhu Sharma confirmatory replied in the affirmative. When asked whether he was well familiar with Manipur, he replied, he didn't. At that juncture, the superior officer asked whether there was anyone among them who came from Manipur.

In it, Brajala Sharma replied, "Guna Singh came from Manipur, there is no one in Burma who is well familiar as him". Then the officer asked Brajala to exchange his seat with Guna Sharma for a while. That way the said officer sat closely near with Guna Singh. He then brought out a map of Manipur and they discussed and interacted with each other about the things he intended to know and clarify.

Shri Guna then said, for us also, a party by the name, 'Manipur Paona Independence League (MPIL) was formed quite early in advance with the objective of liberating India with Manipur in particular. On hearing it, he very happily said, "we also wanted to give you independence by driving away the British. Now let us work together. We are very much satisfied in hearing your words, we, Japanese will now help your party, please let me know if you need us, we also will let you know, if we need you."

After that the officer drop them back by his car. That time, Guna Singh was very much involved and took charge of many activities of the MPIL and worked in close association with Indian Independence League (IIL) and intelligence agencies.

The party then started preparing for going to war which were to be assisted by Japan. Guna Singh had to become a leader of the 'Manipur Party as 'Hikari Kikan'(Japanese liaison office responsible for Japanese relations with the Indian National Army) Japanese officer had expressed his desire of doing so. Japan, Manipur Army and Indian National Army (INA) also known as Ajad Hind Fauz would together be going for war.

The period during the year 1942 not only saw the ferocity of the Japanese war strategies and attacks, it also witnessed a great political earthquake known as 1942 August Agitation. The movement that started peacefully turned violent. More than 10, 000 civilians died due to injury by police's bullet and 60,000 were arrested.

Formation of INA

In 15 February 1942, Singapore had fallen in the hands of invading Japanese army resulting to the capture of more than 70,000 allied armies. One Japanese Officer declared in his speech at Farrer Park in Singapore that a military force will be formed by the Indian soldiers from among those captured to fight the British.

It resulted to the formation of Indian National Army by Captain Mohan Singh and some Indian officers captured by the Japanese formed the Indian National army (INA). The first INA was collapsed and the head of the Indian Independence League (IIL) took Captain Mohan Singh into custody in September 1942.

Already there had been organisation by the name IIL. In 1940 July 2, Subhash Chandra Bose came to Japan from Germany. He formed a provisional Government of Free India in 21 October 1943 and he revived. Netaji went underground in 26 January 1941. After sometime, he reached Germany.

The said government took oath stating that it was consented by 223,000 Indians in North Asia. INA had different wings – Headquarters, Hindustan Field Force, SherDil, Guerilla Group, Special Service Group, Intelligence Group and Reinforcement Group. The INA had more than 23,000 soldiers.

War preparation for Manipur

Shri Chandramani Sharma and Shr Brajalala Sharma who were in company with Shri Guna Singh all the time also had to go for war. All three of them went to 'Maymyo'(town in Central Burma, also called Pyin Oo Lwin) and talked with Shri Gopal Singh of IIL, Captain Nepali Sharma of INA, Lieutenant Naka Murasan who was in charge of Memiyo Headquarter and some Japanese officers about the war they were going.

He rigorously started taking charge of the work in relation to the office of Hikari Kikan of Japan. On the second day of his reaching Memiyo, the British plane airdropped the bomb at about 9.10 pm. Shri Brajala Sharma went back the following day.

Shri Guna Singh, after working for about four-five days discussing about the hill routes by taking out the map, war strategy and the appropriate time of entering to Manipur was transported to Mandalay by Lieutenant Naka Murasan in his jeep. After reaching Mandalay, Shri Chandramani Sharma was also sent back home by giving Rs. 100.

Shri Guna Singh and Shri Chandramani Sharma, in May 1943 went to Rangoon Headquarters to discuss about the war. They reached Rangoon at about 10 pm with great difficulty by travelling very riskily in train for five days.

Because of the fire that enflamed by the airdropped bomb, the night was all bright. In the morning of the following morning, they got up early and met Lieutenant Fuji at the office of Hikari Kikan situated in Golden Valley of Burma.

The said officer told Guna Singh that he would arrange for his food and lodging. But it was declined by Guna Singh stating that he wanted to stay at Meitei village as he had to meet the Meiteis settling in Rangoon. The officer then positively commented and gave him Rs. 200 so that he could use it for other things.

He went to Waimi Meitei village of Rangoon and met the masses and expounded to them that it was the bounded duty of every Meiteis to drive out the British who had enslaved them. Every Meiteis who lived far away from Manipur wanted to spearhead the venture to safeguard the prestige of Manipur. All of them look red-faced due to their emotive urge to take revenge against the British.

Many elders including Shri Thanin Singh and Lairenlakpam Irabot said, "It is fortunate and propitious for Manipur that you came out with a spirit of sacrifice to serve your motherland at such a ripe time to wage war so as to drive out the British by the inclusive forces of people from all racial backgrounds of India. May god bless the mission".

Shri Guna Singh, by staying at Basti Waimi Village went every day at Hikari Kikan office for discussing various strategies of war. At the completion of about ten days or so, Shri Guna Singh was frequently let known by the Japanese officers about the dropping of bombes by the Japanese at the islands of Pacific (Prasant) Ocean and at various places of India and also discussed by taking out the map.

When the turn for discussing on Manipur came, he always strongly insisted for not dropping the bomb in any other areas except the places occupied by Assam Rifles, P.A. Bungalow and the Military. He also asserted to leave the shrine of ShriGovinda which was worshipped by Manipur with strong reverence untouched while dropping bomb.

He tried to save the people of Manipur as much as he could. He told the Japanese officers that Manipur Valley was a densely populated area with houses built mostly bamboo, woods and thatch. If one house got caught with the fire, it would burn the whole village. Rice granaries and other edible items were also stored inside the house, he further told. Hearing his words, the Japanese officers assured him to not frighten.

To be continued....


---
* Aheibam Koireng Singh / Hanjabam Shukhdeba Sharma wrote this article which was published at Imphal Times
Aheibam Koireng Singh is Assistant Professor in Centre for Manipur Studies, Manipur University
Hanjabam Shukhdeba Sharma is Assistant Professor, Dept. of Social Work, IGNTU, RC-Manipur
This article was webcasted on December 18 2020.
---
* Comments posted by users in this discussion thread and other parts of this site are opinions of the individuals posting them (whose user ID is displayed alongside) and not the views of e-pao.net. We strongly recommend that users exercise responsibility, sensitivity and caution over language while writing your opinions which will be seen and read by other users. Please read a complete Guideline on using comments on this website.