Forests of Manipur during Pre-British Period (1826-1891)
- Part 2 -
Akham Bonbirdhwaja Singh *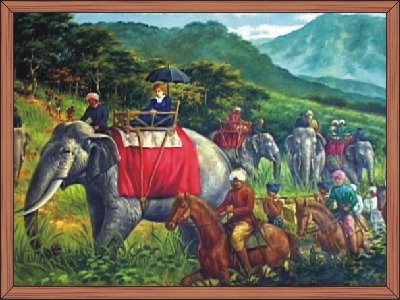 Arrival of Mr. St. Clair Grimwood at Imphal 1888
Warning: These images CANNOT be reproduced in any form or size without written permission from the RKCS Gallery


Incumbency:

The table shows the period of reign of different kings and the corresponding Political Agents.


| Sl No | Name of Kings | Period of reign |
| --- | --- | --- |
| 1. | Maharaja Gambhir Singh | 1826-1834 |
| 2. | Maharaja Nar Singh | 1834-1850 |
| 3. | Maharaja Debendra Singh | 1850 (3 mnths) |
| 4. | Maharaja Chandrakirti Singh | 1850-1886 |
| 5. | Maharaja Surchandra Singh | 1886-1890 |
| 6. | Maharaja Kulachandra Singh | 1890-1891 |
| 7. | Sir James Johnstone | 1877-1886 |
| 8. | Major Trotter | 1886 |
| 9. | Mr. Grimwood | 1888-1991 |
| Sl No | Name of Political Agents | Period of Service |
| --- | --- | --- |
| 1. | Captain Gordon | 1835-1844 |
| 2. | Major Mc Culloch | 1844-1862 |
| 3. | Dr. Dillon | 1862-1863 |
| 4. | Major W. McCulloch | 1863-1867 |
| 5. | Dr. R. Brown, FRCSE | 1867-1875 |
| 6. | G.H. Damant | 1875-1877 |
Demography
The massacre of men and flight of people that took place during the seven years devastation period, feud among the princes prior to this period has taken heavy toll on the population. A huge number of people were also taken away by the Burmese during their invasions in mid eighteenth century and during seven years devastation. Mr. Francis Hamilton reported that he saw 1,00,000 people as captives near Ava.
During the reign of Gambhir Singh in 1826, the male population has been reported to be "eight thousand souls only". In 1835 it has been reported to be 20,000 only. However, in the report of Political agency of the year 1868-69, the population has been recorded to be about 1.40 lakhs. The formal census of 1881 is said to have an element of irrelevancy but it has been quoted at 2.21 lakhs. The details of 1891 has been destroyed during the war before it could be documented and archived. For my this article, I am not very concerned of the population figure of 1901 census (population was reported as 2.84).
Forest land
As one can understand, the developments in the mainland India did not reach Manipur; one because it was an independent country, second, it was too landlocked for people from other lands to come and interact. It was well isolated, very sparsely populated. The legal implication of the term seems to be not thought of. All the hills except in and around the central plains were all abound in thick forests.
The hill lands were divided in to five lams, each of which were under the charge of an official assisted by eight lambus. The function of these officials has nothing to do with forestry. Forestry became more streamlined after British conquest only. The extraction was carried out without proper demarcation for sale to the British India, at Cachar Market (Silchar Bazar) from the parts of Forests of Kalanaga Hills (exchanged with Eastern Surma valley portion of Manipur under a treaty), Forests in the Jiri Borak Drainange Forests. These forests were mapped much later after British occupation.
The forests in the Kabaw Valley were not extracted commercially, by the state, whatever extraction that has been done must have been under arrangement through British Burmese Government, as there is no record of revenue accrued from that part.
The forests suffered a lot from Jhuming and burning recklessly. The descriptions of such fires are available in the Annual Administration Reports of the Manipur Agency, 1978-79 by Sir James Johnstone.
Climate
The climate of the central plain portion of the valley was stated to be good, but the temperature was stated to be higher than from the elevation, 2500 feet, would have expected. This excess in temperature may probably be owing to the reflection of heat from the sides of the lofty mountains surrounding. The months of November, December, January, and February, hoar frosts are prevalent. January is the coldest, and May and June are the hottest months in the year.
In May, the hill streams begin to rise, and they usually remain full until October. Storms are very rare, and those terrific peals of thunder, and brilliant flashes of lightning for which mountain countries are celebrated seldom occur. The remaining eight months are more or less rainy. Dew falls heavily, and before the sun has set, the grass is usually saturated.
The wind blows chiefly from the South-West, and whilst it does so, the country retains its usual healthiness. It was believed that an Easterly wind, continued for any time, brings with it sickness.
Composition of Forests
In his report, Captain Pemberton recorded that there were thick forest, dense and impervious from summit to the base. According to him, "I know no spot in India, in which the product of forests are more varied and magnificent". Mr. B.C. Allen also described the forests as "… has lain across range after range of mountains, covered with forests so dense that it is seldom that he can see as much as a quarter of a mile before him."
In fact, there are nine ranges of hills between Imphal and Cachar. The eastern face of the hill, Laimatol (now a Reserved Forests) was covered with short grasses, Imom and Tumnou probably. There is also a small chapter on forests and vegetation in the report of R. Brown published in the Imperial Gazetteer in 1909.
It has been observed that the composition of the forests have never been studied and plants identified. Timber trees are plentiful, but those only near the Cachar Frontier have any commercial value, there Jarool (Lagerstroemia flosreginae, Nagesur (Mesua ferrea), Cham (Artocarpus chaplasa), Wang (Gmelina arborea), Toon (Cedrella toona), India Rubber (Ficus elastica) are found. Besides these, in the mountains are found oaks (Quercus species, Q. serrata, Q. dealbata, Q. semiserrata and Castanopsis hystrix), Indian fir (Polyalthia longifolia), Indian Ash (Lannea grandis) Alder (Alnus nepalensis), walnut (Juglans regia), teak (Tectona grandis), Kheu (Melanorrhoea usitata) and khangra (Dipterocarpus turbinatus) of which the last affords a black varnish different from the one before-mentioned.
The presence of Teak (Tectona grandis) as common species on the hills overlooking Kubo valley has been reported. There are also reports of occurrence of wild tea plants (Thea chinensis) in the hill ranges of Heirok and occurrence of Rhododendrons (Rhododendron arboreum) in the hills in the east.
Presence of willow (Salix tetrasperma) has been noticed in the plain area and northern parts of the state. There is also mention about Uningthou Dug out boats from Koubru Forests, Cham Timber from Laimaton Forests. There were many other species which were much used in house-building, and are very durable.
To be continued...
---
* Akham Bonbirdhwaja Singh wrote this article for The Sangai Express
This article was posted on September 15, 2013.
---
* Comments posted by users in this discussion thread and other parts of this site are opinions of the individuals posting them (whose user ID is displayed alongside) and not the views of e-pao.net. We strongly recommend that users exercise responsibility, sensitivity and caution over language while writing your opinions which will be seen and read by other users. Please read a complete Guideline on using comments on this website.