Forests of Manipur during Pre-British Period (1826-1891)
- Part 1 -
Akham Bonbirdhwaja Singh *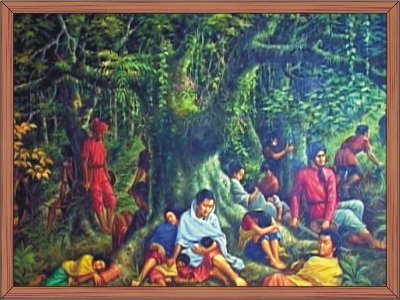 Grief stricken people hiding in forest from the Burmese invasion during Seven year's Devastation II (1819-1825)
Warning: These images CANNOT be reproduced in any form or size without written permission from the RKCS Gallery


Our understanding of the past tradition, conventions, decisions and and agreements and other historical facts are our guiding factors in taking the present decisions. They also shape our thinkings to a great extent. This is the reason for this attempt of mine to study the condition of forests of Manipur during the Pre-British Period.

During the period prior to British Rule, the population of Manipur was so less and forests so thick that any form of forestry was not thought of. With no systematic modern education and very less contact with outside world except the hostile engagement with Burmese, not much exchange of knowledge took place.

The old literature which had some bearing on forestry such as Uyanlon (on art of felling trees), Heejing Heerao (on art of making boats), Urol (on description of trees), Leirol (on description of flowers) have not been documented in to common language which people can understand or scientifically interpreted so that it is universally understood. These are parts of archaic literature and considered to be a part of the Puyas or scriptures. They do not fall in to the period of which I am going to describe, so no reference is made to these literatures.

It is fortunate that we have the Royal Chronicles, the Chietharol Kumbaba and accounts of other writers of this period such as Captain R.B. Pemberton, Colonel William McCulloch, Dr. Robert Brown, Mr T.C. Hudson, Mr. Alexander McKenzie, Mr. E.W. Dun, B.C. Allen, Sir James Johnstone etc. The reports of Capt. Pemberton, Col. McCulloch and Dr. Brown are important as they are relevant to the period of this article. Mr. Mckenzie's report (1888) is also quite helpful as it has summarized all these reports and corroborated with official correspondences he received in his office at Calcutta.

I consulted some of the works of famous historians of Manipur like Dr. L. Chandramani Singh and Prof. Gangmumei Kamei. Prof. Gangmumei had a paragraph on forests in his book, History of Manipur (Vol 1). Dr. L. Chandramani Singh's account on the genesis of boundary of Manipur and its extent was also a useful reference. I heartily acknowledge all the materials I have availed out of these great works. I have also collected some materials from the works of Shri R.K. Somorjit Sana on the Chronicles of Manipur Monarchs from 1666 to 1850.

It was a country of eight thousand square miles plus with a sparse population, could be remnant of a great civilization only. But one fact that everybody shall agree is the wonderful social system that existed in those days. It is most fascinating aspect of Manipuri society. Perhaps, we may need to do more documentation on all those aspects of this beautiful land. For this write up, I am not blending it with modern findings about fauna and flora, Geology, climate etc., of which we have fairly good data now.

I would prefer to describe them in the works of that period in their own words, limit my presentation to what the earlier writers have found in their accounts, because we need to understand the understanding of the people of that period of time about the forestry and their dependence on forests. Let me also confess that not much of findings could be made, but that little I could find are of great interests, at least academically, and I hope, those who are in the fraternity shall share same feelings.

The Period

The Pre British Period can be studied in two parts, the periods from 1762 to 1826 and 1826 to 1891, but the period covered in this article is for the later. The first period is from 1762, since the British established some relationship at the time of Warren Hastings by doing a treaty (By Governor Verelest of Bengal Presidency) with Maharaj Bhagyachandra (Jai Singh) till the seven years devastation in 1819. But not much was made out of the treaty as during the currency of the treaty, the seven years devastation took place. Going back beyond this period (1762) shall not yield much to the cause of this article.

Prior to seven years devastation, there had been several encounters with Myanmar (Burmese), but Marjit Singh managed to be on the throne with Burmese help by surrendering most of the rights. Such right included forest right of Kubo Valley. But when he was building the Palace, he felled teak trees in Kubo Valley and brought the timber, for construction of his palace, the Burmese were infuriated. This could be or was one of the reason for invasion in addition to his act of insubordination.

The seven years devastation ended in 1826 with Gambhir Singh with the assistance of British drove away the Burmese and started his reign. The main part of this study of this period, is from 1826 (the reign of Gambhir Singh) to in 1891 (Anglo Manipur war). During his time also, there were a number of treaties with British and the territory of the country was defined, in the North with British Territory of Assam, in the west with Cachar District, in the south with Lushai Territory and in the east with Burma (Myanmar).

In the mainland India by this time, much development has taken place being post mutiny period. The British has taken a number of landmark steps toward governance. During this period, the Cr.P.C. and I.P.C. were passed (1861 and 1862). The Imperial Forest Department of the British India was set up in 1864 and appointed Mr. D. Brandis as first Inspector General of Forests and introduced scientific Forestry.

The first Indian Forest Act was passed in 1865 and amended in 1878 to be instrument of scientific management. This being the period of industrial development in Europe and colonial expansion, huge quantity of raw materials were required and all the scientific principles for sustained yield were introduced. But these developments did not have much inspect in forestry scenario of the state.

The Golden Age

The period of 1826-1891 can be regarded as golden age of Manipur History as during this period, the Maharaja drove Burmese out from Manipur beyond Ningthee River (Chindwin), and established the kingdom once again and made Ningthee as the boundary of the country. With the help of British, the country had its own army comprising of infantry 3000 with guns who are trained and drilled properly.

In addition, there were cavalry of 100 men which could go up to 200 men and artillery of another 100 men. This was quite a formidable force for the Burmese and other unorganized uprisings. The Burmese no longer troubled the people of Manipur. There were a lot of activities for consolidation of the territory. Some beginnings were also made for Jarip (but stopped later).

The relation with British was reasonably good for the entire period except on two occasions, one when the British Drawn Map leaving out a number of villages along borders with Assam (Naga Hills) were not accepted and secondly when the request from British for a plot of land for construction of a Dak Bungalow at Kohima was not agreed by the King. Of course, Anglo Manipur war in 1891 was a turning point not only in the history of Manipur but for forestry in Manipur too. There were a lot of possibilities of having a different course of history and geography of Manipur had this war not taken place.

Contrary to this period, the previous sixty years were full of turmoil, feud amongst the princes and frequent invasion by Burmese. There was one treaty with British in 1762 but the same was not given effect by both parties. The attempts of Mr. Verelst to extend military cooperation with Manipur Kings to contain Burmese could not materialize.

According to McKenzie, there is nothing worth mentioning during this period. This period was marred with feuds among the princes for the throne and frequent subjugation by the Burmese.

To be continued...


---
* Akham Bonbirdhwaja Singh wrote this article for The Sangai Express
This article was posted on September 10, 2013.
---
* Comments posted by users in this discussion thread and other parts of this site are opinions of the individuals posting them (whose user ID is displayed alongside) and not the views of e-pao.net. We strongly recommend that users exercise responsibility, sensitivity and caution over language while writing your opinions which will be seen and read by other users. Please read a complete Guideline on using comments on this website.