Biography of His Highness Maharaja Bodhachandra (Last King of Manipur)
- Part 1 -
Wahengbam Pathou *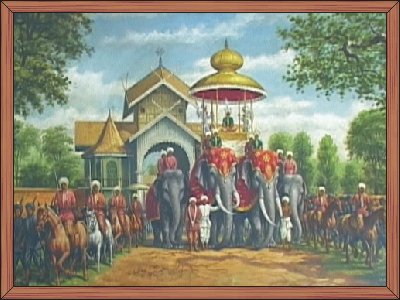 Jila Durbar in the Kingdom of Manipur in early 1900s
Warning: These images CANNOT be reproduced in any form or size without written permission from the RKCS Gallery


INTRODUCTION

Long more than half a century after Maharaja Bodhchandra died, this book was ventured to be written. There has not come a biography dedicated to the late Maharaja in all these decades disconcertingly. The realization to chronicle a biography on the last ruler of Manipur who once steered the political destiny of the land in his hey days, perhaps, never dawned on the minds of the historians and writers alike in Manipur, in all these years.

Therefore to sketch a biographical account on the Maharaja nearly six decades after his demise is seemingly belated. When this work was set out to be undertaken, a musing inevitably surfaced in mind. Would a life story recollection of Maharaja Bodhchandra attempted such a long span of time, apparently aeons after since his demise effectively portray his personality in the milieu of the age in which he lived ?

The world in which Maharaja Bodhchandra was born, grew up and eventually reigned Manipur from 1908 to 1955 is immeasurably distant from now. Today's Manipur has changed beyond recognition since then. As such, Manipur then and now are inconceivably incomparable. Thus, to illustrate the life story of Maharaja Bodhchandra one has to travel back to the first decade of the twentieth century and come down to mid fifties with a sense of poignancy in order to reflect on and capture the currents crisscrossing the political, social and cultural life in the then Manipur.

Maharaja Bodhchandra was somewhat shortlived. Yet, in the span of forty seven years of his life and more particularly during his reign, Manipur metamorphesed itself politically. Aptly, the reign of Maharaja Bodhchandra marked a turning point in the annals of Manipur's political history. A wheel of change completely swept over Manipur politically in the nearly nine years that the Maharaja ruled over the land.

Coronation of Maharaja Bodhchandra took place in the midst of Second World War in 1941. Soon after, Manipur became an important theatre of war where allied forces fought several do or die battles against the advancing fascists. After the war, as life in Manipur was limping back to normalcy, Hijam Irabot returned from Cachar in 1946 where he was exiled by Churachand Maharaj for stoking political agitations during Nupi Lan in 1939.

Soon after his return, Irabot reactivated political activities in Manipur which was lying dormant during war years. He established a political party called Praja Sangh amalgamating Praja Mandal and Praja Sammeleoni on 21 August 1946. Praja Sangh thereafter put forward a host of demands crying for political reforms in Manipur clamouring for establishment of legislative assembly and formation of council of ministers. Maharaja Bodhchandra was accommodative to the political demands pressed by the people in stark contrast to his father Churachand Maharaj who was unresponsive to the political aspirations of the people.

Maharaja Bodhchandra went about in a systematic way to fulfill the political aspirations of the people of Manipur. He instructed the Manipur State Durbar to draw up a constitution of Manipur. After careful deliberations, the Manipur State Constitution Act 1947 was framed and adopted which was a revolutionary step. Adoption of constitution was brainchild of the Maharaja Bodhchandra.

The Manipur State Durbar was dissolved on 1 July, 1947 paving way for the emergence of Manipur State Council. The President of the Durbar F. F. Pearson was made the Chief Minister. The idea behind dissolution of Durbar was to introduce modern form of government administering Manipur. With the impending departure of the British, F.F. Pearson relinquished his office and Capt. M.K. Priyabrata took over as Chief Minister on 14 August 1947.

On the midnight of 15 August, 1947 British paramountcy over Manipur lapsed. Transfer of power was effected from British crown to His Highness the Maharaja of Manipur. On 15th August, 1947 Maharaja Bodhchandra hoisted national flag of Manipur which enshrined Pakhangba paphal, the royal emblem was hoisted at Kangla. The unfurling of the Pakhangba paphal after the colonial British rule formally ceased over Manipur symbolized assertion of its sovereignty.

Induction of R. K. Bhubonsana and Sinam Krishnamohon in the Capt. M.K. Priyabrata ministry created a furore in the ranks of the Manipur State Congress resulting in split into two factions viz. Tompok Congress and the Tomal Congress. Factionalism and rank political opportunism within the Congress reared its ugly head when Tompok Congress resorted to Flag Andolan on 19 September, 1947 training guns against Maharaja Bodhchandra for his decision to ban display of Indian Dominion flag by Congressmen at Palace Compound.

The face off between Maharaja Bodhchandra and Tompok Congress snowballed into a major confrontation plunging Manipur into a deep political crisis. Tompok Congress resorted to Satyagraha agitation picketing government offices, shutting down educational institutions and blocking traffic with a view to paralyze state machinery and bring normal life to halt. However, the government held ground, clamped down on the protestors with arrests and lathicharge. The head on confrontation beween Maharaja Bodhchandra and Tompok Congress was resolved with the intervention of Dominion Agent G.P. Stewart.

After the agitation died down, the efforts of the Manipur government was channelized to make preparations for holding elections with a view to establish legislative assembly. Franchise Committee meetings were held on 8 and 9 December, 1947 under the Chairmanship of Konjengbam Gouro. Finally, Manipur went to polls in July 1948. Out of a total of 53 constituencies, 33 were valley constituencies and 18 were hill constituencies. Two seats were reserved for the educated class and the trading community. The people of Manipur thus made their first tryst with democracy when they cast their ballot in the 1948 polls, the credit of which goes to Maharaja Bodhchandra's initiative and efforts.

Maharaja Bodhchandra inaugurated the Manipur State Assembly on 18 October, 1948.

In his proclamation on the inaugural function of the Assembly, His Highness declared unequivocally and in no uncertain terms that the people of Manipur 'would rather die unsullied than outlive the disgrace of surrender to any measure that would work prejudicial to the preservation of separate entity of the State'.

Driven by his intense love for 'motherland' Manipur, His Highness made a clarion call to the elected members of the Assembly exhorting them to imbibe the zeal to 'work that Manipur may prosper, suffer that Manipur may rejoice and unite that Manipur may be strong'.

To be continued..


---
* Wahengbam Pathou wrote this article for The Sangai Express
This article was webcasted on November 27, 2013.
---
* Comments posted by users in this discussion thread and other parts of this site are opinions of the individuals posting them (whose user ID is displayed alongside) and not the views of e-pao.net. We strongly recommend that users exercise responsibility, sensitivity and caution over language while writing your opinions which will be seen and read by other users. Please read a complete Guideline on using comments on this website.