A brief note on Manipur and the Lushai Expedition, 1871-72
- Part 2 -
Prof N Lokendra Singh *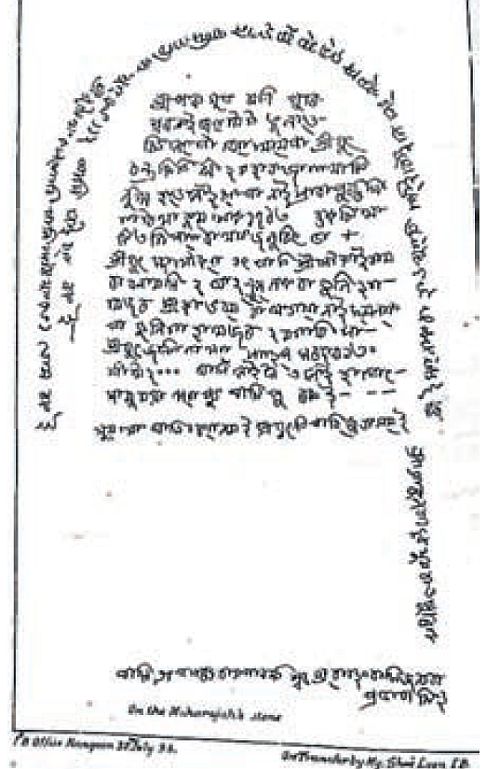 Original Inscription on Chebu stone :: Pix - TSE


3. Translation of the Inscription at Chibu

The inscription on stones at Chibu, erected during the operation, is variously translated by different authorities. We provide here one translation given by late Professor Gangmumei Kamei. [Fig 1. Original Inscription on Chebu stone]

Shri Panchajukta Manipur eshwara Laairen Maitingngu Naauchinglen Nongtrenkhompaa Shrijut Chandra Kirti Singh
Mahaaraajaanaa Khaaki Lusei Haao loichanbaa Laaishrabaa Purna Singnaa Chaithaabaa kum shak 1793
Waakching thaaki humni paanbaa Thaangjaa numittaa Shrijut Snaa thaukan chatpati
Shri Saukaaichamchaa Balaam Singh Ahalup Laakpaa Tulihan Major Shri Kaangngabamchaa Thaanggaan
Laaipham Laakpaa Tuli Naahaa Major 2 manaachingbaa Shrijut Jarnel Naathan Saahep Sardaar
130 nongmai 2000 asi loinai loihaa pot saamu maayaa senpung asi purak-i thumkhong asi huklam-i
Shrijutki Paada Chinha thanam-i, Loichalakpa Haaokhunti Poichoine Lengkhamne
Daambar bum Haagal asinachingpaa khunkang 112 asi loi chanrak-i.
Shri Lusei Chingpaa Ningthau 4 Khunkang 1 khomlak-i.
Prof. Gangmumei Kamei's Translation
[Source: History of Modern Manipur, pp. 98-99]

"His Highness endowed with the five qualities, Lord of Manipur,
Snake king of the Meiteis, born to the throne, ruler of the land,
the Maharaja Chandra Kirti Singh, on Saturday, 3rd Wakching of the year,
1793 of the Sakabda "era" when Laisraba Purna Singh was Cheithaba reduced to a subjection the Lushai towards the south.
The two servants of His Highness who attended (him) were Saukaichamba Balaram Singh, Steward of Ahallup,
Major of the Tulihal Regiment, and Thangal born of the Kangaba caste (lineage),
Steward of Laifam Major of the Tulinahal Regiment with whom were General Nuthall,
130 officers and 2000 muskets".
"They took as tribute elephant tusks and gong dedicated this brine spring and carved here these foot prints of His Highness."
"They subdued the following Hao (tribal) villages, Poiboi, Lengkham, Dambam etc
and 112 villages and including Thankhalat, the Lushai, they captured four-chiefs and one village."
Written by Nongchamba Dhornemar, Wahangba, Sijamawa (royal brother-in-law), Pratap Singh and Gokulchandra the Chief Salt Agent."

4. Account of Major-General W.F. Nuthall, commanding Manipur column

[Source: NAI, FP, August 1872, No. 83: Nuthall to Aitchison, 12 April 1872]

Maj-Gen. Nuthall, in his report to the GoI, narrated the events associated with Manipur column under his command. On 31 December 1871, he said that two messengers from Lushai chief Poiboi visited the camp and submitted "a little girl of 11 years of age, who had been captured about two years previously". On 5 January 1872, another two messengers from the same chief arrived again.

On 10 January 1872, sent an escort party to rescue the villagers of Boonjong (40 miles from Chibu) who had escaped from Lushai chiefs Leenkoom. The escort party brought 227 persons (64 men, 58 women, 105 children).

On 12 January 1872, Lushai chief Damboom came to the camp with a huge number of armed followers and informing Maj-Gen. Nuthall of the "sincerity of Poiboi's regret for their past misdeeds, and promise of future goodwill, but entreated that the troops should not be allowed to advance upon their villages".

13 January 1872, Nuthall reported, Damboom took an oath "by sacrificing in midstream a dog, previously baptized with spirits, swearing never again to make raid upon the Maharaja's territory".

The Lushai chief left on the 14th with a promise to visit again. Two Kuki messengers were sent with Damboom with a letter for Brig-Gen Bourchier and also to get an interview with Poiboi. On 25 January 1872, the Kuki messengers returned from Poiboi came with chief Damboom (accompanied by at least 300 hundred armed followers and inferior leaders). He was "delegated by Poiboi to make terms of future friendship with the Maharaja".

The next day, Damboom and his followers were allowed inside the Camp and a treaty was accordingly struck. (Please see the Manipur-Lushai Treaty, below). On 29 January 1872, when Damboom left the camp, Nuthall also left for Imphal. Due to shortage of food and an outbreak of "effluvia" in the Camp, the troops were withdrawn to Lultubboong. Nuthall returned on 8 February 1872. Chibu camp was, however, reoccupied on 27 February 1872.

During the absence of the troops at Chibu, the Kamhows "threw two forces across the frontier to attack the Looshais, against Lalboorah's clan in the south and Boomhang's clan in the north". On 13 February 1872, "373 Sooti or Sooktie refugees (with 18 muskets) from Poiboi's northern villages" arrived at Lultubboong camp. The next day, 392 Koongjai Kookee who escaped from Poiboi's northern villages were also brought to the Camp.

On 20 February 1872, the Maharaja himself arrived at Moirang at the head of sufficient forces and proceeded the next day to Lultubboong and then to Koongshangkool. On 27 February 1872, Chibu Camp was re-occupied. On 1 March 1872, a letter from Brig-Gen. Bourchier was received informing that "the expedition had been brought to a conclusion, and he no longer required the services of the Contingent".

The Manipur's column was then withdrawn from Chibu to Situl Subhum, a depot 9 miles north-west of Chibu, on 6 March 1872. On the morning of 7 March 1872, a large group of people (962 persons – 302 men, 311 women, and 349 children) under the escort of chief Kokatung party was passing near the camp. They were invited into the camp where a conference was held with the two Majors.

Nuthall remarked:
"The Majors were determined at all hazards to disarm and capture the force. With this end, they got the chiefs into familiar conversation, handed them a percussion musket to try, and asked to try theirs, and having by this means discharged the three muskets of the three Chiefs at once had them seized, whereupon Kokatung putting his forefingers in his mouth gave a whistle and his whole force stood to arms. A momentary struggle ensued, in which his force was overpowered, and besides the three Chiefs fifty-three of their followers were made prisoners, and fifty-four muskets taken. Four of the Contingent were wounded".

Nuthall wrote to Maharaj Chandrakirti Singh on 16 April 1872, saying that he had "the good fortune to intercept a force of Kamhow's carrying off to their hills 962 of the inhabitants of Looshai villages, which they had completely devastated".

II. Controversy over Kokatung's imprisonment

The arrest of Kokatung (Goukhothang) and his men sparked a good deal of controversy among the British officers who were involved in the operations. It centres on two points: first, the authority of Maj-Gen. Nuthall; second, the relationship between Manipur and the Kamhows.

While Nuthall justified his position at Chebu as a strategic point to secure the fidelity of the Kamhows in the ongoing operations, the Cachar officers felt that he had not obeyed order to encamp at Tseklapi, the southern frontier post. This conflict of authority led them to defend their own position that centre on the arrest of Kokatung.

Nuthall defended the arrest of Kokatung and his party at Chibu although he was not there at the time of arrest. He argued that since the 1830s the relationship between Manipur and Kamhows was hostile, citing the cases of raids on Manipur's territory till about 1871 and on the Lushai villages during the Expedition.

This justification was repudiated by the Cachar Officers, arguing that Kamhows (Suktes) were in good terms with Manipur before and during the Expedition and hence the arrest was "an act of treachery". The fact that Kokatung entered the Chibu Camp with a friendly gesture, argued J.W. Edgar, the Political Officer of Lushai Expedition, was a proof of peaceful relationship that existed between them at that time.

Alexander Mackenzie (1884) later tried to bring all the facts together and explained that the question of whether the Suktes (Kamhows) were at this time in good terms with Manipur was "a disputed one". He was later joined by B.S. Carey & H.N. Tuck who, after collecting information from those Chins who were among those arrested at Chibu, presented their view, saying that the chief and his party were "treacherously seized'.


To be continued .....


---
* Prof N Lokendra Singh wrote this article for The Sangai Express
Prof N Lokendra Singh is the Head of Department of History, Manipur University
This article was webcasted on July 092020.
---
* Comments posted by users in this discussion thread and other parts of this site are opinions of the individuals posting them (whose user ID is displayed alongside) and not the views of e-pao.net. We strongly recommend that users exercise responsibility, sensitivity and caution over language while writing your opinions which will be seen and read by other users. Please read a complete Guideline on using comments on this website.