Sandrembi and Chaisra
- The wicked Step-mother -

High School Textbook *
Once upon a time, there lived two stepsisters called Sandrembi and Chaisra. After the death of their father, they were brought up by their mothers. Chaisra was the lone child of her mother while Sandrembi had a younger brother. Chaisra's mother always thought of harming Sandrembi, her brother and mother. Sandrembi's mother never nurtured any ill feelings for Chaisra and her mother.

One day, the two mothers went fishing. Sandrembi's mother caught a large number of fishes. Chaisra's mother could not catch any fish. Instead she caught a number of snakes and she put all of it in her tungon. The tungon was full of snakes.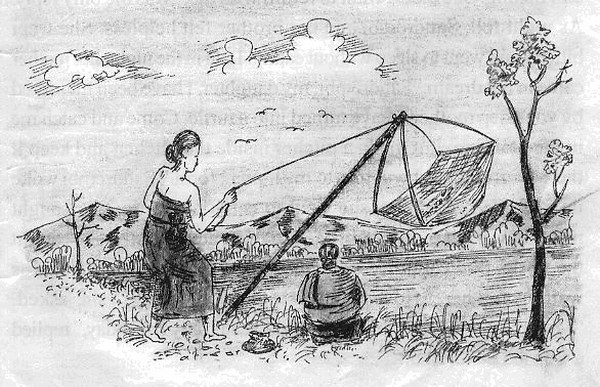 As dusk approached, they were tired. They took rest under a fig tree full of ripe fruits. Chaisra's mother climbed the tree and cried, "Sister, open your mouth. I'll throw down ripe figs." Sandrembi's mother opened her mouth. A ripe fruit was dropped.
"Sister, is it good? Close your eyes and open your mouth for more," cried Chaisra's mother again. This time, she took her
tungon
and poured all the snakes into the mouth of Sandrembi's mother. Immediately, Sandrembi's mother died. Chaisra's mother pushed the dead body into the water and came home alone.
Sandrembi was worried when she saw Chaisra's mother coming back alone. She asked about her mother. "Your mother is still fishing. She didn't want to return with me," was the only reply. As night fell, Sandrembi and her brother felt helpless.
She wept bitterly and went to sleep without eating. Late in the night, her mother came in her dream."Sandrembi, my daughter, I have been murdered by your step mother. I have turned into a turtle. Come and catch mc in the morning. Put me in a pitcher inside the kitchen and keep it there for five days. 1 will turn to my human form."
Sandrembi woke up and cried. At dawn, she went to catch the turtle. She caught many fishes but threw them back to the water. Finally, she caught the turtle. She carefully brought it home. Chaisra's mother was waiting for her. "How much fish did you catch?," she asked. "Mother, my
tungon
is empty. I couldn't catch any fish today," replied a worried Sandrembi.
"Then go to the kitchen and cook food," ordered the angry woman.
Chaisra saw Sandrembi putting the turtle in the pitcher. She told her mother about it and they hatched a plan. Chaisra started crying for water and her mother told her to drink water from the pitcher in the kitchen. The turtle was discovered. The wicked woman ordered Sandrembi to boil it in water.
A helpless Sandrembi had to obey her wicked step-mother. She started boiling the turtle in a pot. A voice cried, "Oh daughter! the heat has reached my feet." Sandrembi wept and pulled the firewood out. Chaisra"s mother shouted angrily, "Slap this disobedient girl." Chaisra slapped Sandrembi.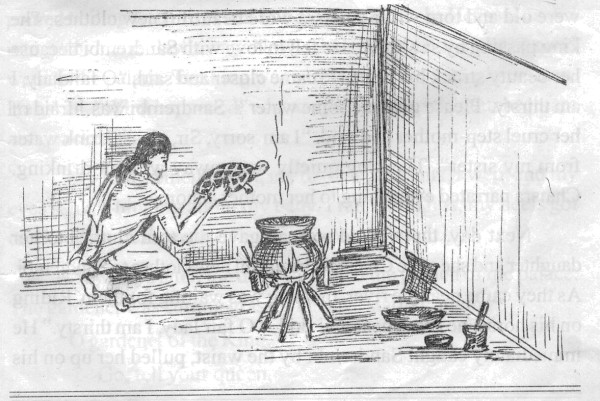 Then she started burning the firewood again. The voice kept crying, "Oh daughter! the heat has reached my waist. Now it has reached my chest. It has reached my neck". Finally, the turtle died. Chaisra and her mother ate it greedily. Then, they threw the bones near the house.
At night, Sandremi's mother came in her dream again and said, "My daughter! collect the bones. Wrap them and keep them in a basket for seven days. I will try to change to my human form". The girl did the same. Curiosity and eagerness tempted her. On the sixth day, she opened the basket. As the number of days fell short, a swallow flew out of the basket. The helpless girl wept bitterly.
Time passed. Sandrembi and Chaisra became full-grown girls.One day, they went out to fetch water. Sandrembi's clothes were old and torn while Chaisra wore beautiful new clothes. The king passing by saw them. He fell in love with Sandrembi because her beauty struck his heart.
He came closer and said, "O fair lady, I am thirsty. Please give me some water". Sandrembi was afraid of her cruel step-mother and said, "I am sorry, Sir, please drink water from my sister". The king quietly went away without drinking, Chaisra narrated everything to her mother at home.
Next day, the wicked woman gave the torn clothes to her daughter and she gave Chaisra" s beautiful new clothes to Sandrembi. As they came near the river, the king was waiting for them. Riding on his horse, he came near and said," O fair lady, I am thirsty."
He immediately caught Sandrembi by the waist, pulled her up on his horse and took her to the palace. There they got married and Saridrembi became the queen. The following year, she gave birth to a son.
Chaisra and her mother became very angry. Again they hatched a plot to kill Sandrembi. They came to the palace to invite her for a meal. The king agreed but did not allow her to take their young child.
Sandrembi came for the meal alone. After eating, she found Chaisra wearing her clothes. She said, "Sister, I am getting late. My baby must be crying. Give my clothes back." Chaisra took out the clothes and threw them under the bed. Sandrembi crept under the bed to collect her clothes.
As she came out, Chaisra and her mother poured boiling water over her. She died immediately. Her soul turned into a dove and flew away. Now, Chaisra put on the clothes and went to the palace. The king was surprised to see the ugly woman. He asked, "What happened! why are your eyes sunk, your heels are also cracked?"
"My lord, remembering my departed parents, I wept and my eyes sank. Thinking about my baby, I ran fast. Thus, my heels got cracked," came the reply. The king remained silent.
A few days later, the dove flew in to the garden of the palace. The gardener was cutting grass. The dove started singing:
"O gardener of the King,
Go, tell your queen,
Go, tell your king,
Don't harm my young child,
Sandrembi sitting on a tree Chaisra sitting on the throne O king forgetful of wife
Have you forgotten your real wife?"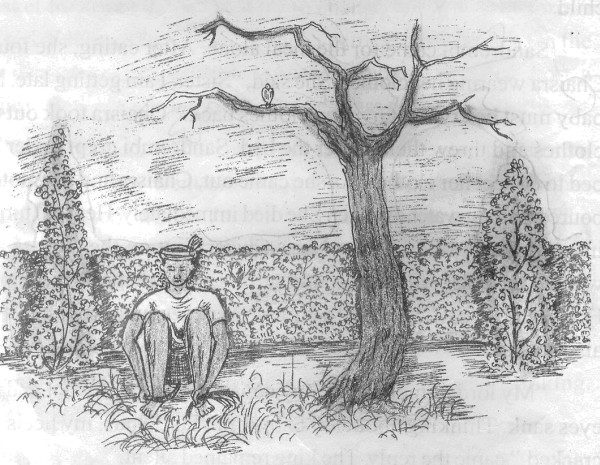 The gardener was surprised to see a bird singing in human language. He immediately informed the king, who came out and said, "O dear dove, if you are my beloved Sandrembi, please come and eat the grains from my palm." The dove flew down and ate the grains. The king kept the dove in a small cage. In his dream, Sandrembi appeared and said, "My lord, keep me for seven days. I will change into my human form." The king woke up and hid the cage.
One day, the king went hunting. In his absence Chaisra killed the dove and cooked it. When the king returned, he was furious to find the cage empty. Chaisra said, "My lord, it tried to harm our child. I got angry and killed it. I have cooked it. Please eat it."
The king shouted angrily, "Throw it away immediately." She threw it near the palace. After a few days, a beautiful mango tree started growing on the spot. It grew into a huge tree. It bore only one fruit. The king kept a close eye on the fruit. One day, the gardener plucked it and took it home.
Next morning, the gardener looked for a knife to cut the mango. He could not find a knife. The following day, with knife in hand, he looked for the mango. He couldn't find the mango. Like this, it went on for seven days. On the eighth day, the mango turned into a beautiful woman. She cooked food for the gardener.
When the gardener came home, he was surprised to find delicious food. The woman hid herself in a dark corner. It went on like this for a few days. One day, the gardener decided to find out the mystery. He quietly hid himself near his house. When the beautiful woman came out to prepare food, he rushed in quickly. To his surprise, he found that she was none other than Sandrembi. She told him her sad story. The gardener went to the king and narrated everything. The king sent his men to escort Sandrembi to the palace.
Then, the king ordered Sandrembi and Chaisra to fight a duel in front of the people. Both were given a sword each. The swords were swords of justice. Chaisra first struck at Sandrembi but nothing happened.
The sword did not touch her body. Sandrembi's turn came. She struck at Chaisra. The sword struck Chaisra's body. She died on the spot instantly. Everyone rejoiced. Sandrembi became the queen once again. Thus, the king and the queen lived happily thereafter.
---
* This is a Manipuri folk tale retold and is part of text book prescribed for High School student in Manipur under Board of Secondar Education Manipur (BSEM). This was webcasted on December 07th, 2009.
---
* Comments posted by users in this discussion thread and other parts of this site are opinions of the individuals posting them (whose user ID is displayed alongside) and not the views of e-pao.net. We strongly recommend that users exercise responsibility, sensitivity and caution over language while writing your opinions which will be seen and read by other users. Please read a complete Guideline on using comments on this website.