The Story Behind The Ningol Chak-kouba
Hijam Rajendra Singh *


INDEED, NINGOL Chakkouba is one among the most important traditional/indigenous festival of Meeteis community. It is assume as the biggest festival for the ningols. It is celebrated only once in a year in the favourable month of "Hiyangei" neeni panba (November).

Such festival is performed from time immemorial. It is celebrated since the days of Almighty God. It has its own historical background. This festival depict the close affectionate relationship between the Pibas (male brothers) and Ningols (sisters).

Such kind of similar ceremony/festival is also celebrated in other part of India; however their style, manner may differ from each other. It is believed that Chakkouba (inviting for feast) by the brothers to their respective sisters or so called "Bhatr Ditriya" was introduced by Maharaja Chandra Kriti Singh.

Some scholars believed that Ningol chakkouba festival was imitated from "Bhatri-Ditriya" of Hindu festival which is normally fall on the 2nd day of Hiyangei (November).

It has some similarity with the "Rakha-Bandhan" or "Bheigeni-Bhujan" of Hindu. By tradition or convention the Pibas used to invite their respective married sister to have a joint Dinner/feast at their parented house once in a year in a specific month.

Such inviting of feast is also practiced among the Nepali community, however is case of Nepali community Nepalies sisters usually invite their brothers for feast and it fall in the same month. November, here a question can arise, how the system of inviting for feast started in Manipuri society.

The old historical record of Manipur throw light on us that such system of inviting for feast was introduced since the days of Nongada Lairen Pakhangba, but the system was somewhat different. The story run like this, after Nongada Lairen Pakhangba occupied the throne of Kangla, the khabas rose into rebellion and attacked Pakhangba who was defeated by Khabas chief Khaba Nongjengba.

After the defeat, Pakhangba fled to Moirang for a political asylum. The Khaba ruled the Kangla for some-time. The khabas ruled was oppressive and the people were not happy. The Moirang forces defeated and killed Khabas Nongjenba (Meihoubarol Salai Yimchangba) on the other hand, a book entitled Pakhangba Nongkarol, mentioned that Pakhangba heard about the Poireiton marched to Kangla.

He confronted him on the way and Poirei and Poireiton was defeated and his Royal costumes were confiscated. Poireiton pretended to be dead etc. he acknowledged the supremacy of Pakhangba.

Meanwhile, Thongaren brother of Poireiton visited Imphal valley and arrived to "Moirang" (W.I. Singh). He came with his younger sister "Laisra" or Laisana" and offered to be the Queen of Pakhangba. Perhaps, Poireiton, Thongarel and Laisana were reconciled to the new situation in Manipur. Poireiton became a village chief.

Pakhangba married Laisana and matrimonial alliance was already effected. They, now became the "brother-in-law" and close relatives. Nongda Leiren Pakhangba ruled for 120 years. He appointed his wife as the Royal Queen of the Meiteis kingdom.

After coronation of Laisana as Queen, she went to his brother Poireiton in order to observe the cultivation of his brother and also to show her respect and gratitude. The two brother and sister met after a long time. They were very delighted and expressed their satisfaction to meet again.

Poreiton presented a very special paddy grain which was not noticed nor introduced before in the Meiteis kingdom. A small quantity of scented white paddy grain along with small quantity of scented black-top paddy grain which is normally included in our religion feast as an special item. He also offered some vegetables and fruit.

After Queen Laisana returned home from her brother house, she cooked the scented paddy grain/rice very nicely to her level best with due care. Her husband Nongda Lairen Pakhangba consumed the rice cooked by her wife/lady love and he derived maximum satisfaction which he has never consumed nor tasted before in his life time.

Therefore, in sweet memory of this paddy grain presented to her wife Laisana by her brother Poireiton, he name it as "Chakhao-Mon"; and the black-top paddy grain as "Chakhao Poireitone", in order to remember Poreiton.

The banana fruit presented to her wife as a special gift by his brother was kept under the covering of paddy grains in order to ripen the fruit and it was named as "Oampat" in order to express her gratitute to her brother, Laisana invited her brother Poireiton to have a feast/dinner to her husband house.

Her brother Poireiton warmly accepted her humble proposal/request. In such a way, a happy feast was arranged by her sister Laisana. In this way, the tradition of inviting brothers by the sisters for having feast/dinner was started.

However, with the passage of time such tradition of inviting feast by the sisters to their respective brothers was given up; during the reign of Maharaja Chandrakriti Singh. He reformed it from Pibas chakkouba to Ningol chakkouba (inviting for feast by brothers to their sisters).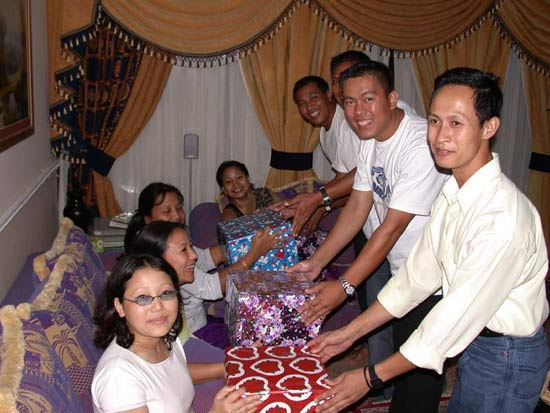 A Ningol Chakkouba gift-ing ceremony at Dubai, UAE.
Still, today the Meiteis community took it as an important festival specially for the married women. We notice that married women around the age of sixty/seventy went to their parented house to take part in this auspicious festival. The elder, younger, brothers offer them sweet delicious feast, specially Fish items and traditional Meiteis dishes.
Even far away
Ningols
visit to their parent's house. Over and above they (brother) offer presents to their sisters in the form of kind, say
sharees
,
phanek
, shwals, woolen clothes, utensils according to their capacity. Today, some families offer present of highly valued items to their sisters. In fact we should not encourage such type of presentation.
The
Ningols
give warm blessings to their brothers. Every
Ningol
is eagerly waiting this favourable day.
In fact, the basic logic of observing
Ningol-Chakkouba
is to enrich the close relationship, loving ties between the brothers and sisters who were one time living together and dining together under the same roof, however with the passage of time they are separated.
The observation of such a festival are custom made for favourable and a conducive climate to make emotional integration between the brothers and sisters stronger.
Today the importance and value of this ceremony is becoming more and more recognised. Therefore, it is our moral duty to gear up our traditional festival. However, it will be unwise to invest more on conspicuous consumption, when the state is facing acute financial problem.
On the whole, observing this festival is good from a socio-cultural point of view but too much expenditure in performing/celebrating this festival is an unwise policy.
Related Materials on Ningol Chakkouba:
---
* Hijam Rajendra Singh wrote this article for Hueiyen Lanpao . The writer is a Senior Grade Lecturer & Head of Economics Department, Modern College. This article was webcasted on October 31, 2008.
---
* Comments posted by users in this discussion thread and other parts of this site are opinions of the individuals posting them (whose user ID is displayed alongside) and not the views of e-pao.net. We strongly recommend that users exercise responsibility, sensitivity and caution over language while writing your opinions which will be seen and read by other users. Please read a complete Guideline on using comments on this website.