Lui-Ngai-Ni
The Naga Seed Sowing Festival


Among many communities and social groups that constitute the great diversity of India, Nagas are one of them. In fact the phenomenal diversity within the Naga community itself adds color to the collective diversity of India.

In all there are about forty odd tribes that constitute the Naga society, and out of these about twenty of them are found in the state of Manipur alone.

They are, Anal, Mao, Maram, Poumai, Tangkhul, Zemei, Liangmai, Rongmei, Puimei, Moyon, Monshang, Maring, Tarao, Lamkanq, Chothe, Kharam, Chiru, Koireng, and Thangal tribes. Like any tribals of the North East India, the Nagas have rich and colorful culture.


Lui-Ngai-Ni 2007



Every Naga tribes celebrate every important events of their life with festival celebrated by the Nagas signifying the SOWING of SEEDS in the season of spring.

In the olden days of rich man among the Nagas is one who has plenty of grains to last him and his family for a year, and also be able to spare some for other whenever the need arises. And it is in the very context that the festival of seed sowing assumed the greatest importance over all other festivals celebrated by the Nagas.

During this festival, the Gods of crops is invoked to shower his blessing on the sawed seeds of their cultivation so that it grows to bear fruit for a bumper harvest that the general well-being of the people is ensured.

The blessing of almighty is beseeched with expressions through dances, songs, and rituals. And it is this cultural continuity that we see some of the most delightful dances, songs and other customary rituals presented by Lui-Ngai-Ni every year.

Lui-Ngai-Ni festival, no doubt is the modern form of the aged old festival of Spring, coined as late as 1987. Out of many festivals that different Natga tribes celebrate, there are those which are uncommon in design, purpose and time.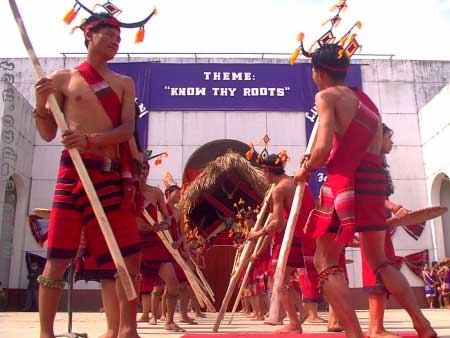 The Harvest Dance about to begin for Lui-Ngai-Ni celebration.



But the SEED sowing festivals is one of them which is celebrated by all Naga tribes almost simultaneously, i.e. during the season of Spring.

And after a great deal of studies by a cultural group of the Nagas, this festival was given a modern concept by naming this festival "Lui-Ngai-Ni" and its celebration given a collective shape in the year 1987, and in recognition of this zealous efforts of the Naga community, the Government of Manipur has declared a public holiday for the festival, and the Ministry of Tourism, Government of India has also listed the festival of "Lui-Ngai-Ni" as one of the tourist festival of India.

Like many other indigenous people off the world, the Nagas have no written history about their customs, traditions, legends, beliefs and values except those passed through oral and visual traditions in the forms of songs, dances, story-telling, rites & rituals, wood carvings, festival, megaliths etc.. The written history of todays do not adequately reflect the pristine wisdoms of their ancestors.

To rekindle their past glorious traditions and values for their posterity, perhaps, the re-enactment and promotion of their dances, songs, values and rituals through celebration of "Lui-Ngai-Ni" in today's context could be in order.

The rich Naga culture thus form a part of the great culture heritage of this country.


---
* Comments posted by users in this discussion thread and other parts of this site are opinions of the individuals posting them (whose user ID is displayed alongside) and not the views of e-pao.net. We strongly recommend that users exercise responsibility, sensitivity and caution over language while writing your opinions which will be seen and read by other users. Please read a complete Guideline on using comments on this website.