Unheimlich :: A Short Novel
- Part 9 -
Louriyam Bebica *

In the interest of the reading public and with the permission of the writer, we are reproducing the novella in a serial format... .
- Hueiyen Lanpao

"Thoi, I don't know if it's right to ask you or not. But I was shocked when Robin told me about your past life, day before yesterday. I thought of calling you that day itself, but then I thought it might hurt you", Albeit said.

"It's okay, you can ask me anything", Thoi replied.

"Do you mind if I ask you about your sister? Why didn't you ever mention her?"

There was a dark silent.

After a while, Thoi said slowly-

"I still remember the day, it was on Sunday. All my family members went for a picnic. I and my sister were also there. You know, she was not like me, introvert. She could make heaven out of hell. On that day too, she was the moon blenched land of everyone's eyes. She was dancing, playing with our parents, uncles, aunties. In fact, everyone could hardly close their mouth and eyes because of her".

"Nao, you sit with your sister", said my mom to her.

"No, mama I will sit with you and babaa".

"See my little girl, our car is already packed with things, so we can only occupy the front seat".

"Thoi, just take Nao with you. Let's hurry up, we are already late. Do you hear me, Thoi?"

I went straight and pulled my sister who was holding on my mom's waist. I and my sister sat in another car with our driver. It was already dusk when we reached half of the way to home. Suddenly, our cars were stopped by 5/6 men. They were wearing masks. I could not see any of their faces. My parents were at gun-point and warned me not to make a single noise.

I could still see clearly the vision how my mom tried to control her tears, emotion and fear. In fact, a tear from her eyes or a sound from her mouth might harm her babies. I just cried out and one of them slapped me. That was the only thing I remember. When I opened my eyes, I was on my bed and I can hear the voice of my mom from the hall, breaking down again and again. Babaa was holding her and assuring her something mom was willing to accept. She said nothing, yet her eyes were the epitome.

Many unknown faces crowded my home. Some of them were in uniform. Other than our watchman, I couldn't recognize any of them. But I could not find my sister among those thousand heads. The same situation continued for five days. I don't understand what was going on, but I was sure that no one was happy. Whenever I asked about my sister, my mom cried and broke down herself. So I decided not to ask again.

On the sixth day, my clothes were packed. I didn't know why, still no one talk. My kaka took me in his car. Mom, dad and aunty came out till the gate and waved their hands as though we were going somewhere. It was the first time that I was going without my parents or sister. When I landed, it was an unfamiliar place to me.

I and my kaka stayed in a big building the whole day. He was making a lot of phone calls and trying to write something. The next day, he dressed me up and we went to a school. It was a nice school with a big playground. Many girls were there. I was trying to observe their eyes, color which were different from mine. I thought of asking it to my kaka, the reason of their big eyes and tall nose latter when we are back in the room. I would love to study there with my sister. This sudden thought reminded me of her. I hoped she must be back by then.

I was asked to wait outside the room where my kaka had entered. He was talking with a bald man. After some minutes, he came out. We went straight to the room. I had the desire of asking if my sister has come back or not. But this thought of asking frightened me. So I dropped that idea. None of us talked or smiled.

The next morning, kaka woke me up and old to dress up. He was packing my things also. I was delighted in hope that I was going home but actually since that day I was left out from my home. I spend four years without coming home. The moment he walked from the room, leaving me there, I realized that he won't take me back.

I ran straight to him and clutched on his waist. My favourite pink skirt was completely wet with tears and mucus. Even after he left the place, I was rolling on the floor, crying aloud and demanding for him. You know, no one was there to ask me why I was crying or I don't understand a single thing they were speaking to me. I was crying with my own echo.

I saw my mom only after one year when she came down there. It was her request to my father that I should not come back home. Every vacation they came to spend time with me. But I was longing for my room where I had slept with my sister, the garden where we had planted those marigolds, the pond where she had named the fishes after us. In every memory, my sister was there but I was too scared to ask them about her.

After my class IX exam, I came home. There, my mom broke her silent. My sister was kidnapped and killed. They raped her because my parents delayed in paying their ransom. She was tied up inside a sack and thrown in Nambul River. Can you imagine a baby in that condition? How could they rape my sister? She was a child, not even a girl.

She died with the pain, the pain I couldn't even think of. She was only five and half years old. Mom took out all the newspapers where her photos were there with the news of her 'missing to death'. I closed my eyes and prayed that it be a dream. But it was not a dream", Thoi began to weep. Trying to control her tears, she continued again-

"They only knew how to send a demand letter. But we only know how much our father work to earn those paisas. 'Pay or die' is the only logo in their dictionary. Hard work, mercy is something they never knew. Everyone says I'm strong. I can accept her death and bring new life in my parents. But no one knows the nights I spent trying not to make a sound when I cried. There is not a single second I didn't feel her touch on my fingers, asking me why I failed to save her".

There was a long silence before Albeit finally spoke up.

"Thoi, I'm sorry."

"It's okay, good night."

"Good night."

The whole world might have slept. Thoi was still asking why her baby sister was killed. She got no reply than those tears.

To be continued...


---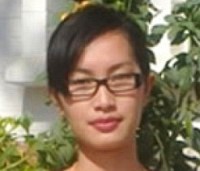 Louriyam Bebica
Unhimlich" written by Louriyam Bebica was released at Imphal Hotel on December 17, 2011 .
Organised by Cultural Research Centre Manipur, the book launched function was graced by Special Secretary and Director (YAS) H Deleep Singh, IAS as chief guest, Asst professor Kha Manipur College Chirom Rajketan as president and Olivia High School Principal Kaibon Dirinamai as guest of honour respectively.
Prof Jodha C Sanasham, head of department of ENT JNIMS, also attended the function as book reader.
TSE News
---
* Louriyam Bebica wrote this novella and is now reproduced by Hueiyen Lanpao (English Edition)
The writer can be contacted at bebicalouriyam708(at)gmail(dot)com
This article was posted on June 03, 2012 .
---
* Comments posted by users in this discussion thread and other parts of this site are opinions of the individuals posting them (whose user ID is displayed alongside) and not the views of e-pao.net. We strongly recommend that users exercise responsibility, sensitivity and caution over language while writing your opinions which will be seen and read by other users. Please read a complete Guideline on using comments on this website.