Unheimlich :: A Short Novel
- Part 8 -
Louriyam Bebica *

In the interest of the reading public and with the permission of the writer, we are reproducing the novella in a serial format... .
- Hueiyen Lanpao

Thoi was in the garden with her mom when their cook aunty called her.

"Thoi, there is a call for you."

"Ok aunty, thanks." She ran up to her room.

"Hello."

"Thoi, Good morning. Won't you come for taking admit card?"

"Of course, I will come. But why?"

"I just wanted to know."

"See, I know you well. Now tell me the real purpose of your call?"

"Would you like to go out on a date with me today?"

"What? On date? With you? Ha..ha.. Am I dreaming? Are you in your sense?"

"Yes, I'm in my sense. For your kind information, you don't need to insult me that much. If you are not willing, just say it."

"Sorry, sorry... Yes, I do. But where shall we go? Am I supposed to meet you at the gate of Damdei College? Ha..ha…"

"Yes, you are right. You meet me after taking the admit card."

"Ah! You must be kidding. Shanti Madam will give me a red card."

"I have got the solution for that also. Apply ink on your face."

"Ah! I don't know why I ever bother to argue with you. Your only duty is to irritate me."

"It's good that you learn your lesson through it is a bit late."

"Are you sure that we are on date?"

"Yes, any doubt? We will meet at the tea shop where we ate Samosa every day."

"What? Albeit? My friends usually go at far and isolated place with their boyfriends or on a ride and they said it is what we called a date."

"Ha..ha… Thoi, don't tell me, they also sing and dance like in movies."

"Ah! Bye, see you at the college."

"Wait, wait, don't wear uniform, you look like a kid in skirt and tie. Try to be a bit mature today. Ok?"

"Yes, boss."

When Thoi reached, Albeit was already there. She could see his angry and long face.

"I'm sorry, I think I'm late?", Thoi pleaded.

"Do you think or you are?", Albeit retorted.

"Ah! I'm late. Are you satisfied now?"

"It's ok, but why are you so late."

"I was confused choosing my dress. I keep on changing. After all, it is my first date", she chuckled.

"Why are you so concern about your dress? I notice you changing your college uniform every day."

"Ha… ha… you… you observe that much? It's not that I bother about my dress, just like… Ah! I can't explain you."

"You must be thinking me as Xerox copy since I never change my dress."

"Come on, shall we talk something else since we are on date. I guess so…"

"Cool, why did you dump all those guys who approached you. I think some of them are really good guys and of your family level. You ought to accept one of them."

"If you are going to start such rubbish talk, then I'm leaving."

"Sorry, But I am just telling you the fact."

"Fine then, let me ask you too. Why did you waste all your pocket money on calling me?"

"Bcoz it is not possible to stay without hearing you."

"But why?"

"You know it."

"That's the point, you know it too."

"Thoi, be practical, I can't marry you."

"So what? I don't care, you can be bachelor, I can be spinster till we die so that we will always be young and pretty. Ha… ha…"

Thoi, you can't live in a fancy world."

"Oh! Don't start your lecture and asked me to understand between you and I… blah… blah", she almost shouted closing both her ears.

"By the way, you look really pretty in that pink gown."

"Is it? Oh! Thank you", Thoi said taking off her hands from her ears. He nodded with a killing smile. Looking at her childish way showed him the path of his joy.

To be continued...


---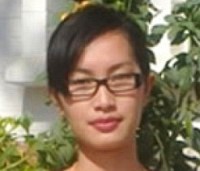 Louriyam Bebica
Unhimlich" written by Louriyam Bebica was released at Imphal Hotel on December 17, 2011 .
Organised by Cultural Research Centre Manipur, the book launched function was graced by Special Secretary and Director (YAS) H Deleep Singh, IAS as chief guest, Asst professor Kha Manipur College Chirom Rajketan as president and Olivia High School Principal Kaibon Dirinamai as guest of honour respectively.
Prof Jodha C Sanasham, head of department of ENT JNIMS, also attended the function as book reader.
TSE News
---
* Louriyam Bebica wrote this novella and is now reproduced by Hueiyen Lanpao (English Edition)
The writer can be contacted at bebicalouriyam708(at)gmail(dot)com
This article was posted on May 29, 2012 .
---
* Comments posted by users in this discussion thread and other parts of this site are opinions of the individuals posting them (whose user ID is displayed alongside) and not the views of e-pao.net. We strongly recommend that users exercise responsibility, sensitivity and caution over language while writing your opinions which will be seen and read by other users. Please read a complete Guideline on using comments on this website.