Unheimlich :: A Short Novel
- Part 7 -
Louriyam Bebica *

In the interest of the reading public and with the permission of the writer, we are reproducing the novella in a serial format... .
- Hueiyen Lanpao

It was on New Year day, 6 O'clock in the morning. Albeit rang her up. This time he was not in cheerful mood, he was serious. It compelled her to recollect the moment of their first meeting. It frightened her.

"Albeit, are you alright?", Thoi asked him.

"Yeap. So, what's up? I'd called up to wish you for New Year. Sorry that I could not give anything on this special day."

"It's alright. Albeit, why do I feel that you are so unhappy on sucha a special day. Buddy, you ought to enjoy."

"I am not feeling well, that's it."

"Albeit, won't you share your thought with me, a friend, whom you said, the dearest and precious one?", she asked with a doubtful and worried mind.

"Thoi, I'm sorry that I tried to hide it from you. I went to Motbung last December on Christmas….", before he could complete the sentence, Albeit paused.

"Oh! It's great, so?"

"I went there to meet someone."

"Is it?"

"Won't you ask me who is she?"

"No, nor I'm interested."

"Do you know Jonsy from science stream?

"I said I'm not interested," Thoi said firmly this time. She wanted to tear the sky with her scream.

"Do you know why did she ditch me? She came to my house on the eve of Christmas. There she came to know about the condition of my family."

"Please stop."

Disregarding her plea, Albeit went on-

"You know, Thoi, People did not like me only because I'm poor. They knew too well that I am good for nothing. Have I told you that I'm damn poor? Even you may like to break up our friendship if I let you see the place where I stay."

She wished to hold a mike and shout at his ear saying she does not care for anything. She loves him for his nothing. She swore to love him if he were dead, blind or happen to stay in a slum. She sought for forgiveness to god that she had mentioned such conditions to prove her love for him.

"Thoi, why are you so silent? So, even you've decided to leave me. Fine, leave me alone. Just f... off from my life.", he shouted.

"Albeit, stop this nonsense. I'm not leaving you nor will you. You alone cannot decide about our friendship, you got it? I don't mind you making fun of me but you are dragging me to hell when you hurt yourself. Don't dare to do it again," saying this, Thoi disconnected the phone.

She could not sleep the whole night. She was awaked, holding the Teddy Bear she gave her. She shed all her tears on it as though she won't get another chance to cry.

Council exam was approaching, so both of them were busy in preparation. It was eight days; they did not contact each other. Thoi already planned up to go and meet if he didn't ring her up within two/three days. She was laying on her bed trying to get some sleep, when the phone rang.

"Albeit, why didn't you call me for so long? Didn't you miss me at all? Are you fed up with me? Do you know how much I hate it? I……"

"Hey, will you shut up and let me talk or shall I hang up?"

"No, no. Please you talk."

"Thoi, I love you."

"What?", she almost yelled.

"Yes, I love you."

She was nervous. Not that she didn't like it, but she could not believe what she heard.

"Are you listening to me?"

"Ah…. Yeap."

"I mean it. I will like to beg your pardon if I hurt your sentiment. I don't mind if you don't reciprocate my love but please don't change yourself. Be always my good friend."

"It's okay."

"Did I disturb your sleep?"

"I was on bed but haven't closed my eyes."

"Bcoz of me?"

"No! Why are you teasing me always?"

"Ha… ha… It is very simple, bcoz I love you. I hope you are sleeping alone right?"

"Yes, So?"

"Did you sleep like a baby who spread both her hands and legs in every direction like an aero-plane. Ha…ha…"

"Will you please shut up?"

"Of course, my princess. Do you mind moving in a bit so that I can lay by our side."

"Why should I mind, which side do you prefer? Left or right?"

"Ah!......Right side, since I'm, elder to you."

"Albeit, then someday we tool will get married like our parents, right?" Her innocent mind asked him. In fact, he was the reason of her life. Unfortunately, she didn't get the reply as she expected.

"I can't marry you."

"But you said you love." She almost began to cry.

"Yes, I do and I mean it too. But I can't marry you. Love is between two souls while marriage is between two families, classes, status, which I don't have."

"Not even in late future?"

"Yes, there is a big gap between you and I. You are like a princess in the garden of heaven with many people to love. Above all, the love of your mom and dad is there one step ahead to protect you even from a mere harm and me, hah!"

"You are too mean. You are a human being and I too. From where did you find the differences?"

"Princess, it's not possible to chase the cloud."

"Don't compare me with the cloud, please."

"That's why I said you are still a baby, Ha…ha…Life is not how you have seen and experienced. You haven't toiled in your life. So, you won't be able to imagine the hard time one needs for living. I must say you are so lucky."

"You may change your perception one day when you learn what kind of life I's experienced."

"Thoi, it is already late. Go to sleep. Good night."

"Good night."

Thoi did not know whom to blame. He gave her the world I a second, took it back in a blink of eyes again. She hid her face with the pillow making it fully wet. She prayed for a better morrow to the sun.

To be continued...


---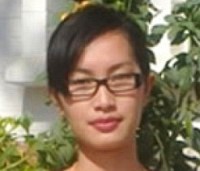 Louriyam Bebica
Unhimlich" written by Louriyam Bebica was released at Imphal Hotel on December 17, 2011 .
Organised by Cultural Research Centre Manipur, the book launched function was graced by Special Secretary and Director (YAS) H Deleep Singh, IAS as chief guest, Asst professor Kha Manipur College Chirom Rajketan as president and Olivia High School Principal Kaibon Dirinamai as guest of honour respectively.
Prof Jodha C Sanasham, head of department of ENT JNIMS, also attended the function as book reader.
TSE News
---
* Louriyam Bebica wrote this novella and is now reproduced by Hueiyen Lanpao (English Edition)
The writer can be contacted at bebicalouriyam708(at)gmail(dot)com
This article was posted on May 12, 2012 .
---
* Comments posted by users in this discussion thread and other parts of this site are opinions of the individuals posting them (whose user ID is displayed alongside) and not the views of e-pao.net. We strongly recommend that users exercise responsibility, sensitivity and caution over language while writing your opinions which will be seen and read by other users. Please read a complete Guideline on using comments on this website.