Unheimlich :: A Short Novel
- Part 6 -
Louriyam Bebica *

In the interest of the reading public and with the permission of the writer, we are reproducing the novella in a serial format... .
- Hueiyen Lanpao

Thoi and Albeit had a great time together. They sat under the tree in front of the college gate and shared their tiffin. They walked to the tea shop after the class, and the most horrible thing was, her driver had to follow the bus till Sekmai Bazzar. Those were the daily routine I the college. As usual, they went to the tea shop after the class.

It was Albeit's turn to treat her. She ate three Samosas with Dal curry. He sat there looking at her without blinking his eyes, and asked finally-
"Are you planning to eat up everything from this hotel?"

"Don't worry I'ill be Ok". She thought he was worried about her health.

"Yeap, You will be Ok that I know. In fact, I'm worried about it."

"Then?"

"I have got only Rs 20 with me now. If you take one more Samosa, then I have to clean up the plates in return."

Albeit was not joking. There was anxiousness in his eyes when he said it. That expressed compelled her to laugh aloud.

************************************************************************

Thoi, your Nene wants you talk to you", her mother told her.

"Why?"

"You better go and ask her. She is in the hall. She seems terribly upset."

"I hope I won't get a blast."

"Well, all the best, then", her mother teased her.

Coming down to the hall where her Nene is sitting, Thoi asked meakly -

"Nene, did you call for me?"

Yes, sit here. I heard many things about you these days. You seem to forget that your class teacher Miss Shanti is my close friend. Now will you frankly speak up how many times you bunked your economic class?"

"Ash…"

"Yes…?"

"Four for five times, only"

"You said it so easily with the suffix 'only'. It is ridiculous. Don't try to spoil your career. I know, at your age people make mistakes, but…", before her Nene could continue, Thoi interrupted- "Nene, why are you scolding me? I have done nothing wrong. Can't I have the right to freak out with my friends some time?"

Her head was bowed so heavily as though it's gonna merged with the floor. Her Nene was unhappy at her courage to respond in such a tone. It never happened before.

"You can, but not every day. By the way, you are still young for what you called freaking out. It's the first time; I'm using high tone with you. And I hope, you won't give me another chance."

Thoi felt a stinging pain, as though all her dreams were vaporizing in front of her eyes. She wasn't able to confront her Nene nor could say 'sorry'.

"Don't stand there numb. Go and change your dress. You are getting late for your class."

Her Nene left the room, leaving her all alone. Both of them were guilty of hurting each other. She was always proud of her Nene. She was like a star in the sky; for her, love and care is only what she gave to everyone. She had no malice against none. Instead, she toiled day and night to help those people who were poorer than the poor.

Thoi sat down on the sofa, when the phone rang.

"Hello."

"Princess, are you alright. You sound so down."

"I'm okay". But she could hardly speak out.

"Are you crying? Please, please, don't cry. I prefer hearing you screaming than breaking voice. What's the matter? I'm sorry if I have said anything."

"Please. Nothing of that sort."

"Did anyone scold you?"

"No."

"Hey, didn't I tell you not to lie to me. Hah! Now still need some waves to make you reveal the truth? Or…?"

"Nene said I'm spoiling my career. I'm not studying and bunking classes", she started crying loudly like a baby.

"Thoi, please don't cry. Tell her that you will study even more than you did in high school." Sometime, he acted so matured, at other time, with callowness. He soothed her with many jokes, laugh at himself. He even sang to her. After that day, it became usual for both of them to talk over the phone every evening and night. Somehow, she always managed to talk even if it is inside the blanket. Bcoz she lives in his words.

To be continued...


---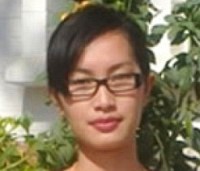 Louriyam Bebica
Unhimlich" written by Louriyam Bebica was released at Imphal Hotel on December 17, 2011 .
Organised by Cultural Research Centre Manipur, the book launched function was graced by Special Secretary and Director (YAS) H Deleep Singh, IAS as chief guest, Asst professor Kha Manipur College Chirom Rajketan as president and Olivia High School Principal Kaibon Dirinamai as guest of honour respectively.
Prof Jodha C Sanasham, head of department of ENT JNIMS, also attended the function as book reader.
TSE News
---
* Louriyam Bebica wrote this novella and is now reproduced by Hueiyen Lanpao (English Edition)
The writer can be contacted at bebicalouriyam708(at)gmail(dot)com
This article was posted on May 08, 2012 .
---
* Comments posted by users in this discussion thread and other parts of this site are opinions of the individuals posting them (whose user ID is displayed alongside) and not the views of e-pao.net. We strongly recommend that users exercise responsibility, sensitivity and caution over language while writing your opinions which will be seen and read by other users. Please read a complete Guideline on using comments on this website.