Unheimlich :: A Short Novel
- Part 5 -
Louriyam Bebica *

In the interest of the reading public and with the permission of the writer, we are reproducing the novella in a serial format... .
- Hueiyen Lanpao

Thoi's mom was surprised to see her daughter already up in such an early hour. Every morning she had to scream with all her energy million times, and then only Thoi woke up for her breakfast. But that day it was different.

"Thoi, what's going on? Are you okay? Why so early? And why are you in hurry?" Her mother asked a series of questions breathlessly.

"Shh...Where is Babaa?"

"He is in the hall with some visitors. Why?"

"I'm going to the college."

"What? Its only 7 o'clock in the morning."

"So...?"

Her mom came closer and asked again, "Are you okay? What's going on?"

Thoi could hear her father's footsteps coming up to her room. Her father never let her go without seeing him nor does he go out without saying anything to her doting daughter. For him, a day is incomplete if he has to begin his work or step out from home without seeing her first. When she was in Delhi, everyone was surprised at the frequency of her father's calls to her.

"Thoi, Thoi...."

"I'm here Babaa."

"Ah! You are there, my lovely girl. Come, come."

She moved closer to her father to get a kiss on her forehead.

"Thoi, Is it not early for the class now?", her father asked, looking at his wrist watch.

"Ah...! Babaa, like........", Thoi started searching for some adequate words to answer.

"Yes, tell me, I'm listening."

Suddenly, she said, "Today is Viro's birthday. We are planning up to give her a surprise. So, we are gathering there at 7.45 in the morning."

Her mom was shocked. It was only day before yesterday that Thoi bought a bag for Viro's birthday. But she didn't dare to say anything. She could feel the happiness, excitement in her daughter's eyes. It was everything for her.

"Alright, but make sure that the driver waits for you, hmmh."

"Ok, Babaa."

Thoi tried to steal a look on her mother's reaction. She was relieved to receive a smile on her lips.

Thoi reached college five minutes earlier than Albeit.

"Hi, Princess, you came early to meet me, right?", he teased her.

"No! Why should I? I am jobless."

"Don't lie. See your face has turned red. It's the prove. Mathematically, therefore, hence prove. Ha-ha..."

Actually Albeit was right. Her face has turned red, her legs were trembling, and no words were coming out to fight him back. Soon, she began to feel comfortable in his company. He sang, danced, teased her, nothing seem to bother him. She was dazed and impressed that he sang so well.

After the class, they went up to Charhajare, a little further from where they wait for their bus.

"Poor driver, he has to follow the bus," she muttered.

"Did you say anything?"

"Nothing, I'm thinking of returning home by bus with you today."

"Don't be silly, Thoi. What about the driver?"

"I will ask him to follow the bus."

"You are crazier than I thought. Do you agree with that? Ha-ha...", Albeit gave a huge laugh.

Thoi had nothing to say, she just bow down her head and biting her nails, waited for the bus beside him.

"Thoi, com. I hope you can manage to get inside the bus", he held out his hand and pulled her inside the crowded bus.

On the way, he told her how naughty he was in his childhood, how much he loves to sing, the love and care he received from his brother.

She watched as he broadened his shoulder when he talked of his mother. He told her that she was his world.

"Do you feel bore?" It was Albeit's first question after narrating every silly story he had.

"No", Thoi said with a grin.

"I don't care if you feel bore. You have to listen. You cannot jump out of the bus. Ha-ha..."

Albeit continued his talk again. She felt sorry that he had prejudice against him once. They did not even notice when the bus stopped at Sekmai Bazaar. He bade goodbye. With full of joy, Thoi reached home. Just then the phone rang. She knew he must be the one.

"Have you reached home? Sorry that I bore you a lot today."

"It's okay. But how do you know that I'm on the line? How can you start talking without listening who is on the line?"

"Thoi, please, it's an old story. I know through your breadth when you pick up the phone. Okay, I'll give you a call at night again."

Everything he said or did was amazing for her. He called her up at night as he had promised.

"Hello", she whispered inside the blanket. Her aunty had come in her place and she was sleeping in the next room.

"Thoi, this is not the first time I'm listening you in such a low voice. In fact, lower than the steps of a mouse. Ha-ha... but one thing is clear, my ears are still functioning perfectly, 100 percent. Ha-ha..."

To be continued...


---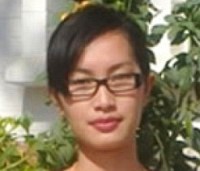 Louriyam Bebica
Unhimlich" written by Louriyam Bebica was released at Imphal Hotel on December 17, 2011 .
Organised by Cultural Research Centre Manipur, the book launched function was graced by Special Secretary and Director (YAS) H Deleep Singh, IAS as chief guest, Asst professor Kha Manipur College Chirom Rajketan as president and Olivia High School Principal Kaibon Dirinamai as guest of honour respectively.
Prof Jodha C Sanasham, head of department of ENT JNIMS, also attended the function as book reader.
TSE News
---
* Louriyam Bebica wrote this novella and is now reproduced by Hueiyen Lanpao (English Edition)
The writer can be contacted at bebicalouriyam708(at)gmail(dot)com
This article was posted on April 27, 2012 .
---
* Comments posted by users in this discussion thread and other parts of this site are opinions of the individuals posting them (whose user ID is displayed alongside) and not the views of e-pao.net. We strongly recommend that users exercise responsibility, sensitivity and caution over language while writing your opinions which will be seen and read by other users. Please read a complete Guideline on using comments on this website.