Unheimlich :: A Short Novel
- Part 4 -
Louriyam Bebica *

In the interest of the reading public and with the permission of the writer, we are reproducing the novella in a serial format... .
- Hueiyen Lanpao

"So you are calling me after five days. How was the excursion? Did you enjoy?"

"Yeap, I did. What about you? How was your trip to Delhi? I hope you are in good shape."

"Yeap, thanks. Now tell me what you did there those four/five days."

" Ah ! Nothing much. I slept the whole days. The day we reached there, I searched for your doll. I didn't know it is really expensive. They charged me two thousand rupees. I was not the large size too. After that my pocket was empty, so naturally, I came back and slept rest of the days, waiting for them to take me home."

"How mean and stingy is he", Thoi muttered and said, "Don't worry I will give you the money when we meet."

"Hey! Hey! I'm not asking you to pay me back, okay. I know you are rich but it is my gift", Albeit responded promptly.

"You don't need to speak indirectly. Why don't you shoot the arrow at the correct range? Why such a long story to tell me about the price. Don't worry; I won't behave like the friend in my lost dollar."

"Ha-ha… I got you now. See, I was simply telling you the fact, since you asked me."

"Oh! You want me to believe that you went there with only two thousand rupees?"

"Of course, even two thousand rupees is too much."

"My foot, I'm not a fool, bye." Thoi disconnected the phone.

The next day, she excused her mom saying she was not well and would like to take rest from college for at least two/three days.

*******************************************

"Hello"

"What's wrong with you? Why didn't you come to the college for last two days…?"

"I'm not well, so…"

"Feeling better now? But you sound normal and healthy. By the way, what about the doll?"

"Ah! Why are you after the doll? Don't worry. I will pay with interest."

"Hey, Miss, don't try to be so censorious, ok. I bought it for you bcoz I wanted it. There is no need to tell everyone that RK Manitomba is you father. Come to the college and get the doll."

"If I say I won't come…"

"Don't worry, you will come."

"I may come, but I won't take the doll."

"Let's see, bye."

The next morning, Albeit was already there at the college gate with the Teddy bear in his hand. He came closer to hold out the doll saying nothing.

"No thanks, I won't like to accept anything from a person like you."

"Then throw it", saying this he walked away so steadily.

Thoi was restless in the class the whole day.

She thanked god that her father has given her some works to occupy her mind. She has to meet her cousin from her Nene's place for dinner. Her father invited her for the diner before she left for Delhi. They had a great evening with her cousin and forgot about what had happened in the college. It was almost 9.30 in the night when they came back home after dropping her cousin. She was retired and decided not to study that night. She was changing into her night gown when the phone rang.

"Hello", Thoi picked up the phone.

"Hi, Miss, Are you still angry? Is it too late to talk now? Albeit here."

"I know you are Albeit. What do you expect me to do with your name?"

"Of course, you can do a lot of things, since you know I'm desirably popular in the college. For instance, you can blackmail our English teacher using my name, ha-ha…"

"It's not so funny. You won't need to laugh like a monster."

"Ok ! If you say so..."

"See, Mister, I'm not trying to say anything. By the way, what the hell you are me that I'll be concerned, hah?"

"Good point. Actually, I'd called up to discuss that point with you, ha-ha…"

"Your way of laughing is irritating me. Ah..!"

"Is it? Then I shall laugh like Amir Khan or Brad Pitt? Don't worry, I will practice it from tomorrow, ha-ha…"

"Please stop it. Good night"

Thoi was about to hang up the phone, when Albeit pleaded -

"Wait, wait, don't hang up the phone. I'm sorry for everything. Can we be good friends?"

Suddenly, her heart began to melt like ice. She was silent but she knew that she had more than she coveted.

"Ok, but on one condition."

"Condition?"

"Yeap. You will stop teasing me."

"Hey, that I can never promise nor I will. I did it out of my love for you. The day I stop teasing you, just know that you are out of my mind."

She was hurt. It was like Gabber Singh questioning Kalia, where death will embrace from both sides. But his simplicity and candor was more than enough to appreciate him. "Alright, we will be friends."

"Thank you, Princess. See you at college tomorrow."

"Good night"

"Good night"

A sudden pain ails her in dilemma

Is it a place where her heart can rest?

Or, is it the place her heart should be hurry?

To be continued...


---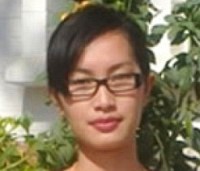 Louriyam Bebica
Unhimlich" written by Louriyam Bebica was released at Imphal Hotel on December 17, 2011 .
Organised by Cultural Research Centre Manipur, the book launched function was graced by Special Secretary and Director (YAS) H Deleep Singh, IAS as chief guest, Asst professor Kha Manipur College Chirom Rajketan as president and Olivia High School Principal Kaibon Dirinamai as guest of honour respectively.
Prof Jodha C Sanasham, head of department of ENT JNIMS, also attended the function as book reader.
TSE News
---
* Louriyam Bebica wrote this novella and is now reproduced by Hueiyen Lanpao (English Edition)
The writer can be contacted at bebicalouriyam708(at)gmail(dot)com
This article was posted on April 20, 2012 .
---
* Comments posted by users in this discussion thread and other parts of this site are opinions of the individuals posting them (whose user ID is displayed alongside) and not the views of e-pao.net. We strongly recommend that users exercise responsibility, sensitivity and caution over language while writing your opinions which will be seen and read by other users. Please read a complete Guideline on using comments on this website.