Unheimlich :: A Short Novel
- Part 3 -
Louriyam Bebica *

In the interest of the reading public and with the permission of the writer, we are reproducing the novella in a serial format... .
- Hueiyen Lanpao

Thoi was wrong to be happy. The next day, Albeit was cavalier, quiet, ego-centric like before though he was still adorable. She cursed at her fate and prayed to bring him closer to her. It was on the day of college election, Albeit has to contest with Jack. She stood at the corner of the college gate waiting for him. When she saw hi, she began to lose her senses and courage to wish him 'luck'. She did not realize how she lifted her hand and shook his hand.

"All the best."

"Ah! Thank you", he replied.

In some way, it was the beginning of their friendship. He lost in the election but she gained his friendship. Since that day, she waited for him every day at the college gate to walk under his shadow till the bus stop. She bunked classes if it was needed so that she could walk with him from the college gate till the bus stop. She did not know what the reason was, yet she felt secure and comfortable in every yard she shared with him.

By the first week of January, there began the gossip in the college about the excursion to Moreh. She did not give a though about it bcoz her Babaa would never permit her. Moreover, she has to go to Delhi for her annual health check up. She was arranging her bed, folding the blanket, when the phone rang.

"Hello"

"May I speak to Thoi?" His voice was so clear there was not a sign of twitchiness though it was his first call.

"Yes, it's me Thoi, here. May I know who is on the line?"

Hey, you are not able to recognize my voice? It's just only one week that he had break from the college, not even a month. I must say, you are too good in forgetting people, right?"

"I'm so so….. sorry Albeit. I was not expecting your call."

"Do you mean, you were waiting for someone else's call?"

"Not at all."

"I got your number from Robin, hope you won't blast him."

"Why should I? Instead, I would like to thank him. Ha ha..! By the way, have you got some work or…?"

"Why? Can't I call you without reason?"

"Of course, you can, but I know you have rung up today with a reason."

"Ha ha… you got a sharp mind."

"Thank you. So, will you tell me now?"

"Yeap, let's go on excursion. Please, don't say no."

She was surprised and stunned at his proposal but she could never convince her Babaa.

"Albeit, I'm extremely sorry to say that I can't come", she said with a pause in her speech.

"But why? Is it bcoz I will be there?"

"No, I have an appointment with my consultant doctor. I cannot fail to go."

"Are you sure?"

"Yes, I promise. I will make it next time, for sure."

"Ok, why are going to the doctor? Are you sick?"

"Actually, I met with an accident when I was six years old and lost my ring finger. I had plastic surgery and I have to check up every year. In short, physically I'm a very sickly girl. Ha ha…"

"Does it still hurt?"

"Not every day. Only when it's cloudy or when I felt very tire."

"Why didn't you tell me before?"

"Bcoz you never ask me. Ha ha…."

"I cannot believe that I have seen it."

Bcoz, I have never shown you. Ha ha…."

"Alright, leave it. So, tell me what I shall get for you from Moreh?"

"Do you really wanna get something for me?"

Albeit felt irritated at the way she responded him.

"Fine, if you gonna make fun of me, then let me hung up the line."

"Hey, please, come on. I was just kidding. Please get me a Teddy bear. I love dolls."

"That's why you are like a baby. I was wrong to think that you are a teenage. Ha ha… Ok, bye then."

After they hang up the phone, Thoi lay there on her bed thinking what's happening with her. She asked herself, if she was really in love. It was not possible. No doubt, she admired him and longed for him. But they were like two faces of one coin or like cat and dog, which could never stand each other.

Nothing was common between them than being quiet. She wanted to forget him as a dream and told her heart to close the door before he tried to peep inside. But her heart was not listening at all. She likes his frankness, his style of being himself.

"Forget it, who is he to bother my mind." She shut her own thought for some peace.

The college was on leave and he was in Moreh.

To be continued...


---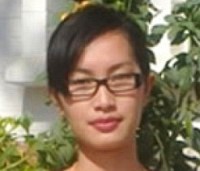 Louriyam Bebica
Unhimlich" written by Louriyam Bebica was released at Imphal Hotel on December 17, 2011 .
Organised by Cultural Research Centre Manipur, the book launched function was graced by Special Secretary and Director (YAS) H Deleep Singh, IAS as chief guest, Asst professor Kha Manipur College Chirom Rajketan as president and Olivia High School Principal Kaibon Dirinamai as guest of honour respectively.
Prof Jodha C Sanasham, head of department of ENT JNIMS, also attended the function as book reader.
TSE News
---
* Louriyam Bebica wrote this novella and is now reproduced by Hueiyen Lanpao (English Edition)
The writer can be contacted at bebicalouriyam(at)gmail(dot)com
This article was posted on April 13, 2012 .
---
* Comments posted by users in this discussion thread and other parts of this site are opinions of the individuals posting them (whose user ID is displayed alongside) and not the views of e-pao.net. We strongly recommend that users exercise responsibility, sensitivity and caution over language while writing your opinions which will be seen and read by other users. Please read a complete Guideline on using comments on this website.