Unheimlich :: A Short Novel
- Part 2 -
Louriyam Bebica *

In the interest of the reading public and with the permission of the writer, we are reproducing the novella in a serial format... .
- Hueiyen Lanpao

It was a dreary and seemingly the longest night, Thoi had ever experienced in her life. Memories lingered on her mind, no more tears to cry. She longed to scream at her own thought, to leave behind everything. She took a look a long breath and thought everything would be alright by morning. She gonna laughed at her Mabok and Mamaa.

She felt so glad that her mom has permitted to see him the next day. She stared at the wall cloack hanging on the wall of her room. She wondered why the time moved too slowly that day, as though the sun has been caught by someone very powerful, who is in love with moon. Every time she blinked her eyes, it was like a century that she has waited.

She was the only daughter of RK Manitomba, a well-known businessman of Manipur. Her village, Khurkkhul, was a place of beauty. The love of motherland can be seen there through the vision of Kounou and Loyalakpa Ching. The conjoin of the two hill ranges seem as if Kounou has lengthen her hands trying to protect her baby.

The cloud decorated her bosom where many fairies will rise up behind the Ingen Ching, lifting his head through those pine tree leaves asking if he also could sleep some more hours like us.

Her birth in that village was more of God's special creation. Her face was like a string of pearls spilling from an open casket. Her skin was as tender as a new born baby and as white as snow, her dimple forming the bridge to touch the heavenly beauty that loveliness gave such a charm that caught the eyes of many teenage boys.

But she seldom realized it. In the field of study too, she was always on the top, the most favourite child of the school teachers, a sweet chocolate of her seniors. On the other hand, many girls of her age envied her life which was filled with comfort, luxuries, and above all, the love of her parents and family she possesses.

It was her first day in Damdei College. She was excited and happy to find herself in a new home away from her old hostel, where she had spent eight/night years. She felt heavenly that she would be staying with her parents at home, the rule and regulation of the hostel would not follow her any more. She was like a free bird under her parents' love and care.

After passing her tenth standard, she opted arts stream, though it was her father's dream to make her a doctor. Bcoz she could not mix those names of body parts in biology and the valency numbers of chemistry on her mind. So she escaped from that disaster. She kew that she would be th most horrible and flop doctor if she ever happened to choose medical.

She just couldn't hold her breath longer to experience her first class in this new college. She muttered to herself when the bell rang "Thank God, I don't need to wait any longer".

"Was it loved at first sight?" That thought caused her a strange kind of pain but she felt joy in that pain too.

Suddenly she smiled comparing herself with Shahrukh Khan, who was good in the so-called love at first sight. Doctors might declare it a critical situation of her health's health if they happened to measure her heartbeat at that moment on seeing the vision of a boy coming towards her with a buxom girl. He was of middle height, 5I 6I/5I7I, dark complexion. His deep and dreamy eyes attracted her towards him even more. He was so unique, she thought.

After that day, her eyes began to follow every move of Albeit in college at least for three months, especially during English class, when arts and science students had combined class. She always sat at the bench behind his and watched him, and then dreamt of her own world where he was her price.

Days went on. She began to long for him more and more. However, she never approached him out of some strange fear that she might lose even the vision she had of him. He seldom talked with anyone in the class. He used fountain pen, and like a kid, splashed the ink on his fingers.

He hardly listened to lectures since his fingers were always busy with something to play with or daub on his notebook. Nor did she listen; her happiness and pleasure were on staring at him. He did not seem to know that she was crazy about him and the plumy girl never left him alone at all.

Thoi was so jealous of her. Later on, when Viro told her that she was only his childhood friend, Thoi doubted it.

It was on October 13th, Thoi was turning sixteen years. It's gonna be the most special birthday since she decided to approach him. Luckily, they had English class in the first period. She was sorry for her parents; she knew too well that they would be heartbroken to learn that their only daughter did nothing in the college campus except admiring Albeit.

"Thoi, are you ok? Why are you sweating in this winter?", Viro asked her with a teasing look.

"Yeap, I am ok".

"Then, shall we go for the English class now? I hope, you won't lose the courage bcoz of nervousness. I will never join English class again, if you do not make it out today. See, my career depends on you now".

"Ah! Forget about your career, please wish me good luck".

All of them cried like hell before entering the class. But she knew Pinkey did not like their conversation. Pinkey felt that Albeit was too proud of his personality. Thoi did not bother to understand Pinkey's look though she was her childhood friend.

That day too, they sat at the back bench of Albeit's. After gathering her courage and recollecting the words rehearsed over and over again in her mind, Thoi asked, "May I have your pen for a while, pliz?"

Albeit simply gave the pen without turning his face. He least cared who had questioned him. Suddenly, she felt like as foolish as a donkey and helpless.

Again she asked -
"May I have a look at your toy? I think you are trying to make something of gun or flower…?"
It was the first time, she saw him smiling back. She knew he liked her.
"Wish, if I can hold this moment in my tiny arms
That won't let drown my happiness
In the deep sea"

To be continued...


---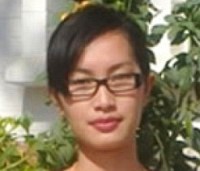 Louriyam Bebica
Unhimlich" written by Louriyam Bebica was released at Imphal Hotel on December 17, 2011 .
Organised by Cultural Research Centre Manipur, the book launched function was graced by Special Secretary and Director (YAS) H Deleep Singh, IAS as chief guest, Asst professor Kha Manipur College Chirom Rajketan as president and Olivia High School Principal Kaibon Dirinamai as guest of honour respectively.
Prof Jodha C Sanasham, head of department of ENT JNIMS, also attended the function as book reader.
TSE News
---
* Louriyam Bebica wrote this novella and is now reproduced by Hueiyen Lanpao (English Edition)
The writer can be contacted at bebicalouriyam(at)gmail(dot)com
This article was posted on April 05, 2012 .
---
* Comments posted by users in this discussion thread and other parts of this site are opinions of the individuals posting them (whose user ID is displayed alongside) and not the views of e-pao.net. We strongly recommend that users exercise responsibility, sensitivity and caution over language while writing your opinions which will be seen and read by other users. Please read a complete Guideline on using comments on this website.