Unheimlich :: A Short Novel
- Part 14 -
Louriyam Bebica *

In the interest of the reading public and with the permission of the writer, we are reproducing the novella in a serial format... .
- Hueiyen Lanpao

Her father agreed her to study her PG in Manipur University. The only thing she has to do was to persuade Albeit to study with her. It was during the month of March, the most waited festival 'Yaoshang' has come. It was in this festival where people gather in group, collect money from house to house, colored each other, burnt the hut, something amazing to watch such a lot of varieties in these five days. Thoi came home to celebrate those five days with her family.

"Thoi, won't you go out today?" Pinky asked her. In a way, she was her only childhood friend. Even she didn't know what kind of relation Albeit and Thoi has.
"When? Where?"

"Don't pretend."

"Hello! I can't get you honey."

"See you are addicted to the phone so much that you keep on using this word, 'Hello'."

"Ha-ha......I'm sorry but I really didn't get you."

"It is the first day of Yaosang, we are going out. Would you like to join us?"

"Why not, shall I get ready now?"

"But in one condition, you should come with Albeit. Only couples are going."

"Oh! then let's go someday later."

"Ah! Why both of you are pretending to be friends?"

"Bcoz, we are only friends."

"Don't try to fool me. I don't know why you are so mad after him. What is he? You have got pretty good number of guys waiting for you. You are making life atrociously hell."

"You are thinking too much."

"Thoi, please wake up. Don't live for the one who doesn't love you. Learn to be with the one who loves you. Don't start crying please. I didn't mean to hurt you."

"Why do you hate him so much?" she said wiping her tears.

"Bcoz you love him so much. Forget it. Please stop crying now. Ah...."

Thoi picked up her mobile, once Pinki left her room.

"Albeit, I don't care what the world says or think. I love you."

"Hey, hey what's wrong?"

"Nothing."

"Were you crying?"

"No, I have cold."

"But you were okay last night when I talk to you. You weren't inside the blanket till late night, may be bcoz of that. That's why I asked you to sleep early. Never listen to me."

"Sorry, may I request you one thing?"

"Wow…so formal. Please my princess, tell me."

"Let's study P.G in Manipur University together."

"Ha-h.....at least complete U.G first. And I know why you want me to study with you. You want me to buy samosa for you everyday, right? But, there is no tea-shop like Damdei in M.U."

"Ah! Why do you always irritate me?"

"Bcoz I love to do it. Forget it. I can't be there with you. You won't study if I am there."

"Why do you talk as through your presence will make a big difference in my career?"

"That's why I'm trying to tell you that my presence won't bring any change there, ha-ha....?"



"Ah! I hate the way how you laugh."

"You hate my style of laughing or me?"

"I think both."

"Thanks, I'm serious, I can't study there. I'm working on something. If I'm success then I will let you know within two or three days. I promise you will be the first one whom I will share."

"Will it be too much, if I asked you now?"

"Yes, I can't reveal now."

"I will wait."

"I know I can count on you."

Thoi went to bed a bit early. They gonna get together at the football ground for the arrangement of tomorrow's Thabal, the next morning."

*************************************************************

All of them were so impatient about that night's Thabal. Her friends invited their boyfriends for the dance. Five of them were in Thoi's room, choosing the dresses, earrings, make-up, which was supposed to be used for the Thabal. Why shouldn't they be, after all it was the most awaited event for them? They could dance with their love ones till they get fainted from exhaustion.

"Thoi, have you told Albeit to come tonight?" Pinki asked her with expression she didn't understand.

"No, he won't come."

"Don't be stupid, Thoi. This is the night you can dance with him, holding his hand. Show those guys that you are not a dumbo or bahenji."

"Ha-ha....It's okay. I can dance with your friends and those new friends who will be there."

"Yes, you can dance with my friends or anyone but…Ah! I don't know you are really innocent or faking to be innocent? Honey, don't try to be too virtuous. I'm in dilemma, whether you should be in heaven or hell."

"Ah!" She screamed at her, catching her hairs. But Thoi gave her a smile and continued choosing her dress as though nothing had happened. They soon left the room asking her to get ready early, so that they could start the dance as early as possible. She picked up her mobile once they left the room. "Hi, Miss sexy, I was about to call you up."

"Is it? I would have waited for your call. Shall I hang up now and wait for your call, ha-ha....?"

"Now, I don't wanna rethink it again. Wait, let me go inside my room and closed the door. I ought to speak to you."

"Stop nonsense. Listen to me now."

"Of course, I'm listening to you."

"Thoi, can you please close your eyes with me now?"

"Yes, but why?"

"Please no question now."

"Alright."

"Take a deep breath, feel my presence in front of you. Thoi, I'm kneeling down there, seeking your hand. Thoi, will you marry me?"

Suddenly she opened her eyes and asked in a complaining mood.

"Albeit, are you playing with me again."

"I'm serious, but you have to wait for at least some years. I promise, someday I will come to your home and beg your parents for your hand."

"I can wait for you the rest of my life. I would have waited even if you didn't ask me. Now can you tell me what are you planning?"

"I got a placement in a company. I will be joining once I'm done with my graduation. I plan to complete M.B.A through correspondence."

"Wow, congratulation, man."

"You know, I will send you my first salary whether it is Rs. 10/- or 100/- or whatsoever. Don't worry, I will take you from there soon and then I can hug you every night. Thoi, I want to see you so close to me, for hours and hours. I don't think I will blink my eyes. I love you".

"Albeit, can I tell my friends that you are my boyfriend now? Especially, Pinki."

"Of course, you can but won't you regret in future?"

"Believe me, I won't regret. I'm so happy. Thanks for everything."

"For what? That is the world I should say."

"Albeit, let's dance together tonight."

"Ha-ha.....so sweet of you, honey. But I can't come since I will be jealous to see you with someone else."

"Then I won't dance."

"Come on, I'm kidding. You must dance. You must enjoy with your friends, sorry that I can't come. Actually, mamaa is not well. We will dance together next time." "It's okay. You take care of mamaa. Ah! Albeit then we too will go on date, right? I mean like my friends, like Moirang, Loukoipat...."



"Ha-ha.....why not? We will go. I will take you anywhere you wish. And you ought to kiss me before I leave."

"Albeit" She screamed.

"Yes. Thoi it is my confession I want to tell you."

"Ha-ha…in that case I need to join a special class as you know I am the mother of so called dumbo."

"I too. It doesn't matter. We can learn together. God has created the desire in us so it can't be wrong to express his creation so openly, right? Hey, you have closed you eyes again. Thoi this time, be very serious, okay."

"Okay."

"Here goes-

When the dim moon light is on the spring.
I'm thinking of you,
When the sun is on the sky
I'm thinking of you."
"Albeit I'm impressed. You are such a great poet."


"Thank you, thank you, I'd just copied it down from the movie."

"Ah! You....".

She felt the love has been pouring in such a large amount that she could not hold them all. She let them free in the form of tears.

"Thoi, please don't cry. See you ought to look good tonight. After all, it is my prestige to have a beautiful girl by my side."

"Albeit, you will never change yourself."



To be continued...


---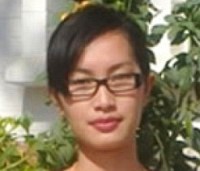 Louriyam Bebica
Unhimlich" written by Louriyam Bebica was released at Imphal Hotel on December 17, 2011 .
Organised by Cultural Research Centre Manipur, the book launched function was graced by Special Secretary and Director (YAS) H Deleep Singh, IAS as chief guest, Asst professor Kha Manipur College Chirom Rajketan as president and Olivia High School Principal Kaibon Dirinamai as guest of honour respectively.
Prof Jodha C Sanasham, head of department of ENT JNIMS, also attended the function as book reader.
TSE News
---
* Louriyam Bebica wrote this novella and is now reproduced by Hueiyen Lanpao (English Edition)
The writer can be contacted at bebicalouriyam708(at)gmail(dot)com
This article was posted on August 11, 2012 .
---
* Comments posted by users in this discussion thread and other parts of this site are opinions of the individuals posting them (whose user ID is displayed alongside) and not the views of e-pao.net. We strongly recommend that users exercise responsibility, sensitivity and caution over language while writing your opinions which will be seen and read by other users. Please read a complete Guideline on using comments on this website.