Unheimlich :: A Short Novel
- Part 11 -
Louriyam Bebica *

In the interest of the reading public and with the permission of the writer, we are reproducing the novella in a serial format... .
- Hueiyen Lanpao

The following week, Thoi was busy visiting her relatives, shopping but never missed to attend Albeit's calls at night. She was glad to know him. All his weaknesses make her love him more and more. He has spoken to her mom many times but never met before. That day was their first meeting. She was delighted that he came home. "Albeit, are you leaving so soon?", her mom asked him when he stood up.

"No, mamaa, I'm making myself comfortable. Let me sit here the whole day with Thoi since she is leaving tomorrow", he replied with an imposed smile, trying to hide his real feeling.

"Albeit, do one thing, sit and talk with mom, I will get tea for you. What would you like to have with tea?", Thoi asked.

"No, thanks. Please get me only tea and don't forget to put sugar. Ha...ha..."

"You monster, stop pulling my legs, at least I know how to prepare tea". Saying so, Thoi went to the kitchen.

"Mamaa, Isn't Thoi naughty at home?"

"No, why? Is she at the college?"

"No".

"Then?"

"The first time when I saw her in the college, I thought she must be very proud, cunning and haughty. All my friends said that it was because of her looks and the wealth of her father. She never treated any guy who approached her nor did she have a big friend circle among girls too. I'm sure most of the girls are jealous of her". "Ha...ha....is it so?", Thoi's mother laughed out loudly.

"Yes, mamaa, I had always wanted to get her down on her feet and break her proudness. But I realized that I was wrong, after knowing her. I'm not able to get rid of her. My intuition gets lingered though my mind controls it. She is so simple, caring and loving. Her kindness can even melt a stone".

"Hey, hey, are you complaining mamaa about me", Thoi walked in with a tray in her hands.

"Yes, so what?"

"I know that you are criticizing me, especially in my absence".

"Both of you talk. I've got some work in the kitchen. Be good to each other. Don't fight, hah". Thoi's mother suggested and left.

Albeit left her in the evening. Both of them were not willing to agree with the swift flow of time. He left her with a heavy face. She was going to miss him a lot there. She knew he won't call her up that often as he did in the beginning. It matters her less. He will be always on her mind. Her heart will be left with him. She won't be able to take it with her even if she wanted. She wanted to go to fairyland where she could have the magic lamp and make this moment constant. She wondered what they would do if there were no phone, if they were happened to be born in Iron Age. But she also knew that their hearts could speak even in the air.

"Thoi, you are going to be alone there, so you take proper care of yourself. Don't eat spicy food, drink only boil water, and make sure that you go to the hospital for check up every week". Albeit's rang up to tell her this at night.

She wished if she could hold her tears at least that night. She tried to calm herself to adjust her voice from broken tones over phone. "Yes boss, do you love me?"

"I do a lot more than anyone in this world. I'm going to miss you a lot. Please don't cry, let's talk tonight. We don't have this hour again".

"If you are going to miss me that much then why are you forcing me to leave the place?"

"Because I love you, that's only what I can say. You often asked me if I can marry you, right?"

"Yeap".

"I will. I may not be able to give you the lifestyle you have now but it's my word I will keep you happy. I won't let you cry. But I should be independent at first". His words gave her such a joy. She would have run towards his arms to get the immortal shelter.

"Thoi, today I'm going to sing for you with the guitar in my hand. I know my neighbor will find me funny and crazy. I don't care, do you?" "Why should I?"

He promised to sing again next year when she come back home.

"Thoi, when I came back from your home, the pain of losing ails me. I realized I won't be able to go on without you in life. You make my world so precious. In fact, I'm short of words to express".

"Why are you speaking like this today? You are making me cry". Thoi could no longer hold her tears.

"Please don't cry. Be the princess of my heart tonight. By the way, why do you cry so much? Do you have a river or lake in your eyes?" He teased her, trying to change her mind.

"Ah! You.... I hate you."

"Thanks, but I love you, but don't marry me."

"Albeit, again?"

"Ha...ha..."

"Why didn't you inform me that you were hospitalized in Down Town, Guwahati?", it was the first question Albeit asked her when he rang up. "I don't want you to get worried for nothing, so...."

"How can you say it was nothing? Or you have other friends to care for you?"

"Come on, stop talking rubbish".

"How are you feeling now?"

"Much better, but I don't have the energy to walk without support".

"It's alright; you will regain your energy soon. Till then, I will be there to hold you....humh".

"Thanks, ha...ha..."

"What about your exam?"

"I didn't write".

"Are you going to lose the year?"

"No, I will write both the semesters together. I have to write twelve papers in one semester."

"Oh, don't worry you can do it."

"Albeit, it's time for me to take medicine. Will you call me up later?"

"I will be on line. It is hard to get your line."

"Then, talk to mamaa, I won't take even five minutes."

"Don't be in hurry, take your own time."

She gave the phone to her mom and went to another room.

"Mamaa, how are you? I learn about Thoi only today morning through one of my friends."

"I'm fine. She was down with malaria and jaundice. When her friend rang up, we thought it to be a minor case. But when we saw her at the airport, we were scared. Her body was swollen up. On the second day of her admission in the hospital, she was rushed to I.C.U. We thought that we lost her. Her nene was on fast for two days praying to Sanamahi for her. May be, it's a new life blessed on her through her nene's prayer."

"Is it alright now?"

"Yes, much better. I don't know why God has only chosen her to suffer. She is back, talk to her. She is very lonely these days."

"Hi, what was the topic between you two?"

"Thoi, what is this, ha? What the hell you think of yourself? Why didn't you bother to send me a single word when you were so serious?"

"Who told you that I was serious? I'm as strong as Kali, the great fighter. Don't challenge me. Ha...ha..."

"Stop fooling me, okay. How does it happen?"

"We went to a village for social work. It was our project work of NSS group. We stayed there for four days. There I might have caught malaria."

"Will you like to eat something now?"

"Ah! I want to have sougree boiled with nga ayaiba now. Ah! Right now, haha.."

"Fine, I will get it. Wait for half an hour. I have to search in my Leikai."

"Why? Is Sekmai Bazaar bandh today?"

"Yes".

"Don't bother then."

"I will. Please, no argument. Don't waste your little energy on such silly talks. See you there, bye."

He didn't even take twenty minutes to reach there. She was so happy to see him after six months.

"You are so fast. Thanks for coming."

"It is only 2-3km from here. Don't expect me to take 2-3 hours to come here."

"I don't know when you will ever stop quarrelling with me."

"When I'm dead."

"Albeit, don't talk nonsense."

He stunningly stared at her saying nothing for a moment when Thoi removed her shawl and kept on the sofa.

"My God! Thoi, look at yourself how thin you are now. Didn't I tell you before that no one will be there to run after and feed you? Why are you so careless?"

"I am sorry; I don't like the food over there. Everything is so sour. They put tamarind even in fish curry, mango in dal curry. And our breakfast is Idly...I hate it."

"I will slap you if you ignore your food again. By the way, where is mamaa?"

"She went to meet one of my nenes. I bought something for you. I hope you won't refuse it. Sit here for a while."

She bought a big key made out of wood.

"Thanks, but what shall I do with such a big key? Why did you bother to get it when you are sick?"

"I will use it to lock you in my heart when I come to your place. I won't let you go away from me even for a second."

"Thoi, why do you love me that much?"

"I don't know, won't have I stop loving you if I know the reason. ha-ha...Don't worry I won't ask you to marry me."

"Oh! Please...."

"Oh! Yes..."



To be continued...


---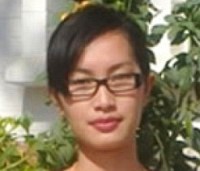 Louriyam Bebica
Unhimlich" written by Louriyam Bebica was released at Imphal Hotel on December 17, 2011 .
Organised by Cultural Research Centre Manipur, the book launched function was graced by Special Secretary and Director (YAS) H Deleep Singh, IAS as chief guest, Asst professor Kha Manipur College Chirom Rajketan as president and Olivia High School Principal Kaibon Dirinamai as guest of honour respectively.
Prof Jodha C Sanasham, head of department of ENT JNIMS, also attended the function as book reader.
TSE News
---
* Louriyam Bebica wrote this novella and is now reproduced by Hueiyen Lanpao (English Edition)
The writer can be contacted at bebicalouriyam708(at)gmail(dot)com
This article was posted on July 01, 2012 .
---
* Comments posted by users in this discussion thread and other parts of this site are opinions of the individuals posting them (whose user ID is displayed alongside) and not the views of e-pao.net. We strongly recommend that users exercise responsibility, sensitivity and caution over language while writing your opinions which will be seen and read by other users. Please read a complete Guideline on using comments on this website.