Unheimlich :: A Short Novel
- Part 10 -
Louriyam Bebica *

In the interest of the reading public and with the permission of the writer, we are reproducing the novella in a serial format... .
- Hueiyen Lanpao

Thoi didn't notice how time has flown specially those two years. Her life was made so special by the love of Albeit, the friendship of Viro and Mala. Everyone in her family was so happy after she got the result of their council exam. She had topped in Arts stream. She was happy that she made them proud. But there was no doubt that she would be sent again away from her parents. The situation was getting critical and the risk of life was increasing. The next day while they were having lunch, Thoi spoke up.

"Mamaa, babaa I'm not going anywhere. I'm going to study at D.M. College. I'm fed up of hostel life. I had enough experience of army rules".

At her sudden and firm tone, her father stared at her with an unexpected look. He didn't bother to continue his lunch. He left the dining table. Thoi was sorry but there wasn't any option.

"Thoi, how can you speak like that to your babaa? Don't you know how proud he is about you? How much he loves you?", her mother chided.

'I know, but I'm not going anywhere', Thoi stated firmly.

"Even we don't want you to go but see you can never have a proper class here because of these bandhs, strikes and curfew. You know well of this situation. Moreover your father is a well known businessman here. There is always uncertainty in our lives, especially yours…!"

"Then, why don't we leave the business?"

"Then, how will we survive?"

"I can understand but I'm not going". Now Thoi could see the tears swelling up in her mother's eyes.

"Everyone does not like to leave home", her mother said in a choking voice and trying to conceal her tears.

"Mamaa, I'm not saying in ordinary way. I mean it. I hate the very thought of leaving home. I felt as though I'm being asked to die".

"But Thoi, try to understand the situation. See…"

"No. I don't want to talk about this anymore", Thoi rushed to her room and closed the door. She hugged her teddy bear and wept.

"Thoi, open the door, honey please". Her mom was terrified.

Thoi threw the teddy and opened the door so violently that her mom stumbled in, almost falling.

"Thoi, I'm sorry I will talk to your babaa. Now cheer up, get freshen up and visit your Nene. You will feel better", her mother consoled Thoi.

In the evening, Albeit rang up during tea time.

"Thoi, I rang you up in the morning too, your mom said you went to visit your Nene at her place. Anyway I'm glad I had a chance to speak with your mamaa today".

"About what?"

"Nothing, just how much they care and love you".

"Thanks, but let me tell you in advance, please don't ask me to go and study outside".

"Why do you say that? I'm jealous that you scored pretty good marks and your parents can afford you financially".

"Please don't try to talk like mamaa…"

"Thoi, please I won't let you spoil your career".

"It's not about career. In fact, career is not everything. They only want me go out of this state, because they are insecure of my life, Albeit. Life is too short to love each other. I don't know when will be our last day. So, why should we leave in fear of death when we have done nothing wrong? Why do we have to be away from our near and dear ones while we can have them right next to us? Life is all about 'love' nothing else. And I can't live there while you are here."

"Oh! So, that's the problem. Aren't you the one who said distance can do nothing in our friendship?"

"Don't try to wash my brain".

"I will. And you are going, please I'm begging you".

"But Albeit…"

"Please, Thoi. Please".

"Alright, will you call me up often?"

"I can't promise you for daily call but I will try to call you as often as I can".

She didn't know why she said yes. May be, she didn't want to hurt him. There was always a fear that he would leave her like her sister if she refuses his pleading. She doesn't want to experience another lost in her life.



To be continued...


---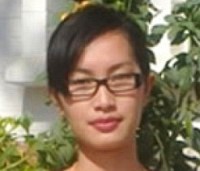 Louriyam Bebica
Unhimlich" written by Louriyam Bebica was released at Imphal Hotel on December 17, 2011 .
Organised by Cultural Research Centre Manipur, the book launched function was graced by Special Secretary and Director (YAS) H Deleep Singh, IAS as chief guest, Asst professor Kha Manipur College Chirom Rajketan as president and Olivia High School Principal Kaibon Dirinamai as guest of honour respectively.
Prof Jodha C Sanasham, head of department of ENT JNIMS, also attended the function as book reader.
TSE News
---
* Louriyam Bebica wrote this novella and is now reproduced by Hueiyen Lanpao (English Edition)
The writer can be contacted at bebicalouriyam708(at)gmail(dot)com
This article was posted on June 27, 2012 .
---
* Comments posted by users in this discussion thread and other parts of this site are opinions of the individuals posting them (whose user ID is displayed alongside) and not the views of e-pao.net. We strongly recommend that users exercise responsibility, sensitivity and caution over language while writing your opinions which will be seen and read by other users. Please read a complete Guideline on using comments on this website.