The boy who stole my heart
Louriyam Bebica *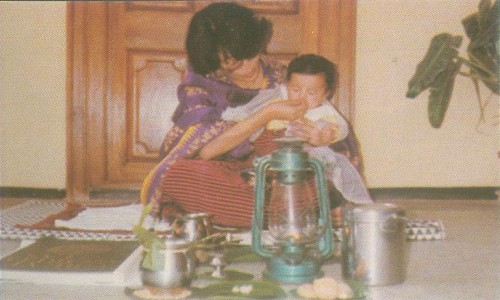 Mother feeding the child at Chaomba :: Pix from a book by N Mangi Devi

It was on 2nd Sunday of May 2012 (Mother's day); the balloon of my heart caught a puff of silence. I was fighting over phone with some of my friends. The schedule of our program was supposed to start at 8 a.m. but none of them turned up till 9.30 a.m. I am a short temper fellow by nature. So, the thing I did was poured all my anger on them over the phone. I thought every plan we made gonna be end up as flop show. This very thought irritated me so much. On my way, I muttered, giving not a single pause.

- These people, I don't know when they will learn to follow this universal timing and leave this Meitei pung (Meitei timing).

- Did you say anything? My cousin bro who was driving the car asked me turning back.

- No tamocha. Let's stop at Sekmai Bazar for a while. I need to buy some stuff.

- Alright.

When I reached Sekmai, I bought two plates of egg, sweets, some drinks, etc. My mood was still off and my anger was at boiling point. Bcoz my friends haven't set out their golden foots from home. I wanted my bro to take the maximum duration driving me there. The more time he takes the better for me. However, my bro being a fast driver, I reached there within few minutes. He parked the car in the ground in front of his house (the boy). I came out slowly, bending my head that was very heavy with the weight of irritation. I was still wishing my friends came up in a second though I know it was not gonna happened.

- Now, give me a called when you are done with your program. When are your friends coming? Taking down the stuffs I bought on the ground from the car, he inquired.

- I will call you at around 2 p.m. I guess they will be here soon.

I stood still at the ground looking at my bro who was driving back for home. I was angry at them for their unpunctuality as well as for feeling lonely at the same time.

After staring at a blank sight for a few jiffy, I turn and look around. Can you guess what I saw? So many angels in the form of human looking at me. I wave my hand and said-

- Hi... come, come.

They came to me slowly one by one. After that, it didn't take much time to linger and get friendly with them. I even forget that my friends haven't come yet. LOL. They made me played uraobi, kabaddi, keku lotpi...I was child again in their company. When they called me 'chiche' I was taken so much into the state of emotion that I forgot the fact of them being orphans. They were my siblings then. The most pleasurable thing I did was carrying them on my laps, holding their tiny hands and cutting their nails, cleaning their noses, answering to their silly questions... can you trust me? I felt at eternal peace when they said-

- Thank you, chiche.

I was not concerned about those words 'thank you' but greedy to get that killing smile on their lips while saying those words.

After few hours, my friends reached the spot. They expected to find me in the situation where fire will be on my hand and knife in my mouth bcoz of my anger LOL. They were shocked to see me calm and happy. I am glad that my friends (especially Amit) always understood my weakness (short temper) and mould me with their patience. The first thing Priyo said was-

- Sorry for being late.

- It's ok.

I replied with a smile.

- It's ok? Raising his eyebrow with an unbelievable look.

The whole day was so amazing. We went there to share some part of happiness of life but we ended up getting that happiness of peace from those kids. Some of us were in the kitchen cooking food for them and some of us were in the ground arranging some games for them. It was fun running between the kitchen and the ground to watch the scenario. When one of my friends from the kitchen gave me the sign signalling that the food was ready, I screamed at the kids.

- The food is ready get inside the room.

As if I was the in-charge of the Mid-day meal in Government primary schools.

All of them rushed inside, after cleaning their hands with the water that was kept outside the room by those helpers (senior boys). We began to help those kids who were not able to open the Tomato sauce's cover that we gave them to eat with chow. We were checking bench wise, then I found my charming boy at the last bench sitting alone trying to eat as much as he can. He didn't even notice I watching him.

- Little one, can chiche feeds you?

- Umm.

Looking up at me, the look that captured my whole mentality and emotion.

- Thank you.

I took his plate on my laps and feed him with my hand. He spoke not a single word till he finished eating. I took him out to clean his mouth and hands after he was done with eating. The first thing he spoke in a whispering voice was-

- Chiche, why don't you stay with us?

My cheeks were turning red, my ears were blustered hearing the plea. I was so sorry that I could not grant his wish. I bend down to lift him up in my arms.

- No, honey, chiche can't stay with you. But it's my word I will come and see you every often.

- Ok.

Nodding his head lazily, he seemed to convince himself and spoke up again.

- Chiche when will you come back then? Bring me biscuit next time.

- Biscuit? Which one?

- Biscuit.

- Hummm. Biscuit. Ok. Chiche will get it for you.

Till the last moment of the day, he lingered with me. The only things he asked me were

- Chiche when will you come again? Bring me biscuit.

I was thrilled at the thought that my charming prince wants to see me again but my heart was broken too bcoz I won't be able to fulfil his wishes as much as he expected from me. Some of them were very smart. And most of them sing very well. Even my prince, he sang so well that my heart was adhered at his clear voice.

We (Ranita, Deepak, Priyo, Dinesh, Amit, Gegarin and I) are a group of friends. We don't work under any particular organisation nor are we rich enough to adopt babies or spend a large amount of money on them. In fact, most of us are from low middle class family who has enough to eat but very less to spend. However, we decided to plan to do something.

We will collect the amount from each of us with which we will buy gift for the birth day boy/girl when there is any birth day among us. At the same time we will collect the money from the birth day boy/girl too, the amount he/she is supposed to treat us. So, both the amount will be used for eating something with those kids. It doesn't matter even if it is a packet of sweet or mangal or anything.

In this present society, celebrating birthday anniversary, success in profession, etc with our friends, dear ones has become very common. So, why don't we include them into our celebration? Instead of stretching those big mouths which were fully loaded with sweets, why can't we give it to those needy and who will appreciate its value.

It won't be a big thing buying a packet of sweets or biscuits for most of us. Specially youngsters we can reduce our top up for mobile, we can walk sometime ignoring those rickshaws or autos, or we can save at least one rupee each day. What I am trying to say is that our tiny effort will mean a blessing to them. So, why don't we give a try?

"It is impossible for everyone to be a gold medallist.

But it is possible for everyone to be a good human.

It is not the amount of money only that matters here

But the amount of time, love & care you gave to them.

There is lots of difference in being born as human and being human.

Let us be human.

They need you."


---
* Louriyam Bebica wrote this article for Hueiyen Lanpao (English Edition) and The Sangai Express
The writer can be contacted at bebicalouriyam708(at)gmail(dot)com
This article was posted on May 25, 2012 .
---
* Comments posted by users in this discussion thread and other parts of this site are opinions of the individuals posting them (whose user ID is displayed alongside) and not the views of e-pao.net. We strongly recommend that users exercise responsibility, sensitivity and caution over language while writing your opinions which will be seen and read by other users. Please read a complete Guideline on using comments on this website.