Social Bookmarking Tool for e-pao News
Version 1.0.2 - 13th October 2008
By: Team e-pao *
This useful tool allows users of e-pao.net to list and save the current news article to be part of the popular Social Bookmarking website.

Also, as part of this new release, users can now have the following 2 functions:
You can access this tool from any news articles - for example -
http://e-pao.net/ge.asp?heading=1&src=151008
and look at the top right hand corner just above the "Headlines" rectangular box.
This release also include the following Social Boomarking site:
Del.icio.us
StumbleUpon
Reddit
Furl
Technorati
Digg
MySpace
Facebook
Google
Live
Yahoo MyWeb
See a series of snapshots of how this tool works !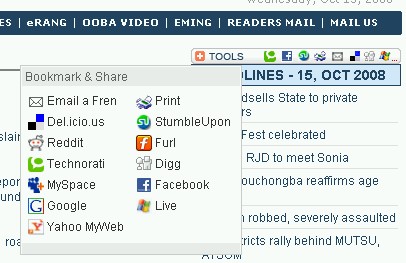 Then Click on the "+Tools" bar .... after that click on "Email a Fren" button.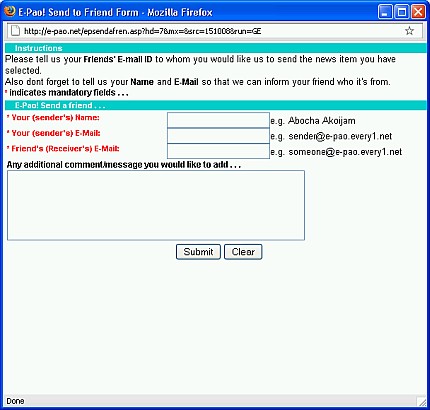 Then fill in required informationn and this news article will be shared with friends!!
* Comments posted by users in this discussion thread and other parts of this site are opinions of the individuals posting them (whose user ID is displayed alongside) and not the views of e-pao.net. We strongly recommend that users exercise responsibility, sensitivity and caution over language while writing your opinions which will be seen and read by other users. Please read a complete Guideline on using comments on this website.