We need Mr. Manipur Pradipkumar's muscles to fight AIDS!


By: Dr. Rajkumar Singh *



The recent news about an HIV positive body builder winning the Mr. Manipur title in the senior 60 kg category heralded with the dawn of 2008 may have stirred many brains worldwide to find a tactical win in battling the AIDS.

One internet blog branded the news as, "the most positive news of 2007"! Pradipkumar Khundrakpam, the winner of the title has been aptly given another title by a journalist as, "the Body of Hope"! Can we use this success story to boost the morale of millions of HIV infected people living with dwindled hopes?

Fighting HIV has always been a serious challenge for the contemporary world for decades in basically two fronts:
1. finding a cure or vaccine and
2. managing the lives of the infected people to maintain healthy societies.

We have not been very successful in both the fronts. And, the dreaded virus still continues to devour the modern human population worldwide in pandemic proportions. Is the scenario leading us to a situation depicted in the Warner Bros fiction movie (2007), "I Am Legend" wherein almost the entire human population was wiped out by a virus before a cure was found?

While bio-medical research about finding a cure for HIV/AIDS engages scientists at numerous laboratories worldwide, the task of giving hope and vigour of life to HIV infected patients engages every one of us.

Pradipkumar Mr. Manipur who has fought successfully against the virus inside his body and against impediments like extreme poverty and stigmatization acting on him from outside stands out as a champion today. He is prepared to work with us to fight against the disease.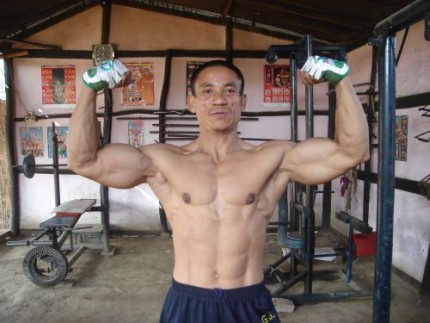 Photo Courtesy: http://www.helppradipkumar.tk/



Pradipkumar's new title is no mean achievement. Consider how many budding and successful sportsmen and women may have been killed silently by the sheer loss of hope when diagnosed with HIV and subsequently stigmatized in the society they lived.

The lives and careers of celebrity sportspersons like Tommy Morison (American heavyweight boxer of Rocky-V fame), Arthur Ashe (American Tennis Star), and figure skating superhero Rudy Galindo tumbled down when they were diagnosed with HIV. They achieved first and became a victim of HIV later.

Pradipkumar became a victim of HIV first, fought against it and achieved his career afterwards. These case stories are unparallel and rather opposite. Pradipkumar is now working hard to build his body to contest the Mr. India title absolutely guided by his desire to live and strong will to show to the world that an HIV patient can live and achieve. He is now an icon of inspiration for millions of HIV patients.

I remember the precious advice of a physician to Earvin (Magic) Johnson, the HIV-infected American Basketball player, "The only thing I want you to do is to become the face of HIV-AIDS. You can change things"! This clicked marvelously.

Earvin started living with a renewed sense of purpose of life. He opted to help the American black youths with HIV-AIDS education. By now, Earvin has led a vibrant life for more than 15 years after the hope shattering diagnosis, founded the Magic Johnson Foundation in California (U.S.) and, he is currently working in HIV-AIDS education benefiting millions.

Physicians and social workers instead of using one-on-one mode of counseling HIV patients can reach a million patients at a time together through the mouth of a person like Magic Johnson.

What has Mr. Manipur Pradipkumar in store ahead? The news of his recent success has spread worldwide. Google his name with HIV and Mr. Manipur suffixed to it and you will see a long list of references. This news will simply stale out if you and I fail to realize its value in HID-AIDS mission.

Pradipkumar has established his relevance to two important aspects of Manipur:
1. a tiny state of India respected as the fertile breeding ground of sportspersons in India,
2. a hot spot of IDUs and HIV infection for India. He is now an ambassador of Manipur to the world symbolizing these two aspects.

A recent news article in Imphal Free Press (Jan 03, 2008) based on the annual report of the Manipur State AIDS Control Society (MSACS), Imphal pointed out that the present HIV-AIDS management programs in Manipur need more emphasis on addressing to psychosocial aspects of the disease.

The incidence rate of 28 thousand positive people in a population of 2 millions compounded with the new twist of the problem with hepatitis- C co-infection demand innovative approaches more than the existing awareness and sensitization programs criticized as redundant. Pradip Kumar's success provides a show-case to be picked up by whosoever working in the social intervention of HIV-AIDS.

Pradipkumar has three distinct audiences to speak to:
A large population of vulnerable teens – Pradipkumar started drug abuse at 13 out of curiosity and exploratory instincts common to teens. He can address to these teens working with a team of social intervention experts.
A population of HIV-infected people – as a living example of "Living with HIV" and achieving physical and mental health to the fullest extent, Pradipkumar can inspire HIV victims to live healthily.
Parents and the general population – Pradipkumar's mistakes of drug abuse for 5 years during his prime student life will have something to do with parenting skills that is often neglected in many communities. He can cause a fillip to parents in all neighbourhoods.
Pradipkumar has already identified his mission to work in the field of HIV-AIDS education. He has the robust body with a robust mind to showcase his win over HIV.

He needs compassion and support of all organizations, government and non-government working in the field of HIV-AIDS and also in sports. He has already received recognition and monetary helps from some HIV-AIDS NGOs and individuals based in Manipur. Kudos to these people and organizations.

To enhance the effectiveness of his promised service to the society, we need to increase the visibility of Pradipkumar by encouraging him to win the Mr. India title in March 2008. He has publicly invited helps from all quarters for his equipment and food supplement.

If you love him and like his mission, you can support him simply by sending him a word of sympathy. You can spread this news to all concerned worldwide. All the Manipuris wherever they are in the world should be proud of this man. Let him succeed and serve.

(If you want to know more about him and his mission, please visit: www.helppradipkumar.bravehost.com/)

Related Articles/Photos :
---
* Dr. Rajkumar Singh, an Environmental Scientist from Toronto, Canada, contributed regularly to e-pao.net . The writer can be contacted at raj_ss(at)rogers(dot)com . This article was webcasted on January 22nd, 2008


* Comments posted by users in this discussion thread and other parts of this site are opinions of the individuals posting them (whose user ID is displayed alongside) and not the views of e-pao.net. We strongly recommend that users exercise responsibility, sensitivity and caution over language while writing your opinions which will be seen and read by other users. Please read a complete Guideline on using comments on this website.