Ole Ole Ole Ole

By: Ringo Pebam *


Ole Ole Ole Ole, We are the champ, we are the champ... goes the soccer anthem we often used to sing.

'World Cup Football' - the greatest show on earth , which comes once in 4 years, is one big event for football fans around the world. We have seen some lovely football with this current 2006 edition. So far, Argentina, Germany, England, Portugal, Italy and Ukraine, Brazil and France are through for the quarter finals.

Football – is a game revolving around kicking a ball. Countries around the world have been playing this ball game for centuries; Chinese played the game with the name Cuju, Japanese played with the name Kemari and Romans with Harpastum.

There are traces of this game played in medieval Europe, with varied rules. Britain is the undisputed birthplace of modern football. The football rule, as of today, are based on the rules made at Trinity College in 1848, to standarise the varying forms of football played at the various public schools of England in those days.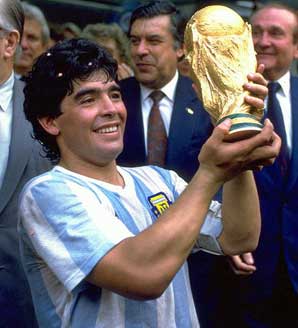 Maradona with the World Cup in Mexico 86



Twenty years ago, black and white TV was up-to-date, one in a locality/leikai was a rare thing. I was too young to remember (I was in class 3 then), but I used to frequent the good old neighbours who had TV set. Some glimpses of The God - Maradona on those black and white TV screen got embedded in my mind and will never fade.

1986 gave Maradona, Goal of the Century - Maradona's 60m goal in the quarter-final match against England, the Mexican wave, and Boris Becker. Watching CC meet football match sitting on the wooden eastern gallery of Pologround, and 'Operation Day Break' at the nearby Imphal Talkies after the match, was too good for a kid, and I always longed for my father and uncles to take me frequently.

Trau, Naco, Neroca, SSU are some names I can still recall.

It was June of 1990; Italia 90 fever gripped the kids and elders alike. Quietly, I used to sneak out of the house to the leikai playground, to play football with kids from my locality. It was rainy June and it was best to play in the pouring rain, in the super - slippery muddy ground. Heavy scolding greeted me every time, I reached home dirty and tired, but the thrill of the beautiful game could never let me be caged at home, I still managed to escape.

It was fun to imitate the players of the match watched the night before, notably the Columbian goalkeeper who came up to the center to dribble. Pocket money had to be saved to buy Sporstar, SportsWorld, the 25/- Rs pirated audio cassette of the Italia 90 Official FIFA songs, the colorful knickers from Keishampat Moreh Dukans.

There was only one TV channel, there was no internet, and I eagerly used to wait for my father to come home in the evening, with 'The Telegraph' - that was the only source to read about my heroes, most memorable read was the interview of Goycoechea after the penalty shoot out with Italy.

Italia 90 is remembered with some great display of skills by Schillaci, Gullit, Roger Milla, Peter Shilton, Valderama, Lothar Mattaus... Roger Milla's Cameroon reached till the semifinal. Schillaci who came as a substitute was a hero with the golden boot.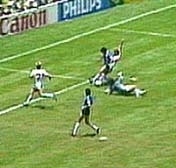 Maradona scoring the goal of the century



Host Italy was left in tears when they lost to Argentina in the semi-final which was decided on penalty-shootout. Though Argentina was my favorite they lost in the final, West Germany was a better team but the Mexican refree did not seem to be fair enough in that match.

USA '94 was full of surprises. Maradona after playing the role of a great playmaker in the first two matches was expelled for having tested positive for drugs; without him Batistuta and Caniggia could not bring Argentina forward in the tournament. Andres Escobar of Colombian was murdered few days after returning home for scoring an own goal.

Bebeto, Mazinho and Romario pretended to rock Bebeto's newborn son, in the quarter-final with Netherlands, and it one of the most memorable images of that tournament seen on TV. Talented Roberto Baggio managed to bring Italy till the final but missed his most important kick at the penalty shootout in the final. Romario and Bebeto helped Brazil in lifting the cup for the fourth time. Salenko, Saeed Owairan, Stoitchkov, Gheorghe Hagi... were some remarkable players of '94.

France '98, saw Zidane, Owen, Batistuta, Bergkamp, Suker, Owen, Henry, Ortega... Michael Owen's beautiful goal against Argentina was most memorable. Argentina went home in despair after a late but spectacular goal from Berkemp. Davor Suker was the top scorer with six goals and carried Crotia till the semifinal. Host nation France with great contribution from playmaker Zinedine Zidane defeated Brazil in the Final match.

Came 2002, and Asia became the host to World Cup for the first time. The underdogs South Korea and Turkey came till the semi final. Argentina who arrived as favourite could not reach the round of 16 from the group of death. A tearful Batistuta had to play his last World Cup with Crespo coming in at the last minutes.

Ronaldinho's goal against England was one piece of action worth remembering every time you make a free kick on the field. South Korea's Ahn scored the golden goal against Italy, only to be fired by his Italian club Perugia. Germany though not the favorite reached the finals, with Oliver Kahn. Ronaldo scored both goals of the final match to give Brazil their fifth World Cup title.

In this Deutschland 2006, we have seen so many games so far. Argentina showed its quality and potential against Serbia & Montenegro, but had to fight hard against Mexico. Polish born Klose and Podolski are the players to watch out for; they lifted the face of the Klinsmann's German team. England still fails to impress, though reached the quarter final.

Portugal managed to come through, with a red and yellow card filled match against Holland. Italy also came through, but the Australian team deserves to be mentioned for the way they dominated the matched before the controversial penalty in the last few seconds of the match. Ukraine beat Switzerland on penalties after a lackluster 120 minutes of play. Brazil defeated the debutant Ghana - Africa's 'Brazil', who put up a good fight throughout the tournamant. When it mattered most, ageing France managed to reach the quarter final beating Spain who played superbly in the previous matches.

Win or loose, I still remain loyal to the team Maradona played for. I laughed when he laughed, I cried when he cried, he is one reason, why I began to love football. We have seen the quality of Messi, Tevez, Crespo, Rodriguez, Riquelme, Sorin, Aimar ... if they remain to their peak till the end of the tournament, I am sure they will beat the great Brazilians, the magicians on the field.

We don't get to see Maradona play anymore, but seeing him cheering for Argentina from the stand through every match they play is a nice feeling, we can happily say on a lighter note that he is the 24th unofficial player that came from Argentina for this World Cup.

When we talk about Football and World Cup, our own players who have established Manipur's supermacy in sports in the country come to my mind. Nilakamal, Thoiba and Tiken are the hockey players we used to see on TV. Kunjarani is still the queen in weighlifting.

Dinko came with a bang with his Gold in the Asian Games. Rennedy-Tomba, Tababi-Bembem are names that command high respect in the Indian Football fraternity. Manipuri players need no introduction, they are the household names both in men's and women's football, the list of names will go on and on. Somebody rightly said, 'Indian sports is not complete without Manipur'.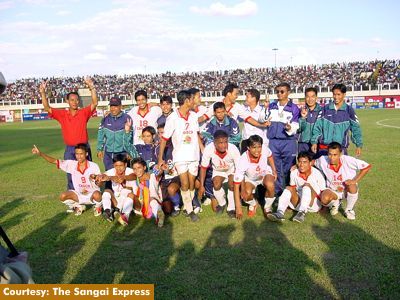 Manipuri Team after winning the 58th Santosh Trophy at Imphal



For a small and often neglected state like ours, it's these sports men who bring Manipur to the limelight, to the national mainstream through sporting brilliance, which otherwise seldom figures in public consciousness of the country. The talents and skills, the hardwork and dedication of the players, the confidence and the guts of the parents who support their children to reach their goals inspite of the finiancial hardship they face - are things that should be recognised, honoured and supported.

Sports in India is still dominated by cricket. Tendulkar, Dhoni, Dravid, Sania Mirza... still enjoys the status of the most sought after for endorsement and awards, while other sportsmen of greater execellence, who have achieved higher feats remain unknown without due recongnition. There are lots to be done for the often unsung heroes in terms of - opportunities, recognition, monetarial support, better training, better diet etc.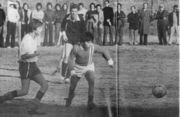 Maradona as a child with the Cebollitas



It's takes lot of hardwork and nerves to be a great sportsman and I know there are lots of talents in Manipur. Some years ago on my way home from Guwahati to Imphal, my bus got punctured at Kangpokpi, we were stuck on the road for about an hour. On a nearby ground, there were small kids playing football, they were too good; it was not like 10 boys ramdomly running after a ball in a field, they had very good control on the ball.

I saw real skills and talents in those kids and there must be many like them. It would be nice if some kind of free coaching camps are done in different corners of Manipur, else the talents will go wasted with the blowing wind.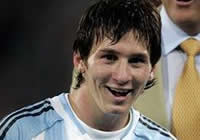 Lionel Messi



It would be wise if the youths who have talents be encouraged; instead of wasting time, taking drugs and watch their youth pass by. As for football, things have begun to look better. Gunabir and Kiron Khongsai made it to the national side in the early 90s, and it inspired the youngsters. Khambiton (Air India/Salgaacar), Ratan (Churchill Bros/East Bengal/Dempo), Rennedy (East Bengal, Mohan Bagan), Tomba (Mohun Bagan AC) etc started the trend of moving out of Manipur for more opportunities.

Fame and money involved with big clubs of Indian football are two good reasons the youngsters should take note of; these factors will surely help and encourage those who didn't see future with football. Manipuri players are now scattered all over India. I believe with the skills and the passion the Manipuris have, there are many Lionel Andrés Messi in the making, who will someday play for European Clubs or even take India to the World Cup.



This is what we've worked for all our lives
Reaching for the highest goal we can
We choose to give it all

When competition calls
Time records the victory in our hearts
To win or lose is not the only thing
It's all in how we play for the fairest game
This is the chance we take
Reaching for the top
Time records the victory in our hearts

To be number one...
Running like the wind
(Like the wind)
Playing hard but always playing fair
(Oh yeah...)

To be number one...
Winning again and again
Reaching higher through Italian sky
(Through Italian sky)

This is what we've wanted all our lives
Shining like a shooting star at night
We've got to give it all
When we hear the call
Time records the victory in our hearts

To be number one...
To be number one...number one

(To be number one - Official Song Of Fifa World Cup Italy 90 by Giorgio Moroder)



References:
www.indianfootball.com
wikipedia

Picture Courtesy:
wikipedia.org/wiki/Diego_Maradona
www.fifaworldcup.com
www.epao.net

Very popular in the north east and heavy weight of the old time heavy metal - Scorpions, the German band, kicked off the World Cup with a concert in Hannover, on 7th June.

This is what the vocalist Klaus Meine said - "Football and music can change the world as is happening here in Germany right now. The whole country is in party mood and is celebrating with fans from around the world. That is just a fantastic feeling. Only football and music can build such bridges between countries and cultures as they are both universal languages."


---
Ringo Pebam, a software Engg from Bangalore, contributes regularly to e-pao.net
He can be contacted at ringo_pebam@yahoo.com
This article was webcasted on June 29th, 2006


* Comments posted by users in this discussion thread and other parts of this site are opinions of the individuals posting them (whose user ID is displayed alongside) and not the views of e-pao.net. We strongly recommend that users exercise responsibility, sensitivity and caution over language while writing your opinions which will be seen and read by other users. Please read a complete Guideline on using comments on this website.