HIV Positive - Kh. Pradipkumar to fight AIDS and Mr. India


By: Dr. Ngangbam Shantikumar Meetei *



It's not easy to be a champion in any sports, specially in the field of Bodybuilding, and in the context of Manipur where Bodybuilding is so demanding, popular and challenging.

Above these, there are other factors too, like lack of training facilities, supplements, family and friends support and subjective judging system which make more difficult to be a champion.

I know how difficult it is, because I myself is a bodybulder and have been training for almost 20 years.

Not only facing all these problems, Kh. Pradipkumar has to fight his HIV positive symptoms and psychological impacts ( which I can't think of).

Another hurdle is his age - he is 37 years old. When we get older it's not easy to build muscles.

So we have to work two times harder than younger bodybuilders to be a champion.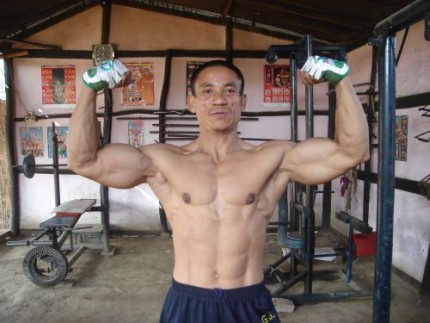 Kh. Pradipkumar
Photo Courtesy: http://www.helppradipkumar.tk/



How much Mr. Pradip Kumar has to struggle to be a champion, I can't say. But I can tell one thing that he has to fight and struggle more than we do.

Let's say for example - when we are a little bit sick like catch a cold or get a headach we don't feel like doing anything, forget about going to the gym, lift heavy weights and train to win especially in a dusty, rusty and conjested gym.

But Kh. Pradipkumar has overcomed all these outside hurdles as well as his AIDS symptoms and mental downside and won Mr. Manipur title in 60 kg category, 2007.

It's really amazing. His fight doesn't finish here. He likes to go a long way.

Now he is training with full dedication for the upcoming Mr. India which will be held in March. Kh.Pradipkumar is very strong.

As I did mentioned in one TV interview in Manipur- "bodybuilding is not for the weak people but for the strong ones(mentally)".

For his struggle and achievement one journalist gave him the title "Body of Hope". Mr. Pradipkumar turned this "Body of Hope" into a "Body of Hopeless" when he started using drugs when he was 13 years old and got HIV.

But the good news is that now, through Body-Building he has changed his body again into a temple for his soul and for other young generations to learn from him.

How could he do that? The answer lies in his positive mindset, strong will power, and the will to train to win against AIDS and his opponents.


Dr. Ngangbam Shantikumar Meetei



Personally I haven't met Kh. Pradipkumar yet but I will see him soon when I go to Manipur to hold the 3rd Dr. Ng. Shantikumar State Level Body-building Contest in Manipur (date not fixed yet) just to encourage him for further contests and other young people of Manipur to do Body Building I would like to present him a special award to Kh. Pradipkumar.

To conclude, I pray that all the people of Manipur pray to God for Kh. Pradipkumar and encourage him to win Mr. India so that he can be a very powerful example for many AIDS patients and young generations to train, be healthy , stay away from drugs and alcohols and other vices.

Related Articles/Photos :
---
* Dr. Ngangbam Shantikumar Meetei - (Mr.Asia) Taipei, Taiwan - contributed regularly to e-pao.net . The writer can be contacted at ngangbia(at)yahoo(dot)com . This article was webcasted on February 07th, 2008


* Comments posted by users in this discussion thread and other parts of this site are opinions of the individuals posting them (whose user ID is displayed alongside) and not the views of e-pao.net. We strongly recommend that users exercise responsibility, sensitivity and caution over language while writing your opinions which will be seen and read by other users. Please read a complete Guideline on using comments on this website.