Doping Indian Sports
- An Open Letter to Sports Minister, Dr. Manohar Singh Gill -

By Jagmohan Singh *
Dear Dr. Manohar Singh Gill

Sat Sri Akal

After the much-telecast fiasco on television of you not being able to recognize badminton coach and former player Pulella Gopichand, I was prompted to write this missive to you.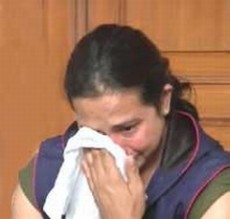 Laishram Monika in tears
I am glad that you have recognized Monika Devi. It was graceful of you to meet Ms. Monika Devi, but all this enquiry business is a big sham. No enquiry in this country has yielded results and this one too is not expected to bring out anything more dramatic than what the people know and what you know.
All the officials of the National Dope Laboratory of India, Sports Authority of India and the Indian Olympic Association should be shown the door as you did to Indian Hockey Federation chief, KPS Gill. The lab should be sealed for playing with careers of sportspersons and being so easily vulnerable to manipulation.
Sometime ago, not very long ago, this lady, Laishram Monika Devi, was unceremoniously removed from the aircraft to Beijing for having "failed a doping test", which according to the Indian Olympic Association chief, Suresh Kalmadi, "was a great relief to save the honour of the country".
Was the Indian Olympic Association not aware that the tests have been carried out in the SAI lab which has no accreditation from WADA (World Anti-Doping Agency)? Why were the results of the tests which were conducted in June, released in August, at the eleventh hour? Why were the results of the so called test communicated to her barely 30 minutes before her departure?
Sadly, the honour of the country could not be saved for more than 24 hours. It was realized soon after that the test itself was doped by the authorities in the same shameful way that they have been doping and duping sports for the last few decades.
Monika Devi hails from Manipur and serves as a havildar in CRPF. Upon reaching Manipur, she has said, "I will risk termination of service, but I will abide by the decision taken by the people of Manipur. I will not take part in any competition until justice is done to me,"
I am sure that your staff would have informed you that the whole of Manipur - the chief minister of Manipur, the Manipur Olympic Association, the Manipur Students Association, the Manipur Women's Hockey Federation, the Manipur Athletics Association and even the man on the street is crying: DISCRIMINATION.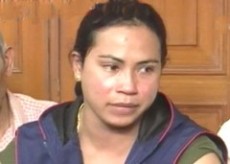 Laishram Monika
The discrimination against the Manipuri people has spilled from the political arena into the sports arena confirming to all ethnic minorities that in the highest echelons of administration in this country, the colour of one's skin and roots matter more than playing capabilities.
Perhaps, it was a very sinister way of "celebrating" 50 years of the Armed Forces Special Powers Act. It seems that to be a good Indian one has to show more patriotism than talent, isn't it? Someone in Delhi wanted to "teach a lesson" to the people of Manipur for "daring to go to the Olympics" or were they scared of something more than that?
Dr Thokchom Meinya, Member of Parliament from Manipur participated in a protest in Delhi and has demanded a white paper on the manipulative game of the authorities.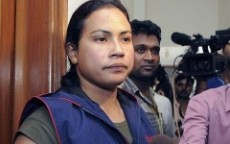 Laishram Monika
The solidarity of the people of Manipur has encouraged the lady who has been in tears for the last ten days into saying, "Even if my organisation sacks me for not taking part in competitions, I will not change my mind. But if the people of Manipur ask me to compete I will do so happily."
Monika Devi is reported to have said, "The discrimination by sports officials of India has strengthened my commitment to improve my performance. I will work harder to improve my participation and am still hoping to make it in the next Olympics," Be that as it may, she should be compensated for the loss of the medal she could have one won. She should be awarded exemplary compensation.
During the Beijing Olympics, the Chinese were able to present a glittering facade of "all is well" in the country. Whether India would be able to do even that in the coming Commonwealth Games remains to be seen. The first step would be to replace Suresh Kalmadi with Dr. Elattuvalapil Sreedharan of Delhi Metro. Otherwise there will be many more Monika Devis.
Abhinav's father provided him with a 18 lakh rupee rifle, an air-conditioned shooting range. Can the Indian sports authorities provide this to all other players? If not, then is it not an unequal playing field for those who cannot afford it?
Apart from the eight gold medals, one silver medal and two bronzes in hockey, bantamweight freestyle wrestler Khashaba Dadasaheb Jadhav gave India its first individual medal, winning bronze in the 1952 Helsinki Games. Today, his wife is now wallowing in poverty and barely able to make ends meet.
In the Haryana state boxing championships in Wazirpur, that concluded on Sunday, over 140 pugilists mostly from Bhiwani had nobody to look up to for guidance as all the coaches appointed by the government were not allowed to travel with them by the state government.
IOA chief Suresh Kalmadi is reported to have said, that "Checking doping is our national responsibility and I am happy the officials have done a good job in the case of Monika Devi." He further went on to say that, "Devi's absence in the Indian team would not hurt as she was not expected to win a medal."
Do we really need such officials? What is the contribution of Mr. Kalmadi to the cause of winning medals or furthering sports in the country? What is his qualification except being too close to the powers that be? A large crop of young sports administrators are being nurtured in new sports schools and institutes.
If they are to be effective, they will have to be kept out of the influence and pressure of the political and police administrators of sports. A directive from your ministry to rid all sports organizations of police chiefs as administrators should be sent out as a post-Beijing first step.
Sportsmen in Punjab recall the tenure of the IHF chief, Mr. Swami, who had to be removed like KPS Gill, because he had started the 'indianisation' of Indian hockey. Hockey players are crying for astroturfs and scientific training.
While the already rich Bindras may be happy with the financial rewards coming their way, the shy Abhinav's last laugh is pertinent: "It is fine to celebrate our achievements, but it is just as important to keep up the backing when we are not on top of our game."
You do not have much time before the elections arrive. India and Punjab should not remember you as a sports minister in whose reign India won its first gold but as a visionary who put sports on the right track.
With best wishes.
Jagmohan Singh
Courtesy: worldsikhnews.com
---
* Jagmohan Singh is a commentator based in Ludhiana and have contributed to e-pao.net regularly. He may be contacted at jsbigideas(at)gmail(dot)com . This article is brought to you by www.nehelpline.net . This article was webcasted on August 22, 2008.
---
* Comments posted by users in this discussion thread and other parts of this site are opinions of the individuals posting them (whose user ID is displayed alongside) and not the views of e-pao.net. We strongly recommend that users exercise responsibility, sensitivity and caution over language while writing your opinions which will be seen and read by other users. Please read a complete Guideline on using comments on this website.