China's Dirty Hands in Asian Games, 2010
Dr. Ng. Shantikumar Meetei *


I couldn't believe what I saw.

This young athlete was sitting in the middle of the fighting arena crying helplessly, tears rolling all over her innocent face, shocked and shattered all her dreams to get the gold medal, return home as a hero welcome by her country with garlands around her neck, and to be a little richer. This scene happened in Guangzhou Asian Games 2010.

This very unfortunate incident reminds me of my home town athlete, Laishram Monica who was wrongly accused, set up, conspired and denied of her right to be part of the Indian Olympic squad, compete and win, for no fault of her.

China, not only known for aggressiveness in the territorial issues and violation of human rights, the last year's over-all Olympic Champion has violated the ethics and spirits of sports by disqualifying a very diligent, innocent Taiwanese athlete who was sure to win the top medal in this 2010 Asian Games.

Teaming up with some Korean Judges, China disqualified this young athlete just to pave a smoother way for her Mainland Chinese opponent, Wu Jing Yu who finally won in the 49 kg category.

Asked why the Taiwanese athlete was disqualified by the media one of the Korean judges(conspirator) answered in broken English that she was wearing extra sensitive equipment on her socks to get easy points against her opponent.

Here, my question is how it would be possible for an athlete just to go up on the arena without even being checked if she was wearing the right dresses or equipment. Impossible, because I myself have already competed in two Asian games, Pusan and Doha, 2002 and 2006 respectively. I know how seriously the staffs around us, monitored us by following , checking and even asking us questions.

This young athlete who hails from Taiwan, the country where I have been living, working, representing till today for more than 13 years. Her name is Yang Shu-Chun. She was disqualified after she had already gotten 9 points against her opponent from Vietnam and the fight was halted.

At that very moment Yang was shocked and couldn't even stand on her feet. So, she literally collapsed on the ground, crying hopelessly with all her dreams shattered.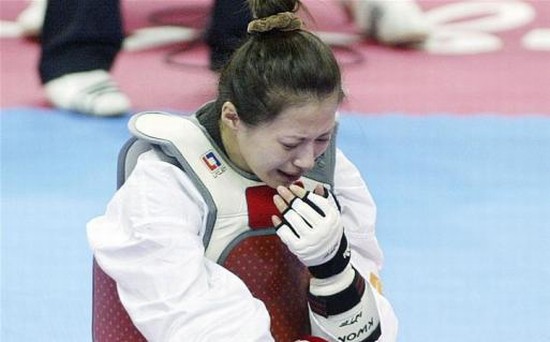 Yang Shu-Chun breaking down at the Asian Games 2010
Just like
Laishram Monica's case
, Yang Shu-Chun was set up, accused wrongly and her gold medal was snatched from her. Not only she all the audiences , spectators, staffs and judges were shocked, too, except those Korean and Chinese judges because they already knew what would happen. Might be these judges thought people are stupid and nobody would know the plan. But it was too clear, too obvious not to know.
In fact, all the equipment worned by Yang Shu-Chun were checked before the match and approved by the judges. Even then, she was accused, saying she put on those unacceptable sensors under her heals later on. Ridiculous.
People here in Taiwan are very simple, honest and very hardworking. They do not do harm to others. This young athlete has competed already many times in Asian games, Olympic games and other international games and has won many times.
She would never do anything stupid to spoil and jeopardize her name and career. She was purely set up by the Chinese and Korean conspirators.
Could this happen if she were from a country like Korea, Japan or China? Impossible, it would never happen. I can also tell you how crazy these Korean judges are. They would do anything to get medals.
When I went to Pusan Asian Games, 2002 for body building, representing Taiwan they lost my music CD and put my name to 65 kg category while I clearly and carefully filled my name in 60 kg category. The main reason was to scare me and mess up my one minute posing routine. Finally, yes, a Korean Body Builder got the number one position and I was given number six!
Sometimes when we have power, we forget the laws and those people who are above us. Same with those judges. Now three of the judges who were involved in this conspiracy are under investigation. Let's hope they are booked and brought to justice.
As Yang Shu-Chen is concerned, even though she was forced to quit and return home, dream shattered, she was given a hero's welcome by all the people of Taiwan, and Taiwan government has already given the promise to give her three million Taiwan dollars worth of incentives, equivalent to an Asian Games gold medal prize in this country.
This incident brings me back to my sad feeling and writing about Laishram Monica's case. I simply can't just remain silent whenever something wrong happens to any good sports persons.
How angry, sad and helpless I was about Monica when I heard about the accusation on her. And now how sad again I am here for Yang Shu-Chun.
I can feel how they feel because I was also denied many times what I deserved. I feel I am just like their older brother who can't do anything but complain.
---
* Dr. Ng. Shantikumar Meetei ( Mr. Asia ) contributes to e-pao.net regularly. The writer has won Asian Bodybuilding Championship in 1999 and is a resident of Taiwan - You can read more on Dr. Ng. Shantikumar Meetei here
The writer can be reached at ngangbia(at)yahoo(dot)com
This article was webcasted on November 23 2010.
---
* Comments posted by users in this discussion thread and other parts of this site are opinions of the individuals posting them (whose user ID is displayed alongside) and not the views of e-pao.net. We strongly recommend that users exercise responsibility, sensitivity and caution over language while writing your opinions which will be seen and read by other users. Please read a complete Guideline on using comments on this website.