Scorpions Rocks!
It was a night to remember... truly ... Exciting , exhilerating, ... Rocking !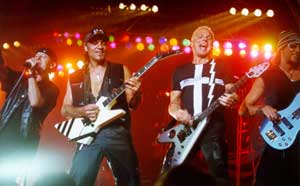 9 August 2001, 20:30 hrs. Indian rock fans were invaded by the Germans...not in the manner how Adolph Hitler did to most parts of the world ...but it was Klaus Meine and the band scorpion......blasting their souls away......and it all happen in your very hip happening city Bangalore......hey man Bangalore is really on a roll and rocking away. Touchdown on Indian soil in their world tour of "Acoustica" for the very first time in their rocking life and ours.

Bangalore had a "BIG CITY NIGHT" day out, it was alive and rocking and kicking it way out.

The scorpions came out and said "Bangalore ........Namaste .. Aap Kaise ho?" in a thick German Accent! and a voice which you can uniquely identify as one and the only Klaus Meine! That was it ... the crowd just went wild with that.

I took a half day off from my office .. hoping to get to as close to the front stage & see the Scorpions in blood and flesh.. after all .. I grow up with axeman Rudolf Schenker and Mathias Jabs' signature Y-guitar Poster in my bedroom!

And I did ... I saw the exact pose they did in the poster .. live in the stage a stone throw away!!!!!

As usual the waiting game was there but once the entire arena and the stage was BLACKOUT we were then sure the invasion would start. The blitzkrieg came in the form of "Loving you Sunday Morning".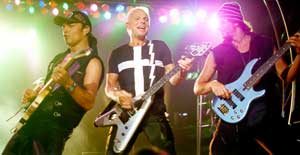 For people in Bangalore, it was a rock concert in its true spirit .. most of the rock enthusiasts agree unequivocally that .... it was "Handakti FILUM TARE...nahan-makhei gi dudi Trailor kappa oiramledana".. what we have seen earlier Deep Purple and Bryan Adams et al are a far second to yesterday's performance by Scorpion... this is something .. Scorpions' stage performance is something. The crowd involvement was total .. This IS a Rock Concert after all! and Bangalore, India for that matter is finally Stung by the Scorpions.

There was an extended solo by a new Drummer (James Kottak - whom Klaus Meine introduced as the Drummer from Los Angeles !) and it was just awesome ...kept the audience in dazed disbelief with "Can a drummer do that !?!?!?!?".... and he even did a Hey_I_got_you_there performance with the swelling crowd.

There was another Guitar Lead Solo by Mathias Jabs showing his mastery over the electric guitar with some fast finger movement and control.... and man as a very solid rock fan(that's me)....I had a real treat of a lifetime which will certainly go down memory lane......my close rocking encounter with the Scorpions. He just truely mesmerized the crowd.

Talking about the crowd all the hip and hep rockers with painted faces, Scorpion insignia and the German emblems were all there.......and also there were the dainty darlings in 'very pleasing to the eye' attires. Some in the crowd were just "You and I" types too!!!

As the Germans were rocking away, with Bangalore's "Bad Boys running wild" and the crowds exploding like a "Dynamite!". It was like we were "Always Somewhere" with the Scorpions in an exotic "Holiday" trip.

Scorpions even did a cover from Kansas "Dust in the Wind". Acoustic accompanied by a 15 member band was the other highlight of the show . They did around 6 songs in the Acoustics section. The show was a mix of Electric and acoutics. The rendition of "Holiday" in total Acoustics with Cello ( man, that Cello girl was something too!!! - heard her name was Ariyanna or something ...), backups, keyboards, violins Bongo was damn good. The treatment of this dimension was immensely overwhelming and acoustically speaking it was the jewel in the crown of the entire performance. One has to be there to feel the thrill.

They went inside for a short break .. and for a while the crowd thought the show has ended ....
But without "Winds of Change:" and "Rock you like Hurricane" ... U gotta be kidding.
Has age caught up with Klaus Meine??? These were the question I was asking myself and friends who there with me. But he prove us all wrong.

They came back .. the crowd surged and screamed ... and man, did they rock ...
They did "Winds of Change" - crowd was singing every single line of it!!
"Still Loving you"... one of the all-time favourite ballad from Scorpions, was another number everyone enjoyed singing with Klaus Meine.

And at long last the song, the very reason we were all there for .... yeah! u guessed it right ... "Rock you like a hurricane" ... the 30,000 odd crowd head-banged, jumped, sang along with Klaus Meine ... and it was Rock at it best.

And after rocking us like a Hurricane, Scorpions bid adieu saying "Still loving you Bangalore, we will be back!"

I say, Scorpions Rocks!!!!! really rocks and I was left stung and the only antidote would be a repeat performance.

"Is There Anybody There... "
Is there anybody listening?????

By: A Die Hard Manipuri Rocker from Bangalore.
* Comments posted by users in this discussion thread and other parts of this site are opinions of the individuals posting them (whose user ID is displayed alongside) and not the views of e-pao.net. We strongly recommend that users exercise responsibility, sensitivity and caution over language while writing your opinions which will be seen and read by other users. Please read a complete Guideline on using comments on this website.