When Imphal Talkies goes global
Jyaneswar Laishram *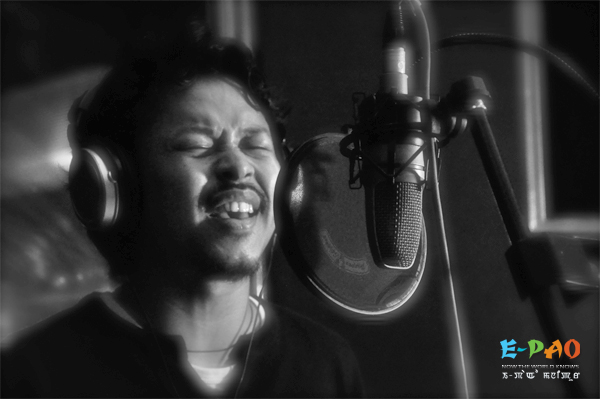 Akhu Chingangbam of Imphal Talkies


Many friends of mine claim to have witnessed the birth of more than a dozen of Manipuri rock bands over the last decade or so in and outside Manipur. Like them, I am also an eyewitness to some half dozen groups or soloists from the region gaining fame and fortune during that period. Imphal Talkies N The Howlers is one of them.

Today this band or its front-man Akhu Chingangbam (in solo) has been spotlighted quite often in the folk-rock arena of India, recognised by national and international organisers and sponsors. Unique in his style of singing and song writing, Akhu has set a characteristic trend of protest music which is political and incisive against all odds surging in the contemporary Manipur in connection with hegemonic attitude of mainland India or the central government.

Akhu's music genre has tagged him as Manipur's first folk-rock artist whose satirical lyrics have now been critically acclaimed at global level. In the recent past, he performed as part of Strings of The World, a global music event held in New Delhi to bring on stage a peer cohort of Indian and international folk musicians who are recognised for their distinguished artistic attributes.

In addition, his single Lullaby, which is composed amalgamating regional folk tune and alt rock in the form of a protest song, included in the 33RPM: Voice of the Revolution, a digital album of groundbreaking revolutionary and political music featuring an array of select songs written and produced by artists from 33 countries including Sudan, Egypt, Syria, Somalia, Venezuela, among others.

What all compiled in the 33RPM - Voices of the Revolution consists of the contributions from the internationally renowned protest musicians, such as Sudanese recording artist, activist and former child soldier Emmanuel Jal; enchanting Chilean folk-rocker Camila Moreno; Syrian-American MC Omar Offendum; leading Egyptian rapper Zap Tharwat; British performance poet Dean Atta; and most of all, Manipuri folk-rock singer Akhu Chingangbam of Imphal Talkies N The Howlers.

The songs in the collection are directly drawn from the experiences of those established and emerging artists who sing about marginalisation, war, oppression, conflict, revolution and other issues in different music genres like Afrofuturismo, rock, reggae, rap, electronica, hip-hop, etc.

Launched by Emmanuel Jal at Imperial War Museum North in Manchester with cordial support from University of Manchester's In Place of War (IPOW) research centre, every song in the collection represents an incredible selection of revolutionary voices spanning the globe as each of them unfolds stories from the sites of conflicts, revolutions and communities. Somali hip-hop group Waayaha Cusub's No to Al-Shabab cries an anti-militant protest while Lullaby of Imphal Talkies N The Howlers is a sheer dedication to children in conflict zones. In this way, songs in 33RPM - Voices of the Revolution echo one or another agony of civilians in dismay.

So far, Akhu remains the most influential folk-rock musician of Manipur whose musical style has gained acceptance among the limited but refined audience comprising academicians, scholars, social activities and youth. Unlike other folk or fusion musicians in the state, he is creditable for presenting Manipuri folk music in a contemporary form extensively at global level. Akhu is educated in many ways as he is scrupulous in documenting influences of different musical genres which eventually resulted in a stylistic combination in his composition.

Bob Dylan was pivotal amongst the many from whom Akhu gathered soulful inspirations. Other than Bob Dylan, his list of favourites included some select Manipuri singers, such as Nongmaithem Pahari, Aheibam Budhachandra, Loukrakpam Jayenta (Tapta) whose classic songs I often found him singing at the gatherings we had almost on every Saturday night somewhere in South Delhi sometime in the early 2000s. Those Saturday night parties were certainly enjoyable for the fact that we were young and everything was rocked and rolled. It also gave us an immense opportunity to freely throw up our latent musical talents, whether in singing or playing guitar.

The parties continued whole night through on those Saturday gatherings, till the last drop of rum and all of us started drooling up the pork pan. But the songs never ended even at the crack of dawn. Everybody was really high on the spirit of becoming a rock n roller, which none of us (except Akhu) turned out to be the one at the end of the parties. He finally formed his band, Imphal Talkies N The Howlers, in which guitarist Sachidananda Angom did magic of melody and Ricki Chingangbam joined as session singer.

And finally, Saturday nights are lonely today, parties are over, we parted our ways. And Akhu goes global!


---
* Jyaneswar Laishram wrote this article for e-pao.net
The writer works as editor of a New Delhi-based magazine and can be contacted at ozzyjane(at)gmail(dot)com
This article is published in Sangai Express on 19/12/2013.
This article was posted on December 19, 2013.
---
* Comments posted by users in this discussion thread and other parts of this site are opinions of the individuals posting them (whose user ID is displayed alongside) and not the views of e-pao.net. We strongly recommend that users exercise responsibility, sensitivity and caution over language while writing your opinions which will be seen and read by other users. Please read a complete Guideline on using comments on this website.