Wake up Johnny, into the great wide open


By:- Ringo Pebam *



The legendary Pearl Jam, who along with Nirvana started the grunge movement, a genre of alternative rock music in early 90's, embraces the Creative Commons License, so that people anywhere can legally copy, distribute, and share their music. The new music video for Pearl Jam's "Life Wasted" was released under the Creative Commons Attribution-Non-Commercial-NoDerivs license.


Manipur's Rock Group - Phynyx

Through the 80's and 90's we have heard Phoenix/Phynyx singing "Woman", "Can't fly high in the sky", "Shattered Dreams"… Cannibals with "Sweet Reggae"…. but they could only be heard by those fortunate few who were present at their live concerts at GM Hall, Polo/Thau/Hao Ground…. Those songs could never come as commercially released studio albums.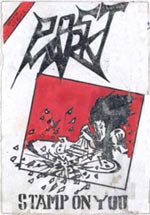 Stamp on you - PostMark

I had "Stamp on you" those days, the first album of Post Mark, I think only a handful few might have bought that album, and the story ends there, their music could not cross the border of Manipur(or say NE).

Delhi based band Pentagram, who was just a budding band and did opening act for Phoenix/Phynyx in New Delhi in mid 90's has released two albums, and have even performed at UK's prestigious Glastonbury rock festival.

Talent fades and dies, for those bands from the North East, due to many reasons known best to them.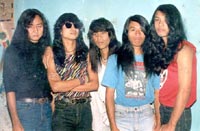 Manipur's Rock Group - PostMark

A life dedicated to rock music is often a path thorny. Elders and the society in general has the impression that lovers of Rock Music are - "amangba-angang, street hoodlums, good for nothing-high school drop outs, copier of the western culture, drug addicts....".

Musically they are as talented as Pahari, Sanaton, Roop Raag, Pung Cholom drummers... etc. Rock Musicians should be encouraged with a broader mind set without any bias. Rock Music is just another form of art - music, melody... the core remains the same.

Once I happened to be at the home of a friend of mine at Uripok in early 90's, he had an aunt who was in her 50's or 60's then, she was a well known Hindustani Classical Singer, she used to play harmonium/sitar..., we were playing 'Please forgive me"(So far so good/Bryan Adams), hearing it she commented, "That's good music - nice composition".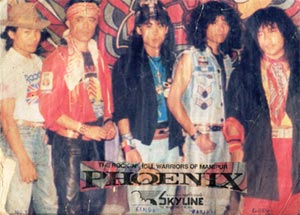 PHOENIX - Rock 'N' Roll Warrior of Manipur

We were so surprised, to hear that comment from an elder who had never listened to Rock. She knew what music was, and she appreciated it, the rest failed to see the art.

For those who have heard those talented rock musicians of Manipur, and known it's worth, it's a sad thing to see those masterpieces go unnoticed.

Dear Rock Bands out there at Manipur and the North East, if you want your hard work, your original songs, that are so close to your hearts be heard and known to people around the globe, you can do it. We are no more confined to the cocoons in those hills.

Check the Jamendo Project, GarageBand.com and Creative Commons Licenses, and how you could be benefited. I am not a member of the mentioned project or organization; once I attended a talk of Volker Grassmuck, hearing him say about how rock band could be benefited I thought about you guys, today I see Pearl Jam doing it, and here I am sharing you the information.



Way back up in the woods among the evergreens
Stood a log cabin made of earth and wood
Where lived a country boy named Johnny B. Good
Who never learned to read or write at all
But he could play the guitar just like ringing a bell

Go, go, go Johnny go, go, go Johnny, go go
Go Johnny go, go, go Johnny go go
Johnny B. Good

He use to carry his guitar in a gunny sack
Or sit beneath the trees by the railroad track.
Oh, the engineers used to see him sitting in the shade,
Strumming with the rhythm that the drivers made.
The People passing by, they would stop and say
Oh my that little country boy could play

His mama told him "someday you will be a man
And you will be the leader of a big band
Many people coming from miles around
To hear your playing music when the sun goes down
Maybe someday you will be in lights saying Johnny B. Good"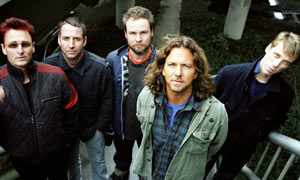 Pearl Jam



What is Creative Commons?

The Creative Commons (CC) is a non-profit organization devoted to expanding the range of creative work available for others legally to build upon and share.

What are Creative Commons Licences ?

Creative Commons licenses provide a flexible range of protections and freedoms for authors, artists, and educators. The Creative Commons licenses indicate that copyrighted works are free for sharing, but only on certain conditions. The license specified that derivative works can be made and distributed, as long as they are for non-commercial purposes and the source is attributed.

The Creative Commons website enables copyright holders to grant some of their rights to the public while retaining others through a variety of licensing and contract schemes including dedication to the public domain or open content licensing terms. The intention is to avoid the problems current copyright laws create for the sharing of information.

Why there is Creative Commons ?

All these efforts, and more, are done to counter the effects of what Creative Commons considers to be, in the words of chairman of the board Lawrence Lessig, a dominant and increasingly restrictive permission culture, "a culture in which creators get to create only with the permission of the powerful, or of creators from the past".

Lessig maintains that modern culture is dominated by traditional content distributors in order to maintain and strengthen their monopolies on cultural products such as popular music and popular cinema, and that Creative Commons can provide alternatives to these restrictions.

The Knowlege Commons

"If nature has made any one thing less susceptible than all others of exclusive property, it is the action of the thinking power called an idea, which an individual may exclusively possess as long as he keeps it to himself; but the moment it is divulged, it forces itself into the possession of everyone, and the receiver cannot dispossess himself of it. Its peculiar character, too, is that no one possesses the less, because every other possess the whole of it. He who receives an idea from me, receives instruction himself without lessening mine; as he who lites his taper at mine, receives light without darkening me....

That ideas should freely spread from one to another over the globe, for the moral and mutual instruction of man, and improvement of his condition, seems to have been peculiarly and benevolently designed by nature, when she made them, like fire, expansible over all space, without lessening their density at any point, and like the air in which we breathe, move, and have our physical being, incapable of confinement, or exclusive appropriation. Inventions then cannot, in nature, be a subject of property."

(Thomas Jefferson in a letter to Isaac McPherson, August 13, 1813)

Projects using Creative Commons licenses

Some of the best-known CC-licensed projects and works include:

Notable works

Open source record labels

There has been lot of success, and little criticism. Recently though, critical attention has focused on the Creative Commons movement and how well it is living up to its perceived values and goals.

One notable point is :

An ethical position - Those in these camps criticize the Creative Commons for failing to set a minimum standard for its licenses, or for not having an ethical position to base its licenses. These camps argue that Creative Commons should follow the model of the Free (libre) or Open Source movements by defining a set of core freedoms or terms which all CC licensed works must satisify. These terms might, or might not, be the same core freedoms as the heart of the free software movement. (e.g. See Hill 2005 and the writings of Richard Stallman).

References:

http://creativecommons.org/
http://creativecommons.org/weblog/entry/5913
http://en.wikipedia.org/wiki/Creative_Commons
http://www.jamendo.com/en/
http://www.jamendo.com/en/static/artists_why/
http://www.lessig.org/
http://www.pearljam.com/
http://www.chuckberry.com/index.php

DISCLAIMER:

The pictures of the Manipuri rock bands used in this web page, are from magazines collected by the author years ago(namely North-East Skyline, Rock Street Journal) and his high-school autograph book; sadly no pictures of Cannibals, Dark Krusaders and Momocha(a legend in his own right) could be traced, if anybody has please send it to the author. If the group (whose picture are put up in this page), wishes their picture be removed, please send a mail to feedback@e-pao.net; your wish will be honour with deep regard.


---
Ringo Pebam, a Software Engineer in Bangalore, and a Free and Open Source Software activist, contributes regularly to e-pao.net.
The writer can be contacted at ringo_pebam@yahoo.com
This article was webcasted on May 28th, 2006


* Comments posted by users in this discussion thread and other parts of this site are opinions of the individuals posting them (whose user ID is displayed alongside) and not the views of e-pao.net. We strongly recommend that users exercise responsibility, sensitivity and caution over language while writing your opinions which will be seen and read by other users. Please read a complete Guideline on using comments on this website.