"Wake Up, Reach Out"
- A platform for rock-folk fusion -


By:- Ringo Pebam, Keith Wallang, Ronid Chingangbam *



Today at THAU Ground, Imphal, you will finally witness the "Wake Up, Reach Out" concert, a musical platform for the talented musicians to expose their talents and promote traditional folk music. The event was originally scheduled to be held on the 19th of December, but postponed, due to security reasons following the bomb blast at Pourabi which killed eight on the 16th of December.

The organizers of the concert say that it is being organized not with an eye on earning profit but for pure passion and interest in erecting a durable platform to the young and upcoming folk and rock artistes in the region. The successful execution of this concert will only prove that the folk, rock and blues artistes and aficionados are taking a great forward leap for the long road ahead.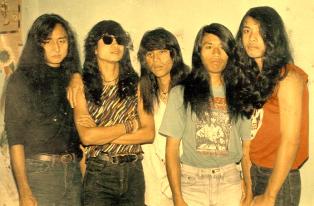 A Group Photo of PostMark

Every modern and traditional music lovers in Manipur would recall that individual bands and groups in the late 1980s did make attempts to take forward the idea of fusing traditional folk music with rock. One group that crosses our minds and who surges ahead with this was the band Post Mark.

The sheer grit and passion of the band made them release perhaps Manipur's first ever thrash metal folk fusion album "Stamp On You". Post Mark's numbers "Soar High" and "It's So Funny" had the imprint of traditional sounds acquired from "Lai Haraoba" and "Thabal Chongba" rhythm.

The untimely demise of Post Mark's front man and vocalist Abungcha was a great loss in the sphere of experimental folk rock fusion music. Abungcha's brother Imocha was also an inspiration to the band.

According to Post Mark's former guitarist Imocha (Phurailatpam), the band members used to listen to 'Rock Salad' in BBC Radio and thought the band should make distinct sound to reach the mass audience.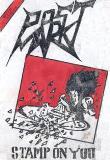 PostMark's Stamp on You

If the band had continued till date, we would have had a different form of rock music which can proudly be called our own.

The good news is that Post Mark is planning to reunite and regroup with a new line up. Almost twenty years after, we see very few bands venturing into the terrain of folk rock fusion less traveled by other bands.

It was a good sign that some bands from the hills and valley of Manipur have at least attempted to do the unusual to the point of being ridiculous during those times.

But when realization dawned on us, we feel what they have done was great and there are a lot more that we can do to promote the fusion of traditional folk with blues, rock and other modern genres.

Setting Examples

Reuben Mashangva performed in Great Indian Rock Show, Delhi 2000, with the great Manipuri percussionist Momo Laishram on drums. Reuben knows how to creatively fuse Naga folk elements with blues and rock music. His attempts are wonderful result of a mind that strives for originality without being self-isolated.

This made him stand out uniquely from the rest of the bands from the Northeast and the Indian rock music. That was why he could get a platform in front of the maddening rock fans in the Great Indian Rock Show who were earlier not exposed to this form of blues/rock/folk music. But the current rage for world music lovers in the region is the band called "Abiogenesis" from Nagaland.

The band got two nominations in the 50th Grammy list for their song "You Are Beaking Me" and the album "Aeon Spell" in the category of Best Rock Performance By a Duo or Group with Vocals and for Duo, Group or Collaborative Performances, with vocals. It may be noted that the Aboigenesis had invented their own musical instrument call the "Bamhum".

The band's album "Aeon spell" was release by the music label SAREGAMA. The band is distinct for fusing Naga folk elements with rock music and has a female member whose voice is a cross between Janis Joplin's and Joan Baez's. This band only proves that there is so much left to be explored in our rich folk music tradition in the North East.

The "Wake Up, Reach Out" concert is a good start that will give us an insightful way of exploring our own folk songs. We can now fuse music together without any crest or trough, without any discrimination regardless of from where one hails by breaking the narrow regional barrier yet maintaining a distinct North East sound.

And the rest is for the audience to decide. What we are talking of at the moment is how western jazz, folk, reggae and rock can influence the creation of our own music by delving a little deeper in thought. The point we want to make is that Rock music came to Manipur over three decades back.

And we think three decade is good enough time for rock musicians to evolve and create at least the idea of the music that can be called our own and make sense of our imitation of western rock music. Many former rock musicians, die hard fans and well informed critics in and from Manipur often say that rock music in Manipur cannot survive because of the lack of financial support or mass audience.

All the great musicians and bands from the North East including Lou Majaw of the "Great Society" fame, Soulmate, Cannibals, Phoenix, Dark Krusaders and others have already laid the foundation for rock music and the existence of fully matured bands playing well textured compositions in the Northeast is no longer a new phenomenon now.

But there is a haphazard route in the region when it comes to creating a distinct sound that can be called ours. There are so many original rock music compositions coming out of the North East. The idea is not about the ability to compose Rock and Roll numbers but about how genuinely we can incorporate our rich tradition into these compositions.

The recent original track by 'Recycle', a rock band from Manipur, called 'Tell Me why', is lyrically closer home and talks about the present scenario in Manipur. And we have heard amazingly good compositions by other bands from the Northeast too. But there are many hurdles ahead.

When we think of "a music scene" we can not but help think about places where LIVE music can be performed regularly, where bands/musicians interact with each other and not compete, where bands/musicians support each other by attending concerts of other bands and where audiences pay for LIVE music. To get to this stage, it is the bands/musicians themselves, who first must play a role as a community without expecting others to remedy the current situation.

Going Ahead

Here are few thoughts on how the rock musicians of the region can pitch ahead.
We should forget the regular talk of who is the best, better or worst and the subsequent ego clashes between rock musicians willing to evolve. We hear this all too often!
No doubt there is abundant talent available in the region but unless we do something with this talent ourselves it is useless bragging about it forever. We know for a fact that the less naturally talented musicians from mainland India work real hard to get to a professional level in their chosen instrument/field of music whereas we sit back and bask in the artificial glory of our "God Gifted" talent and do nothing really serious about it!
What we need to do is get out of our comfort zone and experience what others are doing to hone and expose their talent. Most bands barring a VERY few, venture out of the region and participate in the numerous competitions held in mainland India or elsewhere. Hence, we end up having no idea about the level of music that these bands keep engaging with.
Bands in the region are still "Cover Crazy". Do not we have anything to say for ourselves? Instead of mimicking what the West is saying? Considering the situation in almost all our North East states we think there is abundant stimulation for conscious creative expression. Till we tell stories about where we are form, who we are, our situation, we are nothing. This apart there is no room now-a-days for playing covers on the big stages in the country with the strong copyright laws that are in place now. All bands need to think about this seriously.
When agreeing to perform at a concert, bands need to first ask the organizer what the production (sound, lights, stage etc) is going to be like and make sure this is of good quality, instead of asking for a performance fee.
We are looking forward to have an informed rock/folk fusion based music tradition. It is high time we concentrate on these issues. Let us amplify our feelings just like the electric guitars and oppose the cacophony of noise produced by scary gunshots that flow from the barrel of those who wield them.

Our inability to dabble into the politics of the American or the European rock/folk music experience, should NOT make us scared of experimenting and creating our own sound to prove a point, be it social, political and cultural. It may take time.

Related Items on "Wake Up & Reach Out"


---
* Ringo Pebam (Bangalore), Keith Wallang (Shillong), Ronid Chingangbam (Delhi) collectively wrote this article. This article was submitted by Ringo Pebam to E-Pao.net . This article also appeared in the Imphal Free Press on 5th Jan 2008. This article was webcasted on January 05th , 2008


* Comments posted by users in this discussion thread and other parts of this site are opinions of the individuals posting them (whose user ID is displayed alongside) and not the views of e-pao.net. We strongly recommend that users exercise responsibility, sensitivity and caution over language while writing your opinions which will be seen and read by other users. Please read a complete Guideline on using comments on this website.