On Uriah Heep and a message to the rock bands of Manipur


By:- Ringo Pebam *



Uriah Heep, one of the biggest names in hard rock came and played. Their progressive hard rock and melodic heavy metal sound enthralled the crowd leaving them cry for more.

A band of their stature, deserves a packed stadium, but Bangalore's Palace ground witnessed only a handful of hundreds till the show was about to start. Two days ago at the same venue, about 25,000 people came for the Bryan Adams, who plays some simple chords and love songs.

It was a pitiful heart breaking sight since Uriah Heep is one of the greats, God only knows how they would have felt, playing at Bangalore in the year 2006, with the experience of having played at sold out stadiums of 180,000 in Moscow in 1987.

Finally when the show came to a full fledged the crowd stood to some 2,500 or so. When guitar God Joe Satriani and the Latin legends Gypsy Kings came to Bangalore, it was the same sight, with only some few thousands to cheer them up. Only Scorpions and Roger Waters concerts drew respectable crowd.

Anyway the Uriah Heep concert went on, and whoever was there were the real die-hard fans. A major portion of the crowd were guys from the north east, there were few hard core local heavy metal fans.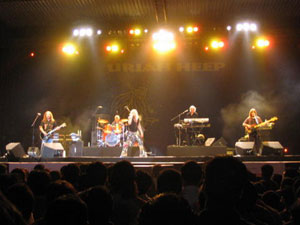 Uriah Heep performing live in Bangalore

It was really very touching to see groups of aged Bangaloreans around me who are in their sixties, old enough to sing and head bang come for the show, and most of all they knew most of the Uriah Heep songs... and yes they said they were also there in 1984 when Uriah Heep came to Bangalore where only 300 people turned up.

The flamboyant Bernie Shaw entertained the crowd with great showmanship - he did a lot of talking and made the audience a part of the party that lasted for about two hours, Mick Box did his magic with excellent guitar works, powerful riffs, and at times he would do beautiful solos putting his picking hand in the air and left the other alone on the fingerboard, to do the finger works.

Drummer Lee Kerslek, who looks as old as a grandfather played the drums hard, Trevor the bassist looked the youngest and decent on the stage (he reminded me of Izzy of GNR), Phil Lanzon gave a magical sound on his keyboard, a trademark of Uriah Heep.

Their play list included some new songs and many old ones - Free Me, Gypsy, The Wizard, Sweet Lorraine, Stealin', Easy Livin', July Morning, Look at Yourself, Sunrise, Lady in Black... these are the songs that were in the lips of almost every growing high school kids, played in almost every concert those days in Manipur.

Anyone who had listened to Uriah Heep songs or played or attended rock concert of those days will surely know what Uriah Heep means to them.

Uriah Heep closed the show happily, for, though the audience was very small, they were really true heepsters who screamed and sang every line of their songs.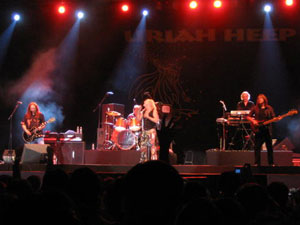 Uriah Heep performing live in Bangalore

Those grey haired, wrinkled faced old men of rock, whose 35 years of music and 20 albums, still rocked, leaving us to believe that nobody is too old to rock and roll. Regardless of the small turnout of the crowd, theirs was a great gig, an experience everyone who witnessed will forever cherish.

That must be the reason why British Heavy Metal bands like Iron Maiden, Def Leppard, Saxon cited Uriah Heep as their big inspiration when they grew up.

They would have loved to see the screaming fans, if only their schedule included North East. They are worshipped in the North Eastern Hills. Every person who grew up with rock music in the 80's and 90's loves them.

The concert of the erstwhile Soviet's band Autograph at 1st MR Ground in 1988 is still talked about, and local bands of the country like Greek and Shiva attracted house full capacity at Ranch those days. A mere rock concert held in schools like Don Bosco, Imphal, in 1993 attracted more audience then Uraih Heep's Feb 8th concert in a city like Bangalore.

Had their tour included even a single venue anywhere in the north east the hard rock followers of the 7 sister states would have come together and I know there would have been huge hysteria...they would have received the audience they deserved.

For the love of the music, if in the days to come, event management groups in the north east can rope in bands, of this stature that come to the country, it would *delight* the hearts of thousands and thousands of music lovers across the north eastern states, they will have the time of their lives.

Life was like, listening to old audio cassettes and playing their melodies on 6 strings, seeing them play live was just a dream to everyone... but it's possible, yes, MAGIC can happen!!!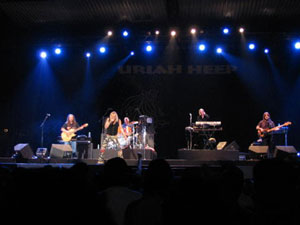 Uriah Heep performing live in Bangalore

I don't know how the rock music scene is, in Manipur at present. But seeing Uriah Heep reminds me of the hard rock bands of Manipur of the days gone by. I have felt the rush of blood in my head to see and hear the Gods play, and I wish you guys were there.

If in the future there comes one of your Gods, and need some help to catch them live, please drop me a mail, for I know what they means to you, we have them in our blood. I am just a mere enthusiast, but I have seen and know you guys who have dedicated your effort, time, energy and life to rock music.

Dear Cannibals, Phoenix/Phynyx, Dark Crusaders, Post Mark, Metal Teens, Nexus, Power Pak, Red Devils, Angellica, Dark Ages, Miracles, Young Ones, Holy Rider, NH-39, Rex, Infidels.. and the many other bands, guitar players and singers whose names I don't remember...

You were the guys who rocked, who inspired.... You guys were a part of the lives of thousands of rock fans all over Manipur, wish you all could come back and resurrect and bring back the magic again.


---
Ringo Pebam,a hard rock enthusiast, contributes regularly to e-pao.net.
The writer can be contacted at ringo_pebam@yahoo.com
This article was webcasted on February 11th, 2006


* Comments posted by users in this discussion thread and other parts of this site are opinions of the individuals posting them (whose user ID is displayed alongside) and not the views of e-pao.net. We strongly recommend that users exercise responsibility, sensitivity and caution over language while writing your opinions which will be seen and read by other users. Please read a complete Guideline on using comments on this website.