Tribute to Praveen Raj - The Guitarist


By:- Ringo Pebam *





Praveen Raj, son of Shri RK Binodchandra and Nigthemcha (Ongbi) Chitra Devi, of Bijoygovinda, passed away some days ago, due to an infection in the bone marrow.

Praveen studied up to class V at Jiribam and completed his class X from Standard School, Keishampat. He finished his graduation from NG College.

Playing a 'Triple Congo', was a hobby as a child. His elder brother Shyamananda is his first music teacher. His father Mr Binodchandra RK is also an admirer of Hindustani Classical Music.

Praveen went on to learn the basics of guitar from guitarist Jotin of Kwairakpam Leikai. Mr Jotin was a well known guitarist by then and had influenced Praveen a lot.

Sometime in 1990-91, he came to the Rock Circuit of Manipur with a band called "Crystals". Many still have fond memories of their gig with (Late) Dubby (Keisampat) in the vocal singing Judas Priest's 'Diamond & Rust' at GM Hall.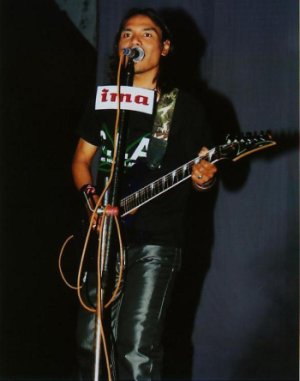 Praveen Raj - a formidable axeman!

Praveen started playing for various rock bands. Mention can be made of Nexus (formerly Power Pak), Phoenix, Cannibals, Brothers, White Dove, Messengers, On the Verge etc etc..

Nexus's powerhouse concert at Sayang on the Nigol Chakouba day of 1994 is still talked about. There were fusions of Manipuri instruments with Rock.

Many bands played that night, most notably an all-girl-rock-band who belted out numbers like 4 non-blonde's "What's up". I can still remember (late) Mono (vocalist of Angellica) going wild with misty eyes when Nexus ended the show with their almost perfect rendition of Maiden's "Fear of the dark".

In 1996 Praveen joined Tapta and helped Tapta in making many of their hit numbers for many years.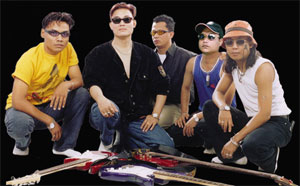 Praveen Raj together with the rest of Eastern Dark

He got the first break as Music Director (MD) for "Yoo". He venture with Kokobi for this Venture of MD for "Yoo". "Yoo" is the 2nd solo Album for K Bobin "bin". While working for Yoo he met MD Sorri Senjam and started working with him later on. the like minded combination of Praveen and Sorri started giving music for Manipuri Cinema's.

He was also a prominent bass guitarist of Eastern Dark, a band that holds great respect for their Manipuri medium Rock Music. A band that had many fans from - hard-core Meiteilon language audience as well as Rock enthusiasts.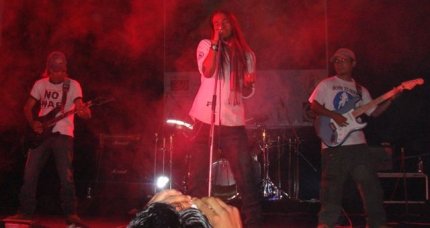 Praveen (in "No War" T-shirt) with Uttam on 24th May 2007 at BOAT



Praveen also was a part of the Uttam band of late. He played the lead guitars in the band. His experience of different forms of music and his association with many artists made him the driving force of Uttam's fusion-progressive-rock sound. Uttam Mayanglambam (of the famed Uttam) once acknowledged me how Praveen had encouraged him to march ahead with his unique Manipuri Rock during his formative years.

Serving the people of Manipur in the field of Music and arts with so many contributions, he left his dear and close ones for the heavenly abode.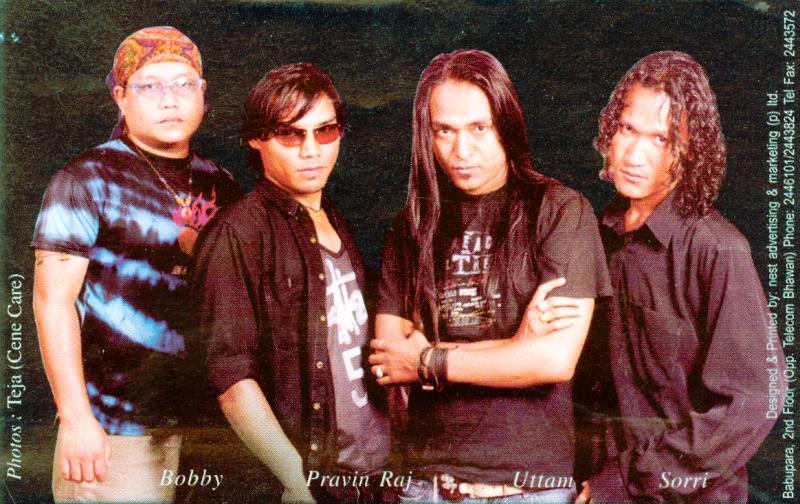 Praveen with the Uttam Band, for the album "Kangla Sha"



Life is sometimes unpredictable, but we hope he had the time of his life. Praveen Raj, - a good human, a great musician - will surely be missed by his family, friends and music lovers, but will never be forgotten.

Many fans and musicians paid their last respect on his 'sradha (sorat)' on 3rd Aug at Imphal.

The Rock Music Community gives a lasting salute and prays for his soul to rest in peace.


You can also send in your own tribute to Praveen Raj, by sending a mail to feedback(at)e-pao(dot)net


Indeed a very sad news. Sometime in 1991, I use to fill in the keyboard for band called Crystal. Praven joined as the bassist, he told me he use to play for Manipuri (Meetielon) singer and was his first stint in a rock band. A clam person with no air and very down to earth.

Praveen was a natural musician, a good human and also have a good sense of humor.

My condolences and my prayer.

Warm regards,
Martin Haobam
Bangalore
I have lost a closed friend and great musician with the untimely demise of Praveen. Actually, his big brother Shyamananda, who was a great hindi gazal singer of our school days, was a classmate of mine but because of our inclination to Rock Music I ended up hanging out more with Praveen. His sense of humor was simply out of the world and I will always cherish those musical jam sessions we had together as part of our frequent chak-chanabas.

In 1994 yours truly was part of the team who worked on an idea of a having a grand rock concert for Nigol Chakouba to help Sayang Club. Praveen along with other members of Power Pak band (Ingocha, Bipin, Bekay and Imocha) help a lot in organizing fellow rockers of Manipur to join that grand concert. Also, they were looking for a change of their band name (Power Pak) to a new one and it was my pleasure to have coined the name "NEXUS". I can still remember a funny incident from that concert, where the crowd booed an upcoming band just before yours truly take the stage to belt out two numbers (Let me inside - Santana & Wasted Sunset – Deep Purple). I was little overwhelmed by the crowd behavior and told Praveen that I can't remember all the lines for those simple lyrics and to that Praveen just couldn't help laughing out aloud on the stage forgetting that he was near a microphone.

Life can be so cruel and will never be the same without Praveen. In his demise the Rock community/enthusiast in Manipur has lost one of its prominent member.

May his soul rest in peace.

Surchand
YeaH! A big loss indeed!!
His family should know that there are ppl really feeling for them too!

Sayulie Noned
So sad! The moment I got the news, we just stooped the film shoot and tears came down suddenly. Pravin Raj was one of the musicians who played and took an important role in built up the theme song of a very serious film "Mami Sami" which have been in the process of making since 2004.

His music will make us remember him.. forever "Mami Sami"–ly..

May his soul rest in peace with the music of unification….

Leichil luwang BONA

Mami Samka ,
Manipur


NOTE: Thanks - to Boss, Bimol, Biswajit for helping me out in gathering detail infos and photos from Imphal, to WB for translating and reviewing the scripts for this write-up.


---
* Ringo Pebam, a software Engineer in Bangalore and GNU/LINUX enthusiast, writes regularly to e-pao.net . He can be contacted at ringo_pebam(at)yahoo(dot)com . This article was webcasted on August 03, 2007.


* Comments posted by users in this discussion thread and other parts of this site are opinions of the individuals posting them (whose user ID is displayed alongside) and not the views of e-pao.net. We strongly recommend that users exercise responsibility, sensitivity and caution over language while writing your opinions which will be seen and read by other users. Please read a complete Guideline on using comments on this website.