Tribute to Cannibals


By:- Ringo Pebam *



Remember these guys ? Remember the faces in the picture below ? Here they are, here they are, the band about whom everybody used to talk in schools, colleges, leikais.. the band we saw setting Mapal Kangjeibung (Polo Ground) on fire with their heavy metal lightnings and thunders, at one Woodstock-like free concert sometime in 1992.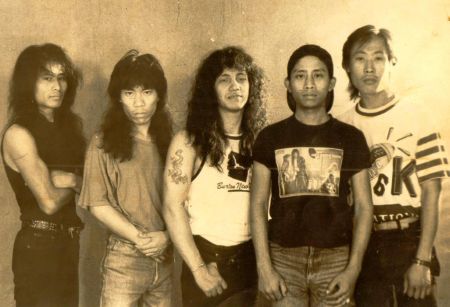 Left to Right : Jimmy, Ritchie, Momocha, Paul and Matthew



Ritchie erupts with fast riffs, Momocha chips in with drum rolls, Jimmy and Matthew join with the rhythm and bass, Paul starts the vocals with the lines - " Kill for gain or shoot to maim, But we don't need a reason..". That was Cannibals performing to perfection Iron Maiden's memorable "2 minutes to midnight", time and time again, from GM Hall to Polo Ground, from Churachandpur to Mizoram, from Calcutta to Delhi.

Cannibals had their first full fledged gig at Range Ground in 1986 by the name Machine Head, in 1988-89 they won the prestigious best band award at SRCC's CROSSROAD in Delhi, in the year 1990 they conquered the capital, with a historic concert at Siri Fort Auditorium. They went on to win many more awards like Calcutta's St Xavier's etc.

They are perhaps India's first heavy metal band - dominating the heavy metal scene from mid 80's to mid 90's playing Judas Priest, Black Sabbath, Deep Purple, Rainbow, AC-DC, Motley Cure .... and known best for the Iron Maiden numbers they played, besides their famous original songs like "Sweet Reggae" and "Dirty Boy Blues".

Growing up in a place like Manipur, with just audio cassettes, stereo walkmans, not so very complete set of gadgets and instruments, with no sponsors backing them up.... in an age when there was no internet to search for lyrics and guitar tablature, with no software like Guitar Pro - how on earth did they manage to play so very much like the originals – resulting in commanding high respect in the rock music circuit in India, inspiring many youngsters across the country. It was pure talents and hard work.

Teenage girls who were big fans of Cannibals from Nagaland to Mizoram still inquire till today about the flamboyant Momocha Laishram; the drum sticks he threw to the audience are still being preserved by fans; their Beatlemania-like stories are still talked about - a beautiful Delhi girl seems to have come up to the stage, embraced Ritchie, and gave him a kiss.

It's not in the record as such, but at many occasions it is said that Parikrama - the very well known Delhi based band, cited Cannibals as their major inspiration when they were in college, to make it big time in rock music.

Cannibals brought Heavy Metal to the forefront from the days of Rock 'N Roll of the 70's and 80's. Had Steve Harris and Bruce Dickinson seen them playing their numbers so very well, they would have loved these guys to be their special guests at Palace Grounds, B'lore on March 17th.

A lasting salute to Cannibals - the pioneers of Heavy Metal genre of rock music. Their legend will forever live on.

Here's an old newspaper cutting of - "DELHI MID DAY, Friday, November 16, 1990". Take a look; you will know where these guys stood.



[ Click on the picture below to see the enlarged view of the newspaper cutting. ]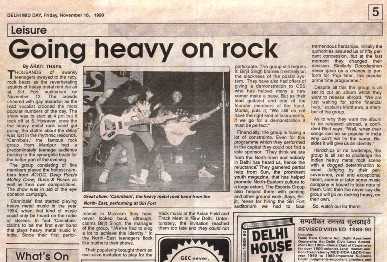 [ Wallpaper – Download a high resolution group photo of Cannibals by K. Surjeet]
[ Wallpaper – Download a high resolution group photo of Cannibals.]
NOTE

The huge contributions made by Phoenix/Phynyx, Dark Krusaders, Post Mark, Hell's Angel etc in the Hard Rock/Heavy Metal/Thrash Metal scenes are very much remembered, known, understood and respected. With the coming of Iron Maiden to Bangalore, this write up is done just to pay tribute to Cannibals – who have pioneered Heavy Metal in the country.


---
Ringo Pebam, a Software Engineer in Bangalore, and a Free and Open Source Software activist, contributes regularly to e-pao.net. The writer can be contacted at ringo_pebam@yahoo.com . This article was webcasted on March 08th, 2007


* Comments posted by users in this discussion thread and other parts of this site are opinions of the individuals posting them (whose user ID is displayed alongside) and not the views of e-pao.net. We strongly recommend that users exercise responsibility, sensitivity and caution over language while writing your opinions which will be seen and read by other users. Please read a complete Guideline on using comments on this website.