Scorpions heading North East India


By:- Ringo Pebam *



It was August 2001; Radio City FM was constantly playing only Scorpions numbers. The decibel level rose to the max in our hostel block everytime "Rock you like a hurricane" was played. Often, newspaper Ads were of the German Heavy Metal act, whose songs we used to constantly play when we were growing up.

Blood was building up, it was hard to wait. Me and my roomies from college in Tiptur(Tumkur), packed our bags and headed for Bangalore a day in advance. Seniors' house was the place to land up – enjoy, eat, sleep….

Scorpions were belting out "Bad Boys Running Wild" when we entered Palace Grounds. That night, they did play a long list of classic numbers, that include "Picured Life", "Rhythm of Love", "Is there anybody there", "Rock you like a Hurricane", "Still loving you", "The Zoo"....

Most of the crowd were familiar only with "Wind of change" and not with the timeless classics from their previous albums. Still there were die-hard fans around who gave me company to sing along songs like "Pictured life", "Big city nights" and "BlackOut"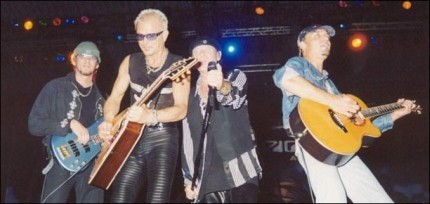 Scorpions performing at Palace Grounds, Bangalore on 9th Aug 2001
Picture Courtesy: http://dnanetworks.com/



Matthias Jabs gave breath taking electric guitar solos, Klaus Mein was at his best with his voice and his German-English, you know. Rudolf the man behind the band, the founder, who shaped up the group was cool, playing the six strings, there was also a young girl who played the violin in their rendition of Kansas's "Dust in the Wind".

My buddies from the north though grew up with bhangra beat put me on their shoulders to catch better glimpse of the SCOPRIONS playing "Always somewhere" on acoustic guitars – wow, it was great seeing Rudolf and Matthias doing the guitar plucking of my anthem and Klaus joining in with... "Arrive at 7, the place feels good...", they went on to play "Holiday" and took me to places far away and deep into the music. The feeling was great!

I wanna feel that once again, do you also want to feel the same?

They are coming again.
They are not coming only to Bangalore.
They have heard the prayers of the musicians from the hills of North East.
They are coming to SHILLONG as well.

Come 12th December 2007, and Scorpions will be at your doorstep, make them feel at home, give your trademark rapturous reception on that night, their songs have been echoing in the streets, in the houses, in the concert venues of Shillong, Imphal, Churchandpur, Aizawal, Kohima, Guwahati…. for many many years.

North East, go to your attic, open up the boxes, take out the faded and dusted audio cassettes/tapes, play them loud again, the true Metal Gods from Germany are making their way – Revive your favorite numbers - Speedy's Coming, Fly to the Rainbow, In Trance, No one like you, Lovedrive, Loving you Sunday morning, Virgin Killer, When the smoke is going down, Holiday, Always somewhere, Rock You Like A Hurricane, Lady Starlight, Believe In Love...



In May this year, Scorpions released a new album(concept album) called Humanity: Hour I.

Humanity
Auf wiedersehen it's time to say goodbye
The party's over as the last good dies and angel cries

Humanity,
It's au revoir to your insanity
You sold your soul to feed your melodies, your fantasies and lies

You are a drop in the rain,
Just a number not a name
You won't see it
You don't believe it
At the end of the day
You are a needle in the hay
You signed and sealed it
And now you gotta deal with it

Humanity humanity
Good bye
Related Articles on Scorpions:
---
* Ringo Pebam, a Software Engineer in Bangalore, and a Free and Open Source Software enthusiast, contributes regularly to e-pao.net. The writer can be contacted at ringo_pebam(AT)yahoo(DOT)com. This article was webcasted on November 05th , 2007


* Comments posted by users in this discussion thread and other parts of this site are opinions of the individuals posting them (whose user ID is displayed alongside) and not the views of e-pao.net. We strongly recommend that users exercise responsibility, sensitivity and caution over language while writing your opinions which will be seen and read by other users. Please read a complete Guideline on using comments on this website.