Rock Music in Manipur
- Art of Creativity and Intervention -
- Part 2 -


By: Ronid Chingangbam *



Self Discovery:

It was the winter of 2005. It was business as usual at a bar cum restaurant called "Sathee" somewhere near Pune University. I was sitting with a Physics Professor and some Bengali research scholars from IUCAA or the Inter-University Centre for Astronomy and Astrophysics, Pune.

We were being perfectly loyal to the bar owner with a 750ml bottle of Royal Stag on our table. We shared our drinks and soon after lit the cigarettes. Alcohol is good solvent for smoke but I think it was the smoke that cooled the alcohol that evening.

We talked on various issues beginning with Physics. I hardly spoke but listened attentively to the lively discussion. We shifted our topic to arts and music. When it came to rock music, it was me who spoke the most with circles of smoke flying up the ceiling.

There were few lessons I learnt that day. I noticed a habit in some of the Bengali guys present that evening. Whenever they got drunk, they will just close their eyes and recite Bengali poems, mostly by Rabindranath Tagore or hum a line of Rabindra Sangeet.

That evening wasn't any different from other evenings of leisure and drink. They would close their eyes and start reciting Gitanjali in Bengali followed by oft recited one liner "Let My Country Awake."

When they did this that evening, I thought I would immediately recite a Manipuri poem in front of them. I was ready closing my eyes, raising my fist in the smoky air.

I opened my mouth but nothing came out of it, not a word, not a hiss and not a sound. When I realized my inability to do the same, I pretended that I was yawning, being bored with Tagore's poems.

Indeed, I was bored. I would have been very much excited if they were reciting Nazrul Islam's poetry but no one did that.

That night, I came back drunk cursing myself for not remembering a single Manipuri poem. Even if I had remembered a line from Dr. Kamal's "Madhavi", I would have recited it like a poem by Allen Ginsberg.

I would have recited it so powerful that they would think I was reciting a protest poem or something like that. But unfortunately I ended up yawning and smoking the cigarettes till it burnt my fingers.

Literary Intervention:

After that night, every time I sit down for a drink with fellow Manipuris outside the homeland, I asked them to recite a poem in Manipuri.

Alas! They were just like me, unable to recall a good poetic line. Worse still, they either end the evening with a yawn, perhaps getting bored with my questions.

I would only take solace in the thought that some good poems have found their way into rock and heavy metal music. Coleridge's "The Rime of the Ancient Mariner" inspired Iron Maiden to compose a wonderful song by the same name.

Most people of my generation who have been exposed to the so called Western Popular culture, particularly rock music, (I am leaving others of my age who are seriously engaged studying Manipuri literature), are either not interested or do not bother to check out our own literature.

We are ready to read a poem by William Blake or T. S. Elliot, but not the poems which are rooted to our pain and agony. Yes! We do have poets who speak volumes of our sorrow and disturbed lives.

A verse from Thangjam Ibopishak's poem "I Want to Be Killed by an Indian Bullet" [ * ] goes like this:
Whatever it may be,
if you must shoot me please shoot me with a gun made in India.
I don't want to die from a foreign bullet.
You see, I love India very much.
That can never be.
Your wish cannot be granted.
Don't ever mention Bharat to us.
I have not come across any western poets, either the most radical of Irish, American or British poets speak to a generation so strongly like Thangjam Ibopishak [ + ] did. But the poem is known only in literary circles and the public rarely get a chance to read the poem. So there lies a gap.

The Beat Generation and Impact on Music:

Amusingly, many youths in the United States of America in the 1950s were dogged with a similar kind of anxiety. They had to find a way to retaliate seeking solutions or dealing with all the anxieties that gripped them.

A group of daring young American writers/poets emerged. This group introduced a new culture called the Beat Generation. The rejection of the prevailing academic attitude to poetry was one of their first engagements. They felt poetry should be brought to the people.

The poetry they had in mind were filled with themes like rejection of then prevailing American middle-class values, the purposelessness of modern society and the need for withdrawal and protest.

Whatever the beat writers/poets wrote, they read it out often to the accompaniment with Jazz. (What an amazing recitation it must have been). Eventually, hippies and anti-war movement followed Beat Movement and subsequent concerns with environmental issues in later part of the last century.

Radical poet Allen Ginsberg (Beat Poet) said that essential effects of Beat Generation artistic movement in America could be seen in a kind of liberation for spirituality, gender and racial inequality. The same movement also raised concerns about text censorship.

The Beat poets and writers also impacted on the spread of ecological consciousness, emphasized early on by Gary Snyder and Michael McClure and their understanding of the idea of a "Fresh Planet." The works of these radicals also infused respect for land and indigenous peoples and all forms of militarization and regimentation.

The foremost impact of the Beat Generation, I think was felt in the popular music scenario of the times. The evolution of rhythm and blues into rock and roll as a high art form with the advent of the Beatles, Bob Dylan, and other popular musicians.

If the Beat Movement had not emerged in 1950s there may not have been bands/singers like Jefferson Airplane, Joan Baez, Country Joe and the Fish, Crosby Stills Nash and Young. Yes! These bands were heavily influenced by Beat Generation. And the effect is not over yet.

Just remember!! The radical band Rage Against the Machine (RATM) too recited and performed Allen Ginsberg's poetry "Hadda been playin on the jukebox". And for the seriously curious rock music fans, please read the lyrics to understand the content.

Even as the Beat Movement revolutionized American literature, the leading frontrunners were heavily influenced by Walt Whitman (father of American literature), William Blake and Henry David Thoreau.

This shows that the Beat Generation kept the indigenous America in their minds and knew exactly how and where to hit the then contemporary literary landscape. It built a delicate bridge between American literature and Rock n Roll music. There could not be a more beautiful synthesis.

Back to Rocking Reality:

I am sorry for dragging in an American experience when what I had in mind was Manipur. But I have a rationale for this. Are we not imitating America or Europe's Rock and Roll music tradition?

Yes! We do but have missed out citing our own purpose of that imitation or the foundation to what we should be doing with rock music.

We can not shy away from the truth that we have lost our shelters. We are the runaway children. We seem to enjoy being lost.

The fortunate ones amongst us, the educated and rich ones are not bothered by the daily routine of turmoil in Manipur that have silenced the poor, the weak and the innocents.

Why are we in a state defined as disturbed? We want a meaningful home. We love peace. We will love to hear Sharmila succeeding in her struggle.

We will love to read newspaper every morning without the pictures of gunned down youngsters. And I believe no revolution is sagacious when its rationale weakens our strength and diminishing the frequency of our bloodcurdling voices.

We are yet to fully explore the power of music, poetry, painting and the pen. All we need is a Movement, our own Beat Generation to fuse poetry and rock music.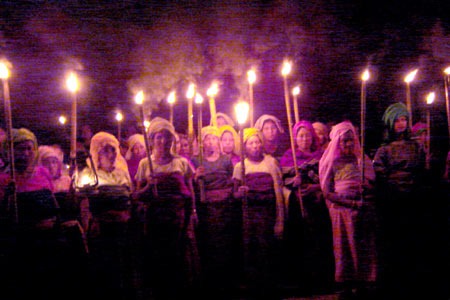 Meira Paibi of Sekta



Let us sing of the Meira Paibis and see every woman that Alexandra talked off. Let us reflect our protests and on the blank canvases.

Let us not just paint or write for the sake of it or just to capture imagination of non sensitive. It is boring. We do not have time to get bored. Our blood is getting warmer and warmer.

Let us not miss the beats of our hearts. Let us play all our musical instruments on the streets where the Lanmee Phijon clad rule us with their Kalashnikovs.

Let us sing for Irom Sharmila and the mothers.

Remember, a protest which lasts forever comes out only from the heart of a creative woman or man. And who says Manipuri rock musicians are not creative.

Salutations to all the rockers in Manipur!!

Read Part 1 of this series here.
Browse Ronid Chingangbam poems here.
* Translated from the Manipuri by Robin S. Ngangom. This poem was censored out of an India International Centre, New Delhi publication on the Northeast probably thinking it was too hot blooded for the cold hearts.
+ Poet Thangjam Ibopishak writes in Manipuri. He has published six volumes of poetry, three of which earned him some of the most prestigious awards in the state including the "Manipur State Kala Akademi Award" in 1986, the "Jamini Sunder Guha Gold Medal" in 1989, the First "Jananeta Irabot Award" in 1997 and the "Ashangbam Minaketan Memorial Award" in 2005. Ibopishak also won the "Sahitya Akademi Award" for poetry in 1997.
---
* Ronid Chingangbam contributes regularly to e-pao.net . The writer can be contacted at ronidchi(at)gmail(dot)com . This article was webcasted on January 24th, 2008 .


* Comments posted by users in this discussion thread and other parts of this site are opinions of the individuals posting them (whose user ID is displayed alongside) and not the views of e-pao.net. We strongly recommend that users exercise responsibility, sensitivity and caution over language while writing your opinions which will be seen and read by other users. Please read a complete Guideline on using comments on this website.