Remembering Paul Gangmei
Jyaneswar Laishram *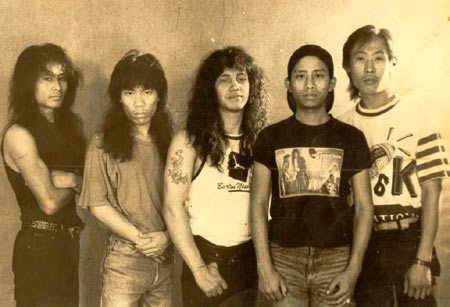 - Cannibals -
L-R: Jimmy, Ritchie, Momocha, Paul and Matthew
Picture Courtesy: Ringo Pebam


Let him who had understanding with the onset of heavy metal popularity in Manipur reckon Cannibals to pay a last homage to Paul Gangmei for he was one of those stalwarts who set the rock music trend in the state. He passed away recently leaving a monolith of hard rock to many of us. I know heavy metal was not everyone's cup of tea when it comes to counting the number of friends who enjoyed this sub-genre of rock during my high school days. But everyone knew and loved 'Paul' for the simple reason that he belonged to Cannibals, perhaps the first rock band from Manipur that came into limelight and received critical appreciations at national level for their excellence in covering classic metal tracks, particularly of Iron Maiden. And Paul Gangmei was Bruce Dickinson of Manipur.

Beyond Bruce Dickinson were some other avatars his fans discovered in Paul. He was also known as Manipur's one and only Ronnie James Dio who did perfect justice to heavy metal. However, Cannibals were not totally a metal band as they rather devoted more to rock and roll. They wonderfully covered whole load of popular rock and roll numbers from Deep Purple, Uriah Heep, Nazareth, to name a few off their all time list. They sparked popularisation of some old good classic rock songs like Free Me (Uriah Heep), I Want Out (Halloween), Where Are You Now (Nazareth), Smoke On The Water (Deep Purple), The Price (Twisted Sister), Temple of The King (Rainbow), High Flyer (UFO), among others, without which fans always felt Cannibals' local gigs incomplete. No doubt to say Cannibals spearheaded a big musical revolution in the rock history of Manipur.

Further, there dwelled a different treasure of music on the other side of Paul Gangmei. He was likewise popular in every nook and corner of Kabui-inhabited areas all over Manipur for another big musical reason. He composed and sang a treasure of Kabui-Naga modern songs in his native dialect which are still humming around like unforgettable tunes among the young and old in towns and villages across the hills and valley. His untimely death is marked to be a big loss, not only in the landscape of rock and roll, but also from the whole music world of Manipur.

For those who did not know or who still don't know Paul, I recollect here a brief biographical sketch on this rock genius in a crisp flashback gathered from different sources like Rock Music Manipur (RMM) and musicians who used to associate with him closely as band mates or best friends for years. Paul Gangmei was born on 12th June 1966 in Kakhulong Village located in the heart of Imphal city. He was survived by his wife Athing Gangmei, father Gourachand Gangmei, one brother and three sisters. In his days as lead vocal of Cannibals, Paul inspired many youngsters to pick up guitar for formation of high school rock bands in places where the band toured around the country. His melodious, soulful songs touched the heart of every fan. He had a voice one couldn't tire of easily and covered songs rather into brand new taste.

Paul sang in lead for a number of bands which he changed in almost every year within a decade before his final settle-down with Cannibals. He joined Astounder in 1984, Black Sultan in the very next year, Machine Head in the successive year, after that came Cannibals as his last crusade. He retired as ex-vocal of Cannibals which were active from 1987 to 1996. Bigger part of Paul's career carried him along singing for the band which had a wonderful lineup comprising the region's renowned rock musicians like drummer Momocha, lead guitarist Ritchie, guitarist Jimmy and bass player Mathew.

Cannibals gigged almost all around major Indian cites at various concerts sponsored by colleges and other organisations. Winning the prestigious title of North East Contest in 1988 in Nagaland gained the band a fresh popularity among rock fans in cross-border regions. All that buzzing about them on college campuses suddenly multiplied when they started taking centre stages of big college fests in big metros.

A recollection of some landmark gigs that pulled huge crowd would include NESF at New Delhi in 1988. Crossroad, a popular rock show of Delhi University college campuses in the late 1980s until the 1990s, staged Cannibals storming the crowd to Paul's magical croon and band's prolific metal act at Sri Ram College of Commerce (SRCC) in 1989. Yet another memorable live performance of the band would count their well-attended 1992 gig at St Xavier's College in Kolkata.

Gone are the days when Paul ruled the realm of rock and roll. And the eternity is that his fellow band members and fans will always remember him like a jolly singer, big dreamer and great performer whenever one opens Manipur's book of rock history. Over the last decade or so, rock music in the state has attained a grown-up level with the emergence of prominent artists rocking in their own genres, styles and contents acclaimed critically at national arenas. Such trend might have been lost or not yet arrived today had it not been musicians like Paul Gangte who inspiringly paved a vital heritage and a catalyst of 'rock' music in the region.


---
* Jyaneswar Laishram wrote this article for e-pao.net
The writer contributes regularly to e-pao.net and can be contacted at ozzyjane(at)gmail(dot)com
This article was posted on April 20, 2014.
---
* Comments posted by users in this discussion thread and other parts of this site are opinions of the individuals posting them (whose user ID is displayed alongside) and not the views of e-pao.net. We strongly recommend that users exercise responsibility, sensitivity and caution over language while writing your opinions which will be seen and read by other users. Please read a complete Guideline on using comments on this website.